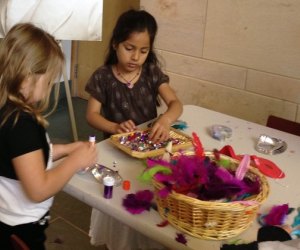 Hartford Area Summer Camps: Pottery, Art, Farming
During the summer months your child may crave more freedom, more opportunity for creativity, and more time outdoors. If so, the adventures below might be perfect for them. Here are a few summer camps in the Hartford area that focus on art, pottery, and farm life. This will allow young minds to take a break from formulas and to get their hands dirty with paint, clay, or soil. At the end of the summer, they'll be left with beautiful memories, and maybe even a few beautiful works of art.
The Pottery Piazza
An art-intensive summer camp for children ages 8-15 is offered five days a week and features pottery, clay, and mosaic projects. Let the children surprise you with handmade gifts stemming from their imaginations and hard work.
17 Farmington Avenue, Plainville 860-517-8553
OUR LATEST VIDEOS
River City Art Center
Young artists ages 5-7 can enjoy a week-long half day camp with two sessions in June and two in August. The second program for kids 8-13 is held in three sessions from 9 a.m. - 4 p.m., for two weeks per session. Children will enjoy exploring with color and making their creative dreams come true on canvass.
13 Center Street, Collinsville 860-284-8664
The Little Green Tambourine
This creative arts studio offers a great selection of summer options for your child. With themes like dance, spa, dinosaur, science, cooking, and much more, your child will have many activities to choose from. The camps are organized by age, depending on which theme you opt for. There are selections for ages 3-7 and 4-10.
166 Albany Turnpike (Rte 44), Canton 860-352-5504
Flamig Farm's Adventure Camp
Children 5-13 years old will be exposed to the natural environment and experience first-hand what life on a farm is like. Seven one-week camps are offered June through August. Young ones get to assist with feeding and caring for animals, gathering eggs, horse riding, exploring the swamp and woodlands, hiking, composting, and much more. This summer camp always fills up fast, so early sign-ups are recommended.
7 Shingle Mill Road, West Simsbury 860-658-5070
West Hartford Art League
Children in grades K-12 will find something to entertain and challenge them here throughout the summer. Camps are offered in cartooning, digital photography, stone sculpture, Native American wonders, African adventures, drawing, mosaics, and more.

37 Buena Vista Road, West Hartford 860-231-8019

Two Coyotes
Nature-loving children will enjoy the time spent at Holcomb Farm. Camp groups are divided by age: 5-7 and 8-13. Weekly sessions run from June through August. Choices include learning to build forts and shelters, learning about wild plant medicine and food, advanced survival, fire wood and stone, wildwoood rangers, and woodland arts.
113 Simsbury Road, West Granby 860-844-8616

Westmoor Park
Children ages 3-13 (groups divided by age) will find a nature camp that satisfies their interest in the outdoors. They will meet and greet animals, plant and harvest crops, explore ponds, and enjoy stories, games, and crafts.
119 Flagg Road, West Hartford 860-561-8260
Glastonbury Art Guild
Children ages 6-12 (groups divided by age) can choose from one-week, three-hour camps that run June through August. Mediums include clay, printmaking, origami, plaster, and paint.
1396 Hebron Avenue, Glastonbury 860-659-1196