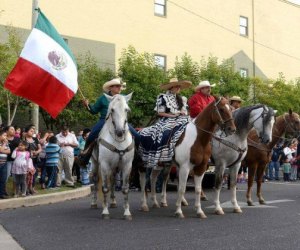 Celebrate Cinco de Mayo with Kids in NJ
May is right around the corner, so don your sombrero, dust off that marimba and head out for some Cinco de Mayo family fun! There's music to dance to, food and drink to consume, monarch butterfly celebrations and more. With all this activity, your kids may enjoy a relaxing siesta while you mix up that margarita you so richly deserve. For even more seasonal fun, check out our list of 25 things we can't wait to do with kids this spring in NJ.
Beautiful Birds, Butterflies and Cinco de Mayo Family Festival at the Camden Children's Garden (Camden, NJ)
Celebrate the Monarchs from Mexico at this butterfly and bird-filled Cinco de May party! Los niños create crafts and learn about butterflies inside the Butterfly House while experiencing butterflies flying, basking and nectaring in a lush tropical environment. Take home a plant as well. Thursday May 5, 10am to 1:30pm.
Alborada Spanish Dance Theatre at Parker Press Park (Woodbridge, NJ)
Revel in Cinco de Mayo with the widely acclaimed Alborada Spanish Dance Theatre, and embark on an exhilarating journey through Spain and Mexico. Guests will enjoy live music, flamenco dancing, arts and crafts, delicious food and sangria. The performance will take place on Sunday May 15, 2pm to 5pm. FREE
Cinco de Mayo Cultural Fest (Bridgeton, NJ)
The historic town of Bridgeton pulls out all the stops for its Cinco de Mayo celebration. This annual festival features dancing horses, a live Mariachi band, arts and crafts, Mexican and Latin food and drinks. Sunday May 1, 1pm to 8pm. FREE
Cinco de Mayo: A Musical Tribute Featuring Jesse Rivera (North Plainfield)
Get in the Cinco de Mayo spirit at North Plainfield Library's family sing-along. Maracas and traditional Mexican costumes are part of the fun. Saturday May 7, 2:30pm. FREE
Chevy's Cinco de Mayo Party (Clifton and Linden, NJ)
Chevy's Fresh Mex will host Cinco de Mayo outdoor parties at their Clifton and Linden locations. Festivities will include food, drinks, a DJ, MC and musical performances. The celebrations will take place at the Clifton location on Saturday, May 7, and the Linden location on Thursday, May 5.
Photo courtesy of Bridgeton Main Street Association

Originally published 2015