WowMoms World Play & Wellness Center Coming to Paramus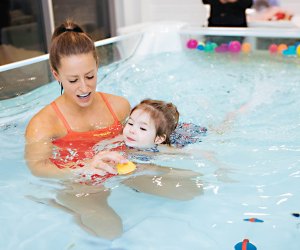 Have you ever dreamed about a place that includes opportunities for exercise, enrichment classes, and socialization for kids AND moms, all under one roof? WowMoms World, coming to Paramus in late 2019 or early 2020, strives to be that coveted one-stop spot where growing families can relax and enjoy everything from parent-child classes and swim lessons to arts and crafts and an organic lunch or snack.
Canada-based WowMoms opened its first U.S. location on Long Island in January, and other spots have since opened in Florida and Texas. The 6,200-square-foot Paramus space will be WowMoms' first New Jersey location.
Bergen County mom and franchise co-owner Steph Torossian was looking for exactly this type of destination when she found herself shuttling her young son back and forth far too frequently over the course of the day. When her now-3-year-old was an infant, the new mom would often attend a breastfeeding support group, pack up her baby and all his accompanying gear, and go out for lunch with fellow group members. From there, the new moms would have bundle up their babies once again to take an exercise, music, or gym class. As any parent can appreciate, it quickly became exhausting, and Torossian knew there had to be a better way.
Recognizing the need for a location that offers a multitude of services for parents and little ones all under one welcoming roof, Torossian took to the internet to see if this concept existed. That's when she found WowMoms World on Instagram.
Torossian, a marketing and sales professional, teamed up with friend and neighbor Katie Lennon, who'd experienced similar inconveniences when her two children were infants, and the entrepreneurial pair visited the headquarters in Canada.
RELATED: Swim Lessons and Classes for NJ Kids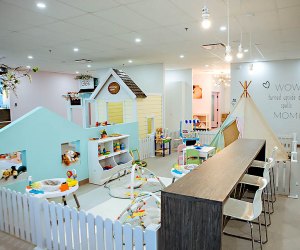 WowMoms World will have a play space with areas designated for different age groups.
"Once we saw it, we knew it was exactly what we wanted," said Lennon. "We were completely in line with their philosophy."
Lennon and Torossian decided to open the first franchise in the Garden State to offer fellow parents something they believe is currently lacking. After looking throughout Bergen County for the right spot for their new venture, the co-owners settled on Paramus. Lennon said the family-friendly town is ideal for new moms who can either access the destination from Route 4 West or by taking back streets and entering from Paramus Road.
"We're still in the early stages of construction and the design plan for the space, but will definitely have a healthy cafe with organic foods as well as vegan and allergy-free options because a lot of moms who are breastfeeding can't have eggs because of the baby's interaction with the food," said Lennon, a pediatric physical therapist. "We'll also have an open play area that will be 700 to 800 square feet which will be divided into two sections. One will be for your non-walkers so moms and babies can go and do tummy time. Then the next section will be for anyone who can walk."
Each area will have age-appropriate toys that get "back to basics" by promoting imaginative and creative play, Lennon added. WowMoms World also will offer a swim program.
"We'll have a swim-spa area with tanks where newborns through 12-month-olds can do flotation therapy," said Lennon. "Babies wear a collar and float in a pool. This is great for getting the child to relax. It's good for colicky babies because it calms down their whole system. It's also good if they're a little constipated, and great for those early days when babies don't have the strength to move on land. The water is more like the fourth trimester, like they're still in the womb, because they can move their arms and legs pretty freely."
There are also larger above-ground pools where children ages 1 to 4 can work on water-safety skills. The sessions are one-on-one with an instructor, and parents or caregivers can stand beside the pool and still be part of the lesson.
RELATED: 70+ Baby-and-Me Classes Around New Jersey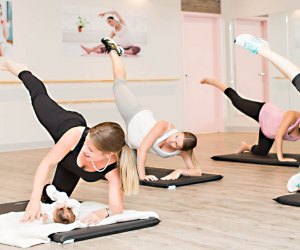 WowMoms will offer pre-natal and post-natal classes.
Additionally, the 6,200-square-foot space will have rooms for arts and crafts, dancing, martial arts classes, storytime, and pre-and post-natal classes and massages, as well as yoga and more.
Lennon added that she and Torossian are looking into the feasibility of including a beauty bar where moms could enjoy a blow out or a manicure and pedicure while their children go into the open play area and are minded by the staff. There will also be a boutique that will carry items designed and made by New Jersey moms.
WowMoms World will offer both drop-in rates as well as monthly memberships. The co-owners anticipate opening the facility in late 2019 or early 2020.
Photos courtesy of Steph Torossian