Private Playtime: 12 NJ Indoor Play Spaces to Book For Your Pod or Play Date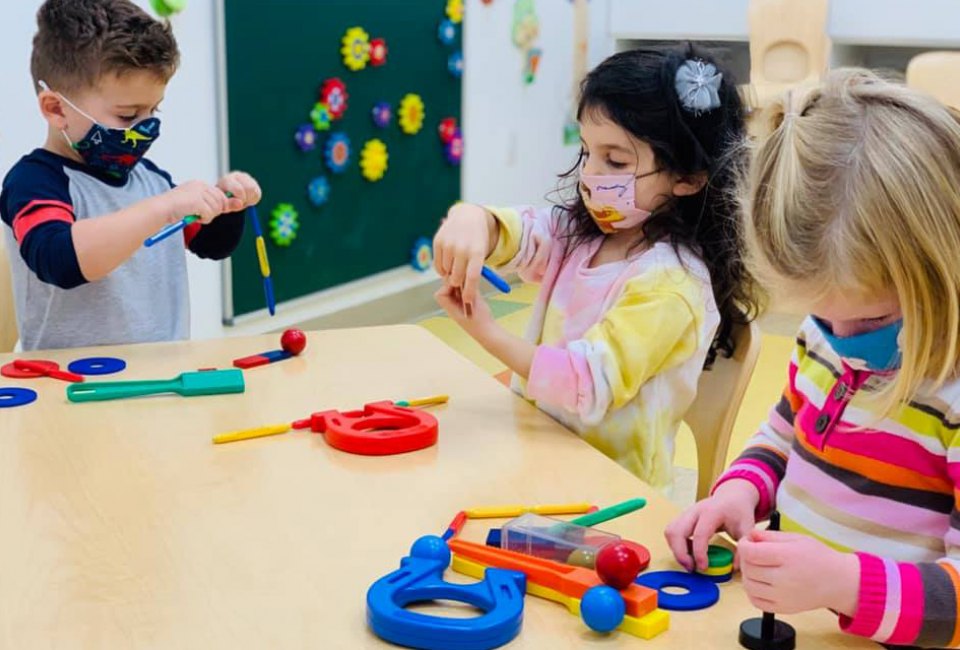 1/22/21
- By
Liz Alterman
Cold weather and the ongoing pandemic have created the perfect storm for parents and caregivers who wish kids had more opportunities to burn off some energy and hang out with their pals. Even if you've put together your own quaran-team—a small group or homeschool pod who agree to only socialize with each other to minimize the risk of exposure—you may be looking for new places to chill. Fortunately, play spaces throughout New Jersey cater to pods and offer reservations for private play in safe and sanitized environments.
If you're hoping to host a play date outside your home, the following play spaces are ready to accommodate your pod. Many facilities require that you sign waivers in advance, so visit the website and complete the forms before arrival.
Find more fun places to play in our Guide to Indoor Play Spaces.
Editor's note: While we are trying to promote safer activities that occur outdoors or with social distancing guidelines in place, please keep your family and others safe by always wearing a mask and practicing social distancing.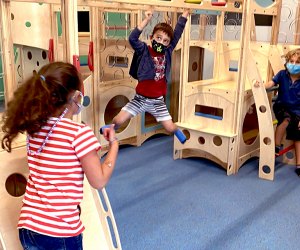 Kids can conquer the monkey bars and more at Exceptional Explorers indoor jungle gym.
Toddlers and preschoolers can climb on an indoor jungle gym or explore a pint-sized obstacle course. Started by an occupational therapist and speech pathologist, these moms are on a mission to provide a fun and educational space where kids can engage safely. Travel-themed arts-and-crafts may even make you feel like you've ventured out of town. Pod slots are offered in 90-minute increments, beginning at 9am, 11am, 1pm, and 3pm, with 30 minutes allotted for disinfection between groups. There's a space for grown-ups to relax and chat while kids remain within view.
The multi-sensory play space invites preschoolers to have a blast checking out slides, toys, tunnels, and more. Book a 1-hour, private play date for five or more kids. Open seven days a week, this is an environment where play and learning collide, and it features a saltwater aquarium wall amid a jungle backdrop.
RELATED: Top Indoor Play Spaces Open in New Jersey Now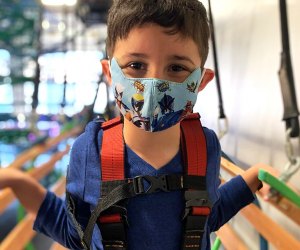 Xtreme Energy is a modern, active play space for kids of all ages.
Toddlers and teens alike will have a blast at this indoor play space that houses trampolines, a ropes course, a rock-climbing wall, a virtual reality experience, and more. The play space offers a three-level maze geared toward toddlers and younger kids. Book exclusive access for a minimum of 2-hours for groups of up to 25 people. The facility is closed Mondays.
Ready for a little friendly competition? This 5,600-square-foot event space features laser tag, a video game room, and space for dancing. Private events can be reserved for a minimum of 12 kids for 90 minutes. Recognizing that pods will work up an appetite, snacks and juice are provided. To maximize social distancing, only six adults are allowed in the waiting area.
RELATED: Indoor Obstacle Courses, Ninja Warrior Training, and Aerial Arts for NJ Kids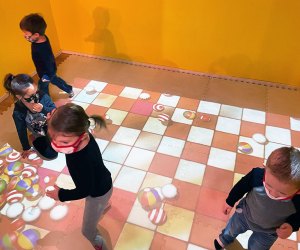 If you want to visit Jellybean Jungle, booking a private play experience is the only option.
Children ages 5 and under can explore a bright climbing maze, jungle theater, and an ocean center, complete with a pirate ship. Kids can even take a spin on the carnival-style carousel. Private play experiences are offered daily and can be booked online.
Pods can enjoy private playtime at Moozie's Play Cafe in 1 hour, 45-minute blocks on Tuesdays, Thursdays, and Saturdays for up to 15 people. Moozie's caters to kids from age 10 months to 10 years old and is home to an award-winning Cedarworks play set, perfect for climbing and exploring.
RELATED: New Jersey Playgrounds Cool Enough for Big Kids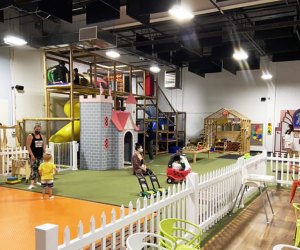 There's plenty of fun to explore for all ages at the spacious Princeton Playspace.
This state-of-the-art indoor playground encourages kids to use their imaginations at a pretend town, construction site, and train table. The 5,000-square-foot facility offers private play dates in 2-hour increments every weekday after 4pm and on weekends at noon, 2:30pm, and 5pm. A designated area lets infants and toddlers enjoy a safe, sensory experience.
Kids can pretend to be firefighters, veterinarians, or train conductors inside this larger-than-it-looks-from-the-outside play space. Little ones get a workout in taking turns tumbling through a giant, colorful jungle gym. Two-hour private play dates are available for up to 20 people.
RELATED: 30 Days of Indoor Activities For Kids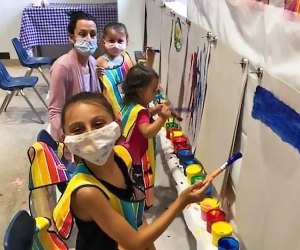 Imagine That offers a massive space to explore and tons of hands-on fun.
Want to sneak in a little education while having some fun? This 16,000-square-foot museum, ideal for socially distanced get-togethers, hosts puppet shows focused on friendship, recycling, nutrition, and science. You and your kids' circle can have the run of the place for 2 1/2 hours on select weekdays. Three time slots are available. Want to up the excitement? Add on a meal or snack, musicians, or characters to keep the play date going strong!
Offering a little something for everyone, this space keeps kids busy for hours. With bounce houses, obstacle courses, a gaga pit, trampoline basketball, and an arcade, your pod might not know where to begin. A toddler town, complete with smaller inflatables, a ball pit, and building blocks, is geared toward children ages 5 and under. Book a private, 1-hour bounce session for your friends and family.
RELATED: 50 Indoor Activities For Kids on a Rainy Day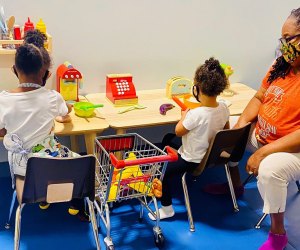 Grab a cart and get shopping at Lily & Liam.
Even before the pandemic, this indoor playground was health-conscious, using environmentally-friendly materials for its toys and play structures. Kids can enjoy a sensory experience in the wood-cube sandbox or ball pit. An obstacle course and jungle gym keep toddlers and little tykes on the move. Budding artists can create an arts-and-crafts masterpiece. Rent out the entire facility for a private play date, held Monday through Saturday from 10am-5pm and Sunday from noon-5pm. Sessions can last up to 3 hours, 45 minutes. Call to reserve your spot at least one day before your visit.
Got a pod that loves to bounce around? With eight inflatable slides, this is the place to go. A private jump can be reserved in advance for up to eight kids, who have the run of the place for an hour or longer. Thorough surface cleaning and disinfectant spraying is conducted before every session.
Photos courtesy of the venues