NJ Cat Cafes: Purr-fect for Feline-Loving Kids and Families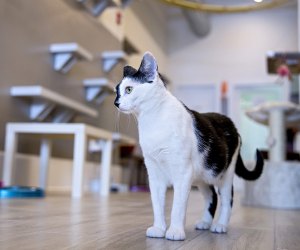 If you're a cat-lover who craves a new place to sip a cappuccino while enjoying some downtime with your kids, then you're in luck: the cat cafe trend has officially arrived in New Jersey. Three kitty cafes have opened in the Garden State since July 2016—in Asbury Park, Rahway, and Palmyra—and the best part is, they're all kid-friendly. Guests big and small are encouraged to pick up a toy and get down on the floor to interact with the cafe's feline friends. For kids who go gaga for kitties, it's a cool alternative to a traditional indoor play space—and, since all of the four-legged residents are up for adoption, you just might leave with a new best friend.
Read on for more about NJ's three cat cafes and get ready to plan an a-meow-zing visit.
Cat cafes came on the scene about 20 years ago in Taiwan, and then quickly caught on in Japan, where living quarters are often small and many apartments forbid pets. Interacting with cats serves as a form of relaxation for people who might not necessarily want (or are unable) to own a pet, explained "DJ," owner of Catsbury Park Cafe in Asbury Park. Prior to opening his cafe in September 2017, DJ visited more than 25 cat cafes in Asia. The main difference between there and here, he said, is that Americans tend to be more open to adoption, so the animals at cafes in this country tend to be transient visitors rather than residents.
In fact, all three New Jersey locations work with local rescue groups and shelters to find forever homes for the cats in their care. To support their missions, each charges a modest admission fee and sells shirts, hats, coffee mugs, and other items with their own whimsical logo.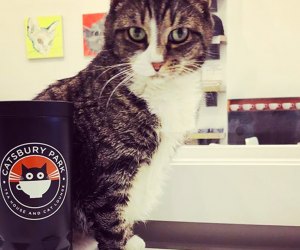 Sip a coffee and snuggle with a cat at Catsbury Park Cafe.
Catsbury Park Cafe – Asbury Park
Open every day except Tuesday, Catsbury Park serves up tasty treats while helping felines find their forever homes. Due to local health regulations, the space is split between a casual restaurant and a kitty play space, with each occupying about 1,200 square feet. The food side offers coffee, tea, and lunch items like salads and sandwiches. The kitty side hosts about 15 people and 15 cats at a time. The focus here is on older, hard-to-place cats. According to the cafe's owner, 160 cats were adopted in just eight months. Children must be accompanied by an adult, and one adult is required per child.
RELATED: See Baby Animals and More at Family-Friendly NJ Farms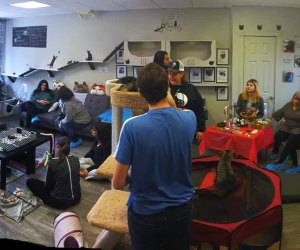 Make yourself at home at Rahway Kitty Hall.
Rahway Kitty Hall – Rahway
Looking for a kitten fix? Head to Kitty Hall, which welcomes cats as young as five months old. The environment here is like a living room, complete with sofas, coffee tables, and other comfy furniture, and guests are encouraged to visualize what their homes might be like with a resident cat, according to owner Kristen Barber. Guests can pick up a toy, try out a laser pointer, or get kitty treats from a gumball machine. Kitty Hall opened in April 2017 and has averaged about two or three adoptions per month. The cafe is open every day except Wednesday. Children must be at least 5 years old to enter, and two kids are permitted per adult.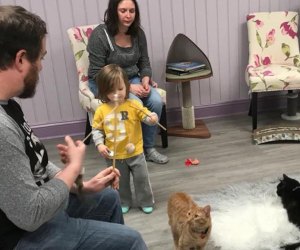 PURRsonal Space encourages kids to come for some play time with the kitties.
PURRsonal Space – Palmyra
The newest of the three cat cafes in New Jersey opened on Valentine's Day weekend (which owner Lori Genstein calls Meowentine's Day weekend). Purrsonal Space features a private party room that can be closed off with a sliding glass door in case the celebration includes candles, or even a guest who is allergic to cats. Children, including scout groups, are always welcome. In fact, they're highly encouraged to visit as Genstein sees their time interacting with cats as a valuable learning experience. All guests get a handout about kitty "language," and eye-catching educational resources are displayed prominently. Resident cats include kittens, adults, and those with special needs. A limited menu features drinks and snacks. For now, Purrsonal Space is open Fridays–Sundays except for private events, which can be booked for any day of the week.
Top photo of Catsbury Park Cafe. Photos courtesy of the venues