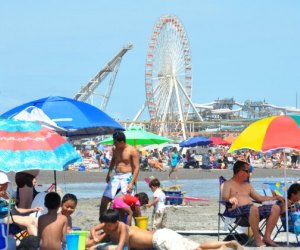 Memorial Day Fun in NJ
For the brave among us (read: young), Memorial Day weekend means time to hit the beach or pool. For the rest of us, it means the start of summer and all the seasonal activities that come with warm weather. Backyard barbecues. Street fairs and festivals. Farmer's markets. Outdoor concerts. New animals to see at the zoo. And of course, vacations to look forward to. Whether you're ready for swimsuits and sandals or still wearing long sleeves and sneakers, our Calendar of Events includes something for everyone.
Parades (Jersey wide)
The classic American way to celebrate a Memorial Day weekend is with a parade. So grab your lawn chair, a cold one and a tiny flag and line the streets of your neighborhood for marching bands, veterans' groups and local schools. Here is a list of all of Jersey's finest parades.
Food and Crafts
Memorial Day weekend brings big sales on patio furniture. It also means its time to eat outside. You're sure to find a winner on this list of kid-friendly recipes.
Let's say it rains on Saturday, but you're optimistic for Sunday and Monday? Sounds like the ideal time for Memorial Day crafts. These pinwheels are perfect to take to the parade, and the template can be modified for all pinwheel-friendly holidays. These windsocks are summery and a nice Memorial Day tip of the hat from the front porch.
Events
No matter what the weather brings us, New Jersey hosts a variety of activities this weekend. Animal lover? Art lover? History buff? Beach bum? Following is a summary of what to find this holiday weekend.
The Turtle Back Zoo celebrates the opening its new Adventure to Africa exhibit with special event weekends through July 4.
Make a patriotic craft at Imagine That! Children's museum.
Spend a day at the beach without getting wet at Wildwood's International Kite Festival. No school or work on Monday? Stay late on Sunday for a concert under the stars.
Ready to take the plunge and get wet? Head to the Splashplex water park.
Honor our nation's first fallen solders with a Revolutionary War-era musket firing demonstration at Washington Crossing State Park Take a more liberal look at history with a visit to a Renaissance Faire.
If you're ready to play with dirt, go on a Dino Dig at the Liberty Science Center. Want to play with lots of dirt? Go on a big dig at DiggerlandUSA.
Take in the scenery with a paddle up - and down - the Passaic River.
Head to Philly for a free visit to the National Constitution Center.
Originally published 2012