Karate and Martial Arts Classes for Kids in New Jersey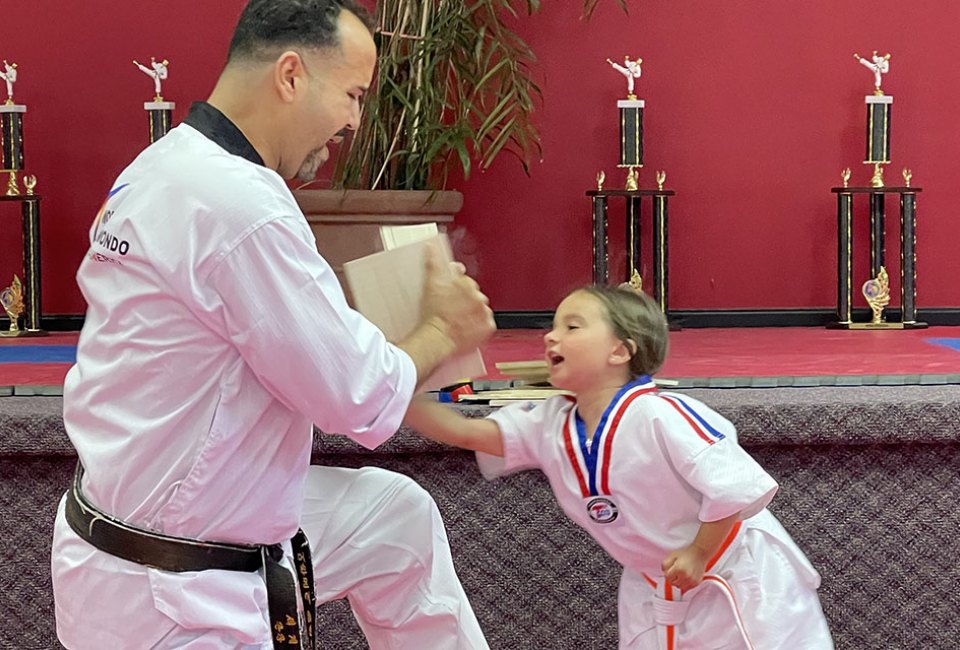 8/17/21
- By
Kaylynn Chiarello Ebner
Focus, discipline, athleticism, confidence, and respect are the skills taught in karate and martial arts classes for kids. You can find a variety of different martial arts classes for kids in New Jersey, including karate, taekwondo, kung fu, jiujitsu, judo, aikido, and more disciplines.
Regardless of the style of martial arts classes you choose for your child, it's important to find a studio with instructors who understand how to work with kids. Many encourage children to attend classes two times per week to properly progress, and most have mixed-age and mixed-level classes, which are great for families with multiple children. Here are our top picks for family-friendly karate and martial arts classes for kids. Find more enrichment options in our guide to Classes and Activities for New Jersey Kids.
Martial Arts and Karate Classes in Northern New Jersey
Students at Elite TOMA learn discipline, respect, focus, confidence, and more as they progress through the levels of its taekwondo program. Preschoolers can get in on the action, too. Family classes are offered and emphasize achieving common goals, practicing together, and respect. What's not to love about that?
This studio offers unlimited indoor, outdoor, and online classes with flexible schedules for Tiny Tigers (ages 3-5), Little Dragons (ages 6-8), and Jaguars (ages 9-13). Teens ages 14+ can enroll in adult classes. Family discounts are offered.
Steve's Karate aims to make learning fun for kids as young as 3. Steven's Karate classes invite kids to explore the fundamentals of karate. Older kids can try Brazilian jiujitsu.
This studio is the place where champions are made...literally. It has trained national champions, international champions, and Olympic athletes, so you know your kids are learning from the best. Taekwondo classes—a Korean technique heavy on kicks—start at age 3, focusing on confidence, discipline, and positive thinking. There are also junior fitness classes for ages 12-17 for tweens and teens who want to get in shape.
RELATED: Virtual Camps and Classes You Can Book This Summer on Mommy Poppins

Kids can find the right level class at Al Bender's Kung Fu Academy of New Jersey.
If your child wants to be a kung fu kid—and study this art that involves circular, fluid movements—this academy teaches those ages 5 and up the fundamentals of the martial arts form. The emphasis is on coordination and self-control as opposed to fighting. The studio says the gymnastic nature of kung fu helps direct children's energy toward developing martial arts skills while also being fun. Children ages 10 and older have the option of participating in the traditional kung fu training program.
Martial Arts Studios for Kids in Central New Jersey
It's all about discipline, focus, and perseverance at BBW, where preschoolers ages 3-6 can start learning the basics of taekwondo in a fun, supportive environment, and then progress into the kids' classes for ages 7-12. Want to train side-by-side with your child? Ask about family classes offered at its Somerville and Piscataway locations. Summer camps are also offered.
Innovate has a 3,200-square-foot main training area with open seating for parents (and bonus, FREE wifi, too). Kids learn to have a positive mental attitude, set goals, respect, and self-confidence while getting their first taste of martial arts. Enroll in ATA Tigers (ages 3-6) or Karate Kids (ages 7-12).
This studio offers Olympic-style taekwondo and hapkido for ages 2 ½ to adult. It wholeheartedly celebrates students for academic achievements, flexibility, belt promotions, and even completing the first day of class. The studio also offers birthday parties and summer camps.
Founded by mom and martial artist Nancy Walzog, Satori Academy teaches a blend of martial arts styles and emphasizes skills like perseverance, focus, and self-discipline. Mini Samurai can start classes at age 3, focusing on gross-motor development, fine-motor skills, balance, strength, and listening to directions. Older kids not only have the opportunity to take karate-based classes but also train in Brazilian jiujitsu.
South Jersey Martial Arts Studios and Karate Classes
Preschool classes here are a blend of gross motor skill-building and fun. There are also separate kids and teens/adults classes for older children, and special needs children are welcome.
Karate Unlimited focuses on building strong moral character, leadership skills, and an appreciation for a healthy lifestyle. Under the guidance of black belt instructors, kids ages 3-5 can start in the Junior Karate program, while the Youth Martial Arts program is for children ages 6-16 years. Special needs classes are available as well.
Kids classes at this studio are not just great for exercise but are also great for building self-respect, discipline, courage, and friendship. Kids' classes are offered for ages 5-12 and start with a martial arts or jiujitsu warmup. Then, instructors teach jiujitsu, self-defense, and Muay Thai striking techniques. The classes round out with life lessons and games/drills.
Karate and Martial Arts Classes Statewide
Tiger Schulmann has 14 locations across New Jersey, and each offers a safe and supportive environment for kids to learn martial arts techniques while gaining confidence, focus, and mental toughness. Kids as young as 3 can start in the preschool classes, while the children's martial arts program starts at age 5.
Photos courtesy of the academies
Sign up for the Mommy Poppins Newsletter today!