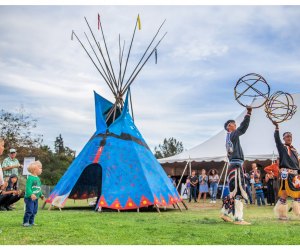 Veterans Day Weekend Things To Do in Los Angeles with Kids
We have so much to be grateful for in this country, and we owe so much to our veterans—those who have put themselves in harm's way to defend the liberties we hold dear. This year, most of the celebrations are being held on Veterans Day Monday (including that kid favorite: three day weekend).
Thanks to our valiant warriors, we are free to do things our own way. Even if that means we need two advent calendars to mark off the days between now and that other holiday.
So, like, if we want to start lighting our trees and singing holiday tunes and playing in the snow and saying hi to Santa, that's cool. If we're not quite ready to give up on Día de los Muertos, that's cool, too. If we want our kids to start prepping our Thanksgiving dinner, well that's just effective delegating.
Whatever floats your boat. Because this is America, land of the free, home of the brave, all thanks to our Veterans.
Feel free to keep reading for our most honorable picks for this weekend...