The Best Easter Brunches in LA: Dine-in or Take Home These Amazing Holiday Meals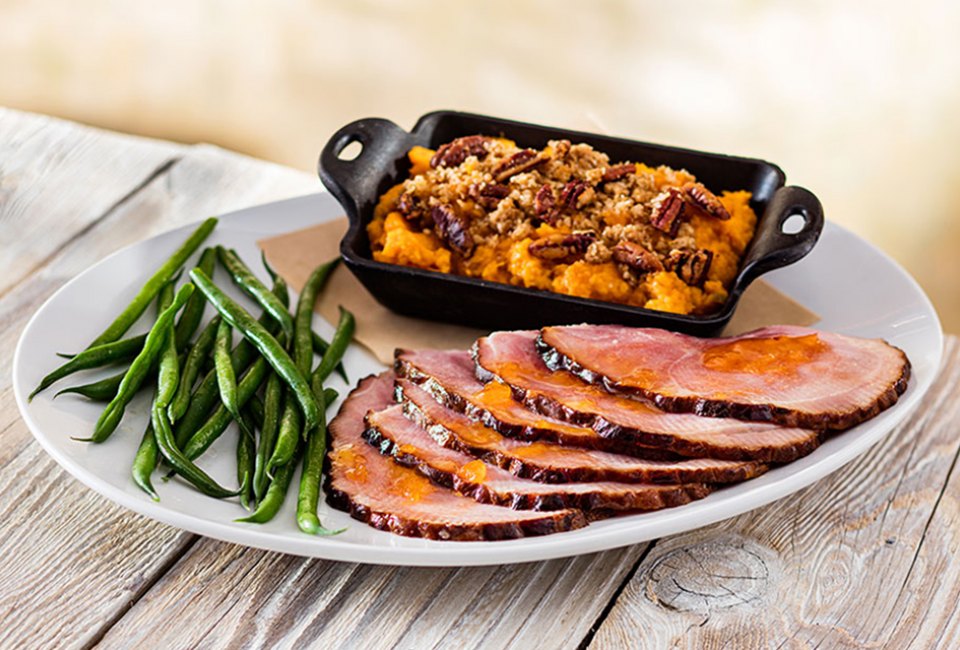 3/15/21
- By
Roberta B
Your Easter table might not have as many family or friends as usual this year, but that doesn't mean the meal can't be festive. Restaurants all over town are offering Easter brunch up any way you want it: There are dine-in options at restaurants with outdoor seating, special to-go family meals, takeout options, and delivery. All of them taking cooking off your plate, so you can relax and enjoy the day.
Decorate the table with Easter crafts and dyed eggs, hug a vaccinated grandparent for the first time in ages (or connect with loved ones via Zoom or FaceTime), and have a Happy—and delicious—Easter!

Eat surrounded by art and next to the chickens at Manuela. Photo courtesy of Manuela DTLA
Best Dine-in Easter Brunch Spots in Los Angeles with Kids
Downtown Arts District
Brunch is served from 10am - 4pm on Easter, which is slightly longer hours than usual. This wonderful restaurant with seasonal and locally sourced food is located in the Hauser & Wirth art gallery. (Which is opening with a new exhibit for the first time in over a year on March 20). The space is as gorgeous as the food, and while there's no kids menu, the French toast, not to mention the beignet, biscuits, and fresh cornbread platters keep kids very happy. (Truly, I've been bringing kids here since it opened, and the lack of a kids' menu has never been a problem!) Kids sick of sitting can go say hi to the chickens.
Hollywood
The beautiful back patio there feels like a very glam treehouse, which the kids will adore. While there isn't a dedicated kids' menu, those with picky palates love the brunch toasts (sweet banana bread with butter or a savory avocado toast). Everyone loves the array of fresh-squeezed juices - parents can get a little kicker in theirs. The staff here has been lovely in the past with high chairs and fresh food for babies, but with Covid there may be more restrictions, so call if you're planning on bringing a baby. Please note that the restaurant required that everyone sharing a table must be from the same household. Brunch is served from 10am - 3pm, and reservations are available online.
Topanga
Easter at the Inn is their usual Sunday (amazing, organic, locally sourced) buffet, with a twist: it's not serve yourself. Just tell your server what you'd like and they'll bring you a heaping plate, and go back for you as often as you like. Kids 4-12 pay by age; it's $3 per year. Creekside tables mean kids can go play (and catch frogs) in between bites of organic delicacies. When the creek bed is dry, they set up tables in the creek, to aid in social distancing. Reservations are available online.
Venice
While dinner is delicious, we love brunch on the massive patio at The Rose in Venice when dining with kids, making it a natural for Easter Sunday brunch. The pastries are out of this world, and it's a perfect time to sit in the sunshine and share some of the most tempting options here with a never-ending cup of coffee. Brunch reservations (max of 2 hours at your table) are available online and The Rose does require a credit card to be held on file to guarantee your reservation.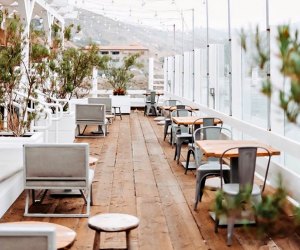 Dine on the pier as the waves crash below. Photo courtesy of Malibu Farm
Malibu
While the cafe at the end of the pier allows for eating while literally dangling over the ocean, for Easter dining, we pick the restaurant at the beginning of the pier. You can make a reservation for dinner, but brunch is strictly walk-in until 4:30pm. The menu is fresh and amazing (they really walk the talk of eating a rainbow) and very kid-friendly. The restaurant is pup-friendly, too, and don't forget to take a beach stroll and play under the pier before or after dining.
Sunset Strip and Orange
Both locations are open and serving up great people watching and fabulous kid food on their outdoor patios for Sunday brunch. Kids who haven't inhaled their Easter candy can go sugar crazy with the Red Bear beverage (lemonade, soda, juices, and gummy bears) and the Cotton Candy Tower or Roast Your Own S'more Platter for dessert. The restaurants are serving the regular brunch menu on Easter which includes bottomless Mimosas and Bloody Marys until 3pm. Reservations are available online.
Burbank
A reservation on Easter is for 90 minutes, and they might seat you on the patio or courtyard when you arrive, whichever is available first. Either way, you get a gorgeous setting and the chance to order from a special Easter three-course brunch menu featuring appetizers and desserts to share & plated entrees including Filet & Eggs Benedict, Chicken & Waffles, Crab Cake Benedict, and more.
Pasadena
This Pasadena favorite has expanded its already huge patio, where kids can order from the incredibly reasonably priced kids' offerings while watching the trains go by. Parents can indulge in California classics (and fabulous cocktails) from the all-day menu. Service is stellar, and dessert is worth saving room for. They are not accepting reservations, just come and wait for a table. Luckily, kids keep busy watching the trains or even playing at the park across the street while you wait. And the food is worth it!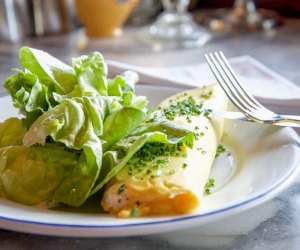 The perfect omelet awaits at Petit Trois Valley. Photo courtesy of Petit Trois
Sherman Oaks
Petit Trois Valley is now open for their fabulous brunch on the patio, complete with some of the best croissants in town, and a Mec Muffin that will ruin your palate for all other breakfast sandwiches. Luckily, kids are thrilled with the kids' omelet or cheeseburger, both served with fries, along with the various croissant. Reservations are available online from 8am - 4pm.
Long Beach
The special Easter brunch menu is coming, but this spot always does spectacular holiday brunches that put a Mexican twist on that holiday's traditional foods. Enjoy fabulous food and live entertainment from 11am - 4pm.
Silverlake
This is a more casual brunch, where you place your order at the window and then self-service outdoor seating, but casual seems to fit the mood this year. (Easter still feels more sweatpants than pressed dresses.) Plus, you can enjoy fabulous fresh food and cocktails—the waffle sandwich delights everyone, the kids' menu and pastries (like the PBJ Fluffernutter) make kids of every age VERY happy, and you can grab some market provisions to bring home to make eating all week long feel special (and give you something to snack on beyond leftover Peeps).
Hollywood
It's like peanut butter and chocolate: two separately adored things that are somehow even better together. Griddle Cafe pancakes plus the views from Yamashiro equals an outdoor dining experience the whole family can't wait to repeat. Just remember to get a side of scrambled eggs, so the whole day isn't a sugar-fest.

Pastries, quiche, and make-at-home hot chocolate are kid favorites at Republique. Photo courtesy of Republique
Best Take Home Easter Brunches in Los Angeles
Mid-City
While this mid-city temple to gastronomy is open for service on the patio (and outdoor dining area which is the large, converted valet space), we recommend that you take advantage of the pastry pre-order for Easter Sunday (because it gets mobbed here on a regular morning, and they do not accept reservations). When you order the morning of, you risk things selling out—with the pastry-preorder you can reserve some of the best (no exaggeration here) pastries on the planet for your Easter breakfast. Then you can pick them up and serve them at your leisure at home. Ready-made pastries are divine, or order packages of ready-to-make scones, French toast, or hot chocolate. Order quiche by the slice or whole, along with pop tarts that are out of this world and Kouign-Amann like you're never had it.
Costa Mesa
Orange County families can choose between ordering take-out from the regular menu at Season's 52 on Easter Sunday or planning ahead for one of the restaurant's family feasts. Pre-order includes a complete, family-style Easter dinner with a glazed ham, roasted salmon, or beef tenderloin (plus salads, sides, and desserts), served chilled and ready to warm at home. Curbside pick-up is available starting Friday, April 2.
Westchester & Santa Monica
This Easter meal is likely to the best deal in town, and (in our experience) darn tasty, too. Truxton's has been offering delivery or takeout from both of its locations for the past year, and now both spots have opened for patio dining. However, our favorite thing at Truxton's is the Family Bundle Meals. Starting at just $55 and feeding 4-6 people, the offerings rotate. The restaurant has not yet announced the special meal for the holiday but plans to do something with an Easter theme. Brunch and dinner are both offered at both locations.
Get a build-your-own-brunch menu to heat up at home from Huckleberry. Photo courtesy of Huckleberry Bakery & Cafe
Santa Monica
This is the one you have to order in advance (orders must be placed by March 31), but planning ahead is well worth it. Order up granola, quiche, bacon rashers, pastries, whole roast chicken, mac and cheese, and more. And don't forget desserts like Farmers Market Berry Galette or Chocolate Bird's Nest Tarts. You can also order DIY Easter Egg Cookie Decorating Kits.
Culver City
Akasha is also open for takeout and delivery, but for a holiday meal, we like the Akasha At Home menu -- everything is designed for re-heating and eating at home. Everything is ready to pick up chilled or frozen and you can pop it in the oven whenever your family is ready to eat. Entrees, salads, sides, and desserts are all ready to order for delivery or to pick up the day before you want them. And don't forget jam, pastries, and bags of coffee beans for the rest of the week!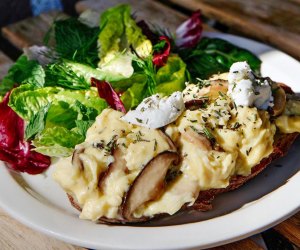 The scrambles at Valerie are divine, but leave room for desserts! Photo courtesy of Valerie
Echo Park
Order to go (with contactless pickup) from a menu of simple but perfect breakfast entrees and pastries (and pick up some stellar coffee to wake you up!) for a simple-but-perfect Easter morning feast. But the real draw (beyond the caviar scramble, which is a personal favorite) is the petit fours and chocolates, which make the stale sweets in the Easter basket pale in comparison. Stock up on pantry essentials like homemade granola and slice-and-bake cookies for the rest of the week, and be sure to check out the seasonal offerings!
Beverly Hills
When's the last time you treated yourself to Lawry's? A holiday weekend seems like the perfect excuse to enjoy Lawry's legendary prime rib dinner. We've been cooking all year long, making a prime rib dinner sounds like a chore. But eating one sounds pretty fantastic. Order from the restaurant directly and pick up your dinner curbside. Pre-order your meal to pick up and enjoy at home.
Multiple locations
There are 10 Bucas located around the Southland, and they are all offering Easter at Home versions of their plentiful Italian feasts, available for pickup or delivery (dine-in and available now, too!). The Easter Prices start at $11 per person, with two separate packages available: one is just salad and pasta, while the other includes an additional entree. Oh—and they all include freshly baked bread and Easter-themed cannoli, for anyone who didn't find enough Easter eggs!
Sign up for the Mommy Poppins Newsletter today!
i