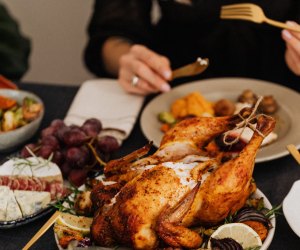 Where To Find Free Turkey Giveaways in Los Angeles
Now that Halloween is over, it's time to get ready for the next big holiday: Thanksgiving. While some are fortunate enough to fill their table with an indulgent dinner spread, many families in the Los Angeles area are struggling to make ends meet. With the pandemic still very much a reality, the ever-increasing cost of living in Los Angeles, and the recently-lifted eviction moratorium, families living paycheck-to-paycheck may not be able to afford the costs of an elaborate Thanksgiving dinner. With that in mind, we've compiled a list of organizations in Los Angeles that are easing the burden for families during the holidays by giving away FREE turkeys and Thanksgiving meals.
If you're fortunate enough to have a full pantry and pocketbook, consider donating to one of these exceptional organizations to help others across the city. Find more tips for your Thanksgiving celebrations in our Thanksgiving Guide and fun throughout the holiday season in our Family Guide to Holiday and Christmas Events in Los Angeles.
If your family is struggling with food insecurity, there are resources available year-round. CalFresh is for people and families with low income and you can apply any time on the BenefitsCal website or call the hotline at 1‑877‑847‑3663.
November 16 from 3pm-7pm
This will be the first annual Thanksgiving Drive-Thru Food Giveaway event, hosted by DCFS Santa Clarita and Love SCV on November 16 from 3pm-7pm. Each registered family will receive a full Thanksgiving meal along with a $20 grocery gift card to purchase a turkey. No walk-ins are allowed and everyone must remain in their car and wear a mask.
OUR LATEST VIDEOS
November 17 at 4pm
As a thank you from the sprawling shopping center in South Gate, Azalea Regional Shopping Center is giving away vouchers for a free turkey. The giveaway is held at the shopping center on Wednesday, November 17 at 4pm.
November 20 from 10am-1pm
The Rodney King Foundation (along with partners Eradicate the Hate, CTS Lutheran Church, Side Street Project, and My TRIBE Rise) hosts the second annual Thanksgiving Free Turkey and Gift Giveaway on Saturday, November 20 from 10am-1pm at the CTS Lutheran Church. Each household will receive one turkey or ham, groceries, home essentials, and other gifts. This event is first come, first served.
Details TBA
For the last 16 years, the Los Angeles Dodgers Foundation has hosted an annual turkey giveaway at Dodger Stadium in Elysian Park. Details have yet to be announced for this year, check back here or contact the organization for updates.
November 20 from 10am-2pm
The office of Assemblymember Cristina Garcia is partnering with the City of Bell Gardens and the LA Food Bank for a Thanksgiving Turkey & Essential Food Drive-thru Giveaway. The event is held on November 20 from 10am-2pm at Ford Park in Bell Gardens. The first 1000 families that register will receive a turkey.
November 18 from 10am-12pm
Residents of the High Desert can register for The Great Thanksgiving Turkey Basket Drive-Thru Giveaway on Thursday, November 18 from 10am-12pm. Pre-qualified families of two or more can register to attend this contactless private event. The Victor Valley Rescue Mission is giving away turkeys to families with proof of residency in Adelanto, Victorville, Barstow, Helendale, Oro Grande, or Apple Valley while High Desert Second Chance is simultaneously giving away turkeys to families from Hesperia, Lucerne, Oak Hills, Phelan, and Pinon Hills.
November 20 from 1:30pm-3:30pm
For families in the Inland Empire, the Lighthouse of Hope Foundation Inc. is giving out over 100 turkeys along with food boxes, clothing, and music on November 20 from 10am-12pm. The organization also holds a free community Thanksgiving dinner on the afternoon of November 20 from 1:30pm-3:30pm.
November 23 from 9am-12pm
On Tuesday, November 23 from 9am-12pm the city of Inglewood (with its sponsor, Pepsi) is hosting a drive-thru turkey giveaway. The event is located at Parking Lot J of Hollywood Park, near the brand new SoFi Stadium. Register in advance; no walk-ups are allowed.
November 23 from 10am-12pm
Compton College's Office of Student Development is giving away one turkey per student. For this giveaway, you must have either a student ID or proof of a fall 2021 schedule to receive the turkey. The event is held on Tuesday, November 23 from 10am-12pm.
November 25
On November 25 head to Plaza La Alameda for their annual turkey giveaway, where every attendee receives a voucher for a free turkey.
Call for details
Bresee Youth Center on Bimini Place near Koreatown is bringing back its annual turkey giveaway. To find out more information call (213) 387-2822, ext.113.
Lead photo by Karolina Grabowska from Pexels