Enchanting Christmas Light Displays in Los Angeles' Gorgeous Gardens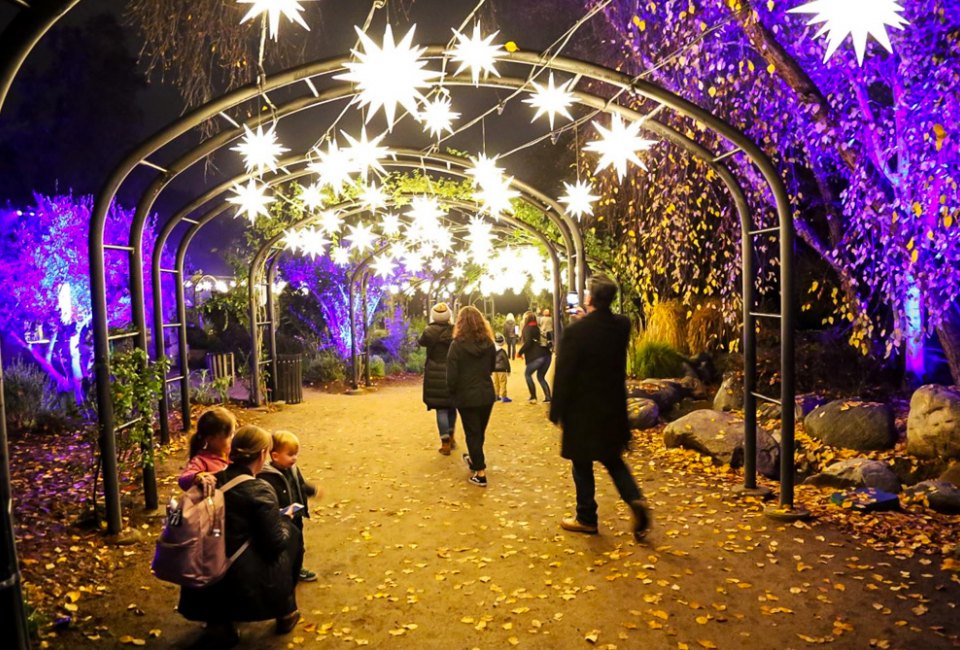 11/16/21
- By
Martha Michael
Christmas light displays are one of the highlights of the holiday season, and while we love the Elf on the Shelf Experience, the Dodger Holiday Festival, and other walk and drive-thru light adventures, there's something special about wandering through gardens that are decked for the holidays, with nary a commercial tie-in in sight. These holiday light shows at four of our favorite enchanted and enchanting gardens near Los Angeles delight kids with interactive features, and parents with spectacular natural beauty. Dig out those mittens, make a thermos of hot chocolate, and get in the holiday spirit as you soak up the incandescent glow of the holidays at these stunning botanic lighting displays.
For more holiday fun, be sure to check out our complete Guide to Holiday and Christmas Activities for Los Angeles Families.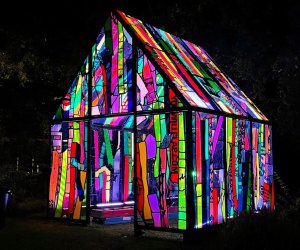 Visit the Rose Garden to see stained glass structures by contemporary sculptor Tom Fruin, photo courtesy of Descanso Gardens
Enchanted Forest of Light at Descanso Gardens — La Canada
Called one of the USA's most spectacular winter light displays by Frommer's Travel Guides, Enchanted Forest of Light is a nighttime walk through an acre of footpaths at Descanso Gardens. Transformed into a wonderland of interactive light shows, children of all ages are mesmerized by glowing forests and lightbulb "tulip" fields as they warm their hands with hot chocolate by the lake. In addition to Flower Power on the Promenade and sparkling lights on the Main Lawn, there's a dramatic addition this year from contemporary sculptor Tom Fruin—a magical town of stained-glass features in the Rose Garden, including structures as tall as a house.
Tickets and Times
Enchanted Forest of Light runs November 21, 2021 – January 9, 2022 (Closed Nov. 25 and Dec. 24 & 25). Tickets are non-refundable, have timed entry, and must be purchased in advance. Saturday time slots sell out the fastest. The display is open from 5:30pm–10pm.
Prices
Descanso Gardens members: $25–$28; Non-members: $32–$35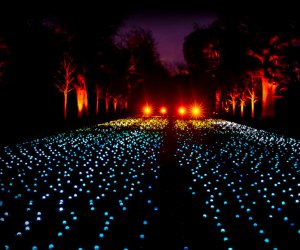 Lightscape, at the LA County Arboretum in Arcadia, boasts fields of lights. Photo courtesy of the Arboretum
Lightscape at Los Angeles County Arboretum & Botanic Garden — Arcadia
The LA County Arboretum has an all-new immersive light experience this year with Lightscape; a magical, illuminated journey of wonder and light through forests and tunnels with accompanying sounds. With features like the vaulted arch called the Winter Cathedral and the warm glow of the Fire Garden, Lightscape is making its West Coast debut here at the Arboretum this year. While it's definitely a family-friendly event, minors must be accompanied by an adult. You can't bring your own food or drinks, but they're available for purchase. Park for free at the Santa Anita Park racetrack and catch a shuttle to the Arboretum or purchase VIP parking when you book your tickets. Keep an eye out for the local peacocks who just might accompany you on this garden adventure!
Tickets and Times
Lightsape is open November 12, 2021 – January 16, 2022 (Closed Nov. 15, 16, 22, 23, 29, 30; Dec. 6, 13, 25; Jan. 10, 11). Timed tickets are available from 5:30pm-8:45pm in 15-minute intervals.
Prices
Children: (3-12) $18-$20; Adults: $30-$32; Kids under 2 are free. Members save $3 per ticket

Visit GLOW at the South Coast Botanic Garden in Palos Verdes. Photo courtesy of the garden
GLOW at South Coast Botanic Garden — Palos Verdes
As you wind your way through the Palm tree-lined entrance you're already basking in GLOW at South Coast Botanic Garden. Even better and brighter than when this light show made its debut last year, thousands of lights are providing a sea change to its botanical theme. An acronym for Garden Lights & Ocean Waters, GLOW gives adults the feeling they're drinking cocktails on the Bayou and takes kids under the sea with an interactive kelp forest exhibit. Children 4 and under are free, but take into account that there are lots of bright lights and loud sounds, and this might not be as much fun for very sensitive kids. There is plenty of free parking and no tailgating is allowed, but food is available for purchase.
Tickets and Times
GLOW runs November 20, 2021 – January 17, 2022 with timed tickets available from 5:30pm-8:30pm. Minors must be accompanied by an adult.
Prices
Members: $24.95/person; Non-members: $34.95/person. Kids 4 and under are free.

Christmas Nights at 123 Farm. Photo courtesy of Highland Springs Ranch
Christmas Nights at 123 Farm — Cherry Valley
With a display of more than a million lights, 123 Farm turns our favorite historic olive groves and lavender fields into a festive, kid-friendly celebration—complete with Santa! (Check his schedule for appearances.) A family-of-four can take a 15-minute ride on a horse-drawn carriage for $70 per wagon— it runs on weekends and reservations are recommended. There's a lighted maze and scavenger hunt and the charming Christmas Village has farm boutiques and organic galleries for shopping, plus you can grab a hot cocoa or mulled wine at 123 Café. Food service at Christmas Nights includes a full menu with soups, burgers, and sourdough pizza for dining outdoors or under a tent. Indoor dining rooms are available for rent or you can rent a private s'mores pit.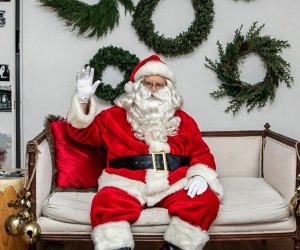 Check the schedule for a visit with Santa Claus at 123 Farm. Photo courtesy of 123 Organic Farm, Facebook
Tickets and Times
Open Tuesdays through Sundays from 5pm-10pm.
Prices
Prices vary, depending on the date, from $5-$9. Kids under 5 are always free. Additional fees apply for some events. Tickets are available at the door, but the price is $3 higher. Parking is $10 per vehicle, and parking passes can be purchased online.
Sign up for the Mommy Poppins Newsletter today!
i