New Holiday Festival Alert: Santa Claus is Coming to Dodger Stadium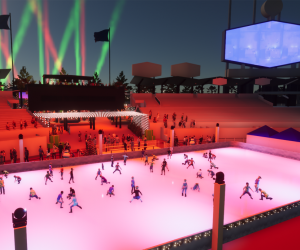 Dodger fans must have been very, very good this year, because Santa has a surprise: for the first time ever, there will be an ice skating rink for the public to skate on out in center field! The Los Angeles Dodgers are hosting a holiday festival with music and entertainment, the ice skating rink, holiday and Christmas light displays, holiday-themed snacks, photos with Santa (and the elves), and more. Read on for the scoop on this exciting new holiday festival in Los Angeles.
For more Christmas light displays, holiday festivals, ice skating rinks in Los Angeles, and more check out our complete Guide to Holiday and Christmas Activities in Los Angeles in 2021.

Walking in a Dodger Winter Wonderland.
What's New? Everything!
First of all, we have to address the newness of this fest; while the Dodgers have hosted Holiday Festivals before, this year it's bigger, better, and takes over more of the (newly renovated) stadium. So if you weren't able to get your tickets this year to watch the Dodgers almost make it to the World Series, you can now explore every nook and cranny of the new Centerfield Plaza, as well as the warning track, bullpens, and of course the amazing outdoor ice rink currently being constructed in the outfield.
Santa in the Bullpen
Apparently, Santa is secretly an ace, as he'll be hanging out in the bullpen. Families can make a reservation to take a professional photo with Santa, and have full access to digital downloads of all photos for $40. (Printed packages are available for additional fees.)
Under the light of the jumbotrons, families can skate the night away.
Skating in the Outfield
Here's the highlight: go ice skating in the outfield. Where Mookie and Belli usually hang out, there will be an illuminated 80' x 60' ice rink. Skating sessions last 30 minutes and include ice skate rental.
More Holiday Events and Activities
If you don't want to shell out for a photo with Santa, Dodger fans can still take the family holiday picture here, as there will be loads of backdrops, including Santa's sleigh and a Christmas tree, for photo ops. Kids can meet Santa's elves, see live performances every evening, plus jump in a selection of bounce houses, create a keepsake, and even do some holiday shopping to get ready to cheer on the Dodgers next season in full regalia.
And that's without mentioning the winter wonderland of light displays, light tunnels, and the Northern Lights immersive experience. Warm up after a walk through the lights or spin on the ice with favorite Dodger treats (the kind you can usually only get during the season) as well as seasonally-inspired treats and cocoa.
Welcome to a little slice of Blue Heaven.
Get the Scoop on Parking, Pricing, and More
The Dodgers Holiday Festival 2021 begins the day after Thanksgiving (November 26) and lasts through New Year's Eve. Tickets are $16 per person ages 4 and up, and separate tickets are required for ice skating or photos with Santa. Timed tickets are available online. Parking is $12 online and $15 at the gate (or $20 for preferred parking). The festival is open from 5-10pm on weekdays and 3-10pm on weekends. Proof of vaccination or a negative COVID test taken within 72 hours of the event is required, and while the festival is outdoors, the Dodgers strongly encourage everyone to wear a mask unless actively eating or drinking.
One final note: In the spirit of giving, the Los Angeles Dodgers Foundation is collecting new or gently-used baseball and softball gloves for use in their sports-based youth development program, Dodgers RBI. If your little slugger is getting some new gear this year for Christmas, consider encouraging the donation of their old glove, or helping kids pick out a new one to donate.
All photos are artist renderings courtesy of dodgers.com