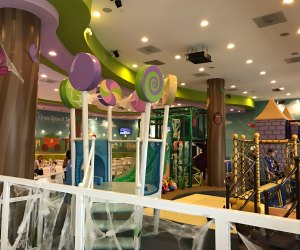 Top 10 Kids' Birthday Party Spots in Glendale
In some ways parents on the Eastside and in the Valley have it made. Birthday party options would be one of those ways. Take Glendale, for instance: without even leaving Glendale, families have an incredible assortment of options for hosting kids' parties, from indoor to outdoor, retro to techno, large to intimate. We've pulled together 10 great Glendale party ideas, ranging from free parks to private affaires—options to make any child's birthday wishes come true.
When Giggles 'N' Hugs opened a location inside the Glendale Galleria, local parents were gifted with a great year-round party option. Owned by an enterprising pair of local parents, the large indoor playground and restaurant offers fun birthday party themes like superheroes, princesses, pirates, and mermaids, as well as build-your-own pizza and a menu full of organic foods that include vegetarian, vegan, and gluten-free options. Add to that the wine list for Mom and Dad, and you've just got to throw a party here at least once.
Bowling is always a great group activity, but Jewel City Bowl makes birthday parties even better. Not only can families and friends enjoy bowling and pizza, but Jewel City Bowl also provides a live magician for kids' parties.
Playland R Us Kids Party Place and Playground
Playland R Us Kids Party Place and Playground is one of the cleanest and brightest indoor play areas in the city. The attentive staff leads kids' birthday parties through a series of games like limbo, as well as face painting and other fun activities. One bonus here is that the play space is only available for private parties, so Playland will be all your own for the duration of your party.
Yes, this one is your mama's bowling alley. On the main drag of Glendale's Montrose neighborhood, Montrose Bowl is the ultimate kitsch, retro, Happy Days humming bowling alley of somebody's childhood. The small location is ideal for intimate birthday parties, with only eight bowling lanes.
Just off the 2 Freeway, Verdugo Park has ample street parking, public barbecue pits, and even a skate park. The picnic tables can be reserved in advance through the city, which makes it easier for families to turn Verdugo Park's green fields and sycamore trees into the setting for a birthday bash.
RELATED: Find more party spots in our directory!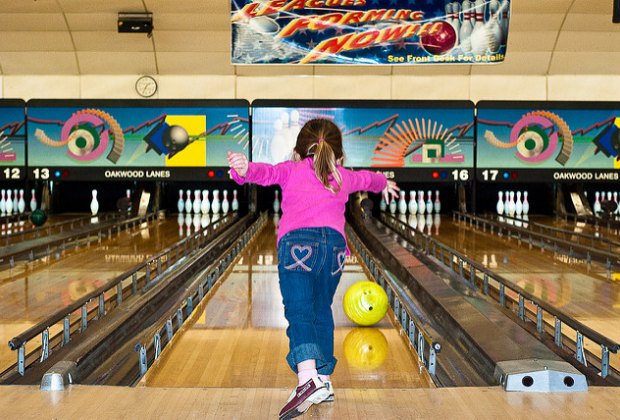 Everyone loves bowling! (Photo credit: Jim Pennucci via flickr)
Moonlight Rollerway Skating Rink
For older kids, Moonlight Rollerway Skating Rink is a great location for lifelong memories. Moonlight Rollerway offers decorations, ice cream, pizza, and of course rental skates to orchestrate a phenomenal birthday experience. You can even add an instructor to your party package, to help smooth the way for newbies.
In the foreground of the Brand Library Art Center, Brand Park sports a seasonal children's wading pool, a kids' playground, and large picnic tables. With the Verdugo Mountains in the backdrop, Brand Park is one of Glendale's most beautiful settings for birthday parties.
The Paper Rabbit in Montrose is not only a great party spot for children who love arts and crafts; it's also a great place for parents on a budget. As we all know, sometimes you have to invite the whole class, and The Paper Rabbit accommodates up to 22 kids at the same flat rate for a two-hour party. Kids can bedazzle to their hearts' content, and the store throws in helium balloons for a party atmosphere.
Resting on a hill above Glendale's northern edge, Montrose Community Park's pastoral picnic areas offer a picturesque setting for kids' birthday parties. If partygoers want to ride bikes or scooters, there's a circular path running around the large playground. Parents also appreciate the large parking lot in front of the playground.
If parents are looking for something other than parks and playgrounds for their children's birthday party, Jungle Zone Club gives a fun, thrilling alternative: laser tag. Jungle Zone Club has a two-story laser tag arena that comes equipped with fog-filled passageways and a jungle labyrinth for kids with an adventurous spirit.