Affordable Music Lessons In Suffolk County for Long Island Kids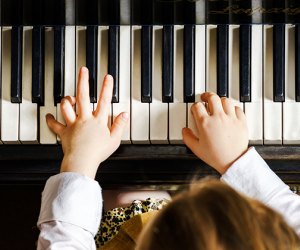 Few places celebrate their musical heritage quite like Long Island. From rock's Lou Reed to pop's Ashanti and hip hop's LL Cool J, Long Island has cultivated its own unique sound and celebrities. But even the legendary Billy Joel had to start somewhere.
Parents in Suffolk County have a number of options should their child express a musical inclination. From group clinics to at-home instruction, we've rounded up some of our favorite places for your developing virtuoso. See websites for current programs and pricing. Parents who'd prefer to cross the county border can see our post on music classes in Nassau. And don't forget our Long Island Classes Guide for other after-school options.
SCHOOL-BASED PROGRAMS
Brookhaven Art and Music
Bellport Middle School
35 Kreamer St., Bellport
631-599-3942
Taught by state-certified music teachers, this community-based program offers instruction to some 500 students in kindergarten through 12th grade each year. Classes are offered in string, brass, piano, drums, guitar and more. Beginning lessons are offered in the summer, with more challenging classes in the autumn.
Stony Brook University Community Music Program
Stony Brook University Campus
631-867-2220
Kids from 4th to 12th grade are welcome to the state university's three children's programs. Kids are introduced to music fundamentals at age 4, then grow in their understanding of concepts in a class open to kindergartners through third-graders. That formative training takes hold in a class open to sixth-graders and above, where instruments, composition and performances are featured.
Suffolk County Community College Continuing Education Program
Ammerman Campus, Selden
631-451-4110
SCCC's continuing education program offers instrument instruction for beginners during fall and spring semesters. Classes are instrument-specific, so check seasonal course catalogs for current offerings. The fall 2015 semester offers weeknight instruction in beginner and advanced harmonica.
COMMERCIAL MUSIC LESSONS
Kathryn Brickell Music
12 Kuebler St., Blue Point
800-285-5732
Kathryn Brickell is one of the largest in-home music schools serving Suffolk County. Instruction in piano, guitar, voice, woodwind and more is offered in early childhood (3-5 years old) and preschool (4-5) divisions. A diverse and experienced faculty almost guarantees you and your child will find a suitable teacher and instrument. For those who prefer a studio experience, the school's Suffolk County studio is in the hamlet of Blue Point, on the south shore of Brookhaven Town.
Music Academy of Long Island
6143 Jericho Tpke., Commack
631-858-0277
Affordable small-group and private lessons are offered in piano, violin, guitar, percussion, woodwind and voice at the academy's mid-county studio. As of September 2015, hour-long lessons are as cheap as $40 with discounts for multi-lesson and monthly commitments. According to the school's website, all instructors are university-trained professionals.
Note for Note Music
Hampton Bays
631-609-6683
Established in 2013 by a pair of state-certified instructors, Note for Note offers lessons in woodwind and brass instruments and piano. Lessons can be purchased individually at $30 per half-hour or $50 per hour, as of September 2015. They also can be purchased in blocks of four at a discount. Instrument rentals are available at reasonable prices.
Sam Ash Music Learning Center
269A Walt Whitman Road, Huntington
631-421-9333
This longstanding instrument retailer offers at its studio instruction in brass, guitar, piano, violin and more. An introductory lesson is free; a registration fee ($25 as of September 2015) is then charged to those who choose to enroll. Lessons, sold in blocks of four, vary in price based on time, instrument and ability level.
String Sound Studios
43 Washington St., East Setauket
631-476-8946
Tweens and teens would seem to benefit most from this mobile music school that offers instruction in woodwinds, brass, strings, including guitar, voice and percussion, including drums. The school offers band instruction for those already part of a novice rock ensemble.
Suffolk Music Center
208 Route 112, Patchogue
631-654-8430
One of Suffolk's largest music retailers, the Music Center offers lessons in piano, keyboards, brass, guitar, drums, voice and more. Its roster of teachers includes music school graduates and professional musicians.
Photo via Bigstock