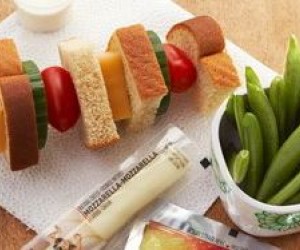 Back to School with Healthy Lunches
[UPDATED: August 10, 2012]
It's back to school time, and if you anticipate busy days and busier mornings, we want to help remove one challenge from the list, lunch. We've gathered some easy and healthy lunch ideas here. And we've provided a few links to our sister sites to ensure that we cover any school lunch option that you may need. Happy back to school, here's to a great year.




Super Sandwiches

Pita Chicken Sandwiches
For lunch, think outside the sandwich bread. These fun and healthy sandwiches have protein and veggies packed into a pita pocket. This recipe allows room for creativity and you can add or take away ingredients for picky eaters.
Sandwich on a Stick
Consider it a twist on the all American sandwich. Using colorful foods such as tomatoes, cucumbers and cheese makes this an eye appealing lunch. This can be made the night before, so in the morning you just pop the stick in your child's lunchbox. This one was a popular lunch option for my daughter. Feel free to let your creativity run wild as you make different variations of this meal.
Apple Sandwiches
Take a look, this is not your traditional sandwich, but the combination of apples, peanut butter and granola makes for an exciting lunch. For children with peanut sensitivity, you can easily swap out the peanut butter for cream cheese and the granola for apple butter! This sandwich is fun for your kids to help out with as it unleashes their inner architect. (Sprinkle some lemon juice on the apples to keep them from turning brown.)

Wacky Wraps
Smoked Turkey Tortilla Wrap
While this wrap may look intimidating, it only requires 5 ingredients! This colorful wrap combines healthy ingredients and makes for easy clean up and easy storage in your child's lunchbox.
California Veggie Wrap
For kids who prefer veggies to meat, or even meat lovers think they aren't fond of veggies, this is a fun take on a wrap. Cheese, avocado, and carrots are just some of the ingredients that your kids can help you prepare to create the wrap. A neat approach to the ever popular sushi California roll!

Pizza Wrap Sandwiches
Pizza for lunch! This wrap can be served hot or cold and your children can go wild and crazy with the ingredients! From pepperoni to olives or even pineapples, the possibilities are endless.

Sensational Salads
Alphabet Pasta Salad
Your kid will get a kick out of this take on alphabet soup in salad form. The recipe makes up to two cups of the salad and can be stored for two days.
Lunch Box Taco Salad
Mexican food makes its appearance during lunchtime with this fun recipe. The recipe can also include ground beef, or the vegetarian version of ground beef.
Layered Fruit and Cheese Salad
Fruit and cheese are the perfect combination for this salad. Honey, strawberries, grapes and sour cream are the essential ingredients but they can easily be substituted with watermelons, pineapples, blueberries and other fruits. If you kid isn't sure about the mayo/sour cream part, a plain fruit salad with the sauce on the side for dipping might do the trick.


If you're feeling especially creative, try one of the ideas for Bento Lunch Boxes!
Our other affiliates are also facing the back to school lunch challenge, check out LA's Making School Lunches & Snacks Easy, Healthy and Delicious, New Jersey's Get Packing! School Lunch Ideas and Tips, Connecticut's Back to the Lunchroom: Nine Steps to Healthy, Happy Kids, and NYC's collection of our own contributor tips in School Lunch and Snack Tips and Ideas for Back to School.
And finally, for other great ideas check out our Top Ten Fabulous Food Blogs.