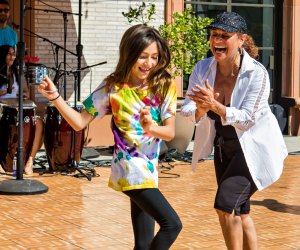 Mother's Day Weekend Fun for LA Kids: Fire Service Day, Rocket Launch, and Gibbons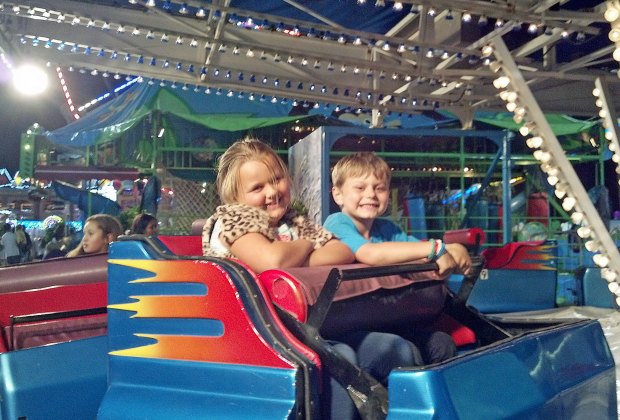 Photo courtesy of Conejo Valley Days
ALL WEEKEND
Conejo Valley Days - Thousand Oaks
The four-day event features entertainment for kids, teens, and the whole family with motocross freestyle exhibitions, carnival rides, outhouse races, games, and a food court.

Play Days - Monterey Park
You say it's your birthday? Well it's Monterey Park's too, yeah. The celebration includes a four day carnival and a parade on Saturday

California Butterfly Pavilion - Claremont
We all know about the famous butterfly pavilion in LA, but did you know there's another one?

Kiddee Matinees - Hollywood
The chipmunks go on a hot air balloon race around the world in 1987's animated Chipmunk Adventure.

Cirque du Soleil: Amaluna - San Pedro
Cirque du Soleil's latest explores themes of motherhood and femininity ... Hmm, I wonder when would be a good weekend to see it..?

Renaissance Pleasure Faire - Irwindale
M'Lords. M'Ladies. M'ommas.

Get a hands-on demo from the Los Angeles Fire Department. Photo by Chris Yarzab/CC BY 2.0
SATURDAY MAY 11
Fire Service Day is celebrated throughout the Southland with stations inviting the community for open houses, demonstrations, and even pancake breakfasts! Here are a few of the participating departments:
Fire Service Day - Burbank

Fire Service Day Glendale - Glendale

Redondo Beach Fire Service Day Open House - Redondo Beach

Fire Service Day - Beverly Hills

LAFD Fire Service Day - All Neighborhood Fire Stations of the City of Los Angeles

Alondra Park Fishing Derby - Lawndale
​Gone fishin'. Find me at Alondra Park.

Culver City Car Show - Culver City
Put 'er in park: this annual event hosts more than 400 classic cars and hot rods.

Breakfast with the Gibbons - Santa Clarita
The annual breakfast at the Gibbon Conservation Center offers a chance to see (and hear!) the acrobatic primates in action.

Rocket Launch - Huntington Beach
Kids can design, build, and launch rockets (made from 2-liter plastic soda bottles) at the Boeing Company.

Saturday Mornings At The Opera - Downtown
Sung (and spoken) in English, LA Opera brings German language operas to life.
Queen Mary's Waterfront Cook-Off - Long Beach
Momma's gotta eat. And when she's done with the chili and BBQ, she can go for a ride on the mechanical bull.

Mother's Day Art Event at Westfield Culver City - Culver City
Want Mom to breathe a little easier? Give her a plant! (In a pot you painted yourself...)
Angel City Derby - Spring Double Header - Culver City
Round and round and round they go. Twice.
AMC Theatres Sensory-Friendly Films - Multiple Locations
Sensory sensitivity needn't keep anyone from seeing Avengers Endgame!

Stars on Ice - Anaheim
The Olympic quality ice show brings a company of world-class Olympic champion skaters and ice dancers to Anaheim to strut their icy stuff.
​
​Cinespia - Hollywood
Join Beetlejuice, Beetlejuice, er... what was his name? ... for an under-the-stars screening at Hollywood Forever Cemetery.

Street Food Cinema
My name is Inigo Montoya; you killed my father; prepare to see an under-the-stars screening of The Princess Bride at Griffith Park. (Or if you prefer, The Royal Tennenbaums in Exposition Park)

Eat See Hear - Elysian Park
"These people aren't just rich; they're crazy rich."... Mingle with some Crazy Rich Asians for an outdoor screening at LA State Historic Park.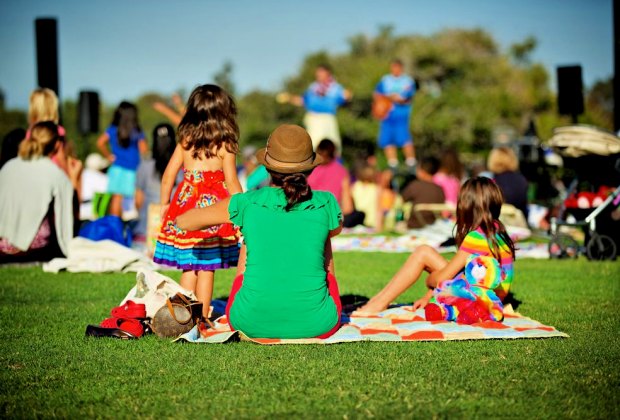 Music on the Meadow. Photo courtesy of South Coast Botanic Garden
SUNDAY MAY 12 – MOTHER'S DAY
Mother's Day Lunch Train - Fillmore
Mom gets lunch; the kids get a ride on the train: everyone's happy.

Dance Sundays - Beverly Hills
Come on Vogue: Momma wants to dance on her day. Debbie Allen Dance Academy shows her how.

Mother's Day Brunch - Long Beach
Brunch at the Aquarium of the Pacific includes aquarium admission.

Mother's Day at the Reagan Library and Museum - Simi Valley
Brunch at the Ronald Reagan Presidential Library features live music and a tour of the museum.

Mother's Day Music in the Garden: Palos Verdes Symphonic Band - Palos Verdes Peninsula
Garden picnic with some music? I think Momma will like that.

Momentum Place - Topanga
The annual Mother's Day event at Theatricum Botanicum features aerial and circus performers, dancers, and musicians—and it's all kid-friendly.
GRAMMY Museum Free For Moms - Downtown
Moms get in for a song (in other words free) at the GRAMMY Museum.

Free Day at USC Pacific Asia Museum - Pasadena
Still need a gift for Mom? You can make an artful flower arrangement at PAM.

Mother's Day Tea - Long Beach
Rancho los Cerritos serves Mum a lovely cuppa tea.

Tiny Porch Concert Series - Calabasas
The Tiny Porch series returns with the Leftover Cuties. Note that due to damage from the Woolsey Fire, the season opener is held at King Gillette Ranch.

Mother's Day Sloth Breakfast - Sylmar
In her heart of hearts, what Mom wants more than anything, is up close and personal time with a sloth. (Oh, and you too, of course. You can come.)
As always, there are many more activities listed on our Event Calendar (and if you didn't receive this post as an email, you really should subscribe). Whatever you choose to do this weekend, we hope you have marvelous time. Happy Mother's Day, everyone!