Children's Ski Lessons at Mountain High Rock!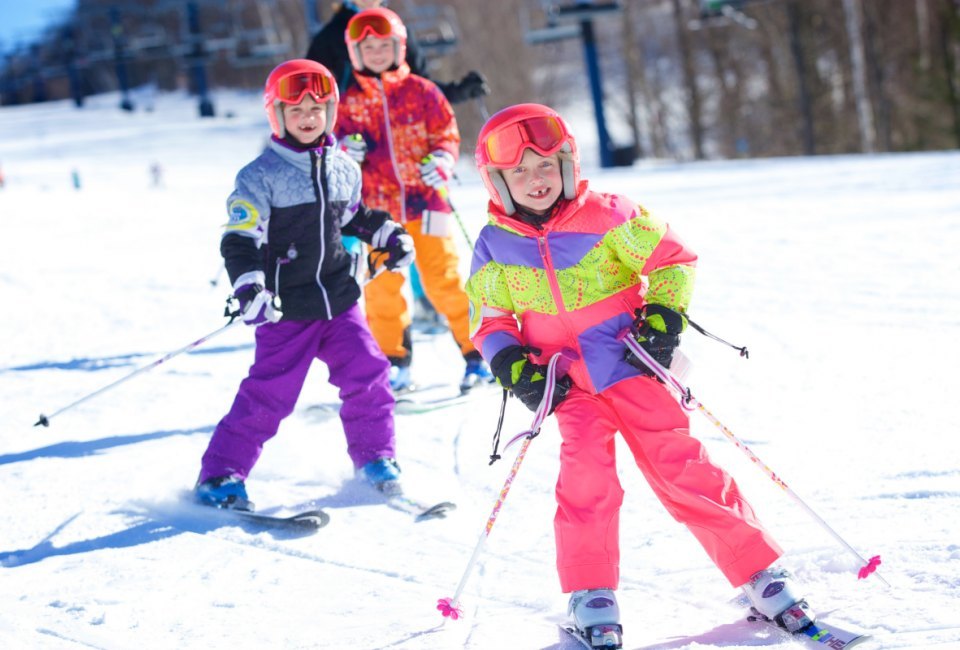 2/20/12
- By
Roberta B
Until this past weekend, one of the casualties of parenthood in our family was skiing. Of course, if I had been a true skiing fanatic I would have moved "Teach Child To Ski" higher up the priority list. Indeed, if I were a serious skier, I may even have felt qualified to teach said child to ski myself. Instead, I have vaguely contemplated the family ski resort options near LA each winter, and then realized that I have not made it to one each spring. After six seasons without skiing, I decided it was time to take the child by the horns and get someone to teach him to ski.
I opted not to invest in an entire overnight vacation dedicated to a sport my child might announce that he hates in the second hour, so I only considered the ski resorts within day trip range of Los Angeles. I've heard great things about Mt. Baldy, and the prices there are mighty tempting, but several parents warned me about the ski lift ride from the parking lot up to the ski area; having to ride a long, steep, gusty lift before even putting ski to snow sounds a bit intense for beginners. This left me with Mountain High or Snow Valley for day trip options, and what tipped the balance for me was knowing that Mountain High does not require putting on snow chains - one of my least favorite things to do with a car.
I called ahead and got two enormously helpful tips from the Mountain High staff before heading out:
1. Ski school does not take advance reservations, and on weekends it fills up quickly. To avoid disappointment, it's best to be at the ticket window when it opens, at 8am.
2. Mountain High has two parking areas, about a mile apart. The lot at Mountain High West is the one near the children's ski school, but it's also the smaller lot. Again, arriving by 8am is the best way to get parking near the slope you'll be using. The East lot has a shuttle, but this place is small enough that parking near the right slope can make a huge difference.
Both of these tips added up to the same daunting prospect: we would need to leave the Westside by shortly after 6am - not my best time of day. Luckily, the excitement of impending snow sports turned my son into a trustworthy alarm clock, and we were indeed on the road by 6:15am. Directions to Mountain High are easy to follow, via highways almost all the way, and we were parked in our lot of choice by 7:45am. The distance between the car and where the skiing begins is an amazingly short walk - a real bonus for kids and first-timers. (We returned twice for things left in the car!)
We booked the full-day children's ski school option, which runs from 10am-3pm and includes ski rentals, all-day lift ticket, and lunch for $99 ($109 holiday weekends). There is a half-day option (1pm-3pm) for $20 less, but for beginners I highly recommend doing the full day.
Check-in time is 9:30am, which gave us 90 minutes to eat (we brought something along, but there is a cafe, too), get all of our layers of clothing on, and pick up our rental gear. There are two locations for rentals - one near the ticket sales in the parking lot, and another a short walk up the hill by the Children's Ski School. The latter location is the place to pick up kids' supplies, and the rest of the family can get equipment there, too. There are lockers by the rental area, and kids in The Academy get cubbies. Try to pick up rentals early, as the last half hour before ski school begins there's a mad rush; getting in ahead of the rush gives the friendly staff a chance to shine in helping kids try on those big hard boots for the first time.
Mountain High's Children's Academy facility is just wonderful. Kids start on a very gentle, very short fenced-in slope with a "moving carpet" style ski lift that they can simply step on and off. Once they have the basics down on this protected bunny slope, they can move up to a somewhat longer, equally gentle bunny slope with a longer moving carpet lift. The third progression, if they're ready, is a short beginners' slope accessible by a chair lift that goes neither high nor fast. The most dangerous thing on this slope is the number of adult beginners, but instructors help to fend off flip-flopping snowboarders.
I was particularly impressed with the careful attention the instructors gave each child. The kids are divided into groups at the beginning of the day, according to age and skill level. My son's teacher realized by lunchtime that she had mostly kids who needed to stay on a bunny slope, but that my son was ready to try a chair lift - so she moved him to a group that would be working on chair lift slopes. The second teacher was equally terrific, and in my son's last two hours had him using not just the slow, easy chair lift, but also the longer, faster chair lift to the higher slopes. By the end of his five hour ski school experience, my son had moved from never having worn a ski to skiing every green slope on the mountain.
Meanwhile, I was also able to do plenty of skiing. All of the green slopes and some of the blue ones finish next to the ski school area, so I did all the skiing I wanted, as well as all of the watching I wanted. Talk about getting our money's worth! (And speaking of money, this was not a reviewer's comp trip - Mountain High had no idea I was writing a review and gave my son the same great instruction everyone gets.)
The ski school experience surpassed my wildest dreams. We had a great day of skiing, and - don't tell him but - my son now skis better than I do! In future we can take advantage of half day deals or other money-saving packages, but investing in the whole shebang the first time was so marvelously worth it!
And our last tip? Tired, hungry skiers want dinner before falling asleep on the ride home, and the Grizzly Cafe in Wrightwood is exactly the kind of charming, family-run, comfort-food value meal you'll be looking for as you hit the road. (Be sure to tell the new skiers at the table to keep an eye on that moose who seems to be moving...)
Check out more skiing opportunities in the Mommy Poppins Skiing & Snow Sports Guide.
Sign up for the Mommy Poppins Newsletter today!