Where to Have a Laser Tag Party in Westchester or Lower Hudson Valley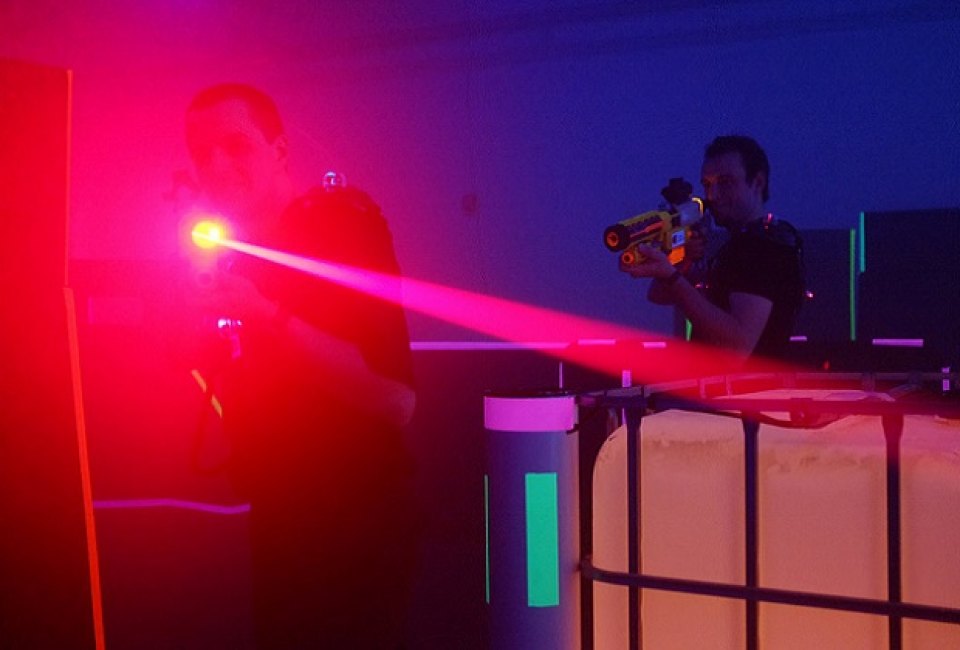 2/23/16
- By
Lisa Johnston
If your kid has graduated from NERF battles to laser tag, don't be surprised if he or she starts clamoring for a laser-themed birthday party. Super intense and requiring skill, patience and precision, laser tag is a huge hit with the middle school crowd. We've covered nearly all kinds of birthday parties in the past, and now we'll focus on locations in Westchester and the Lower Hudson Valley that offer this high-tech game, as well as some options for throwing a bash at your own house.
Sportime USA – Elmsford
380 Saw Mill River Rd
(914) 592-2111
A frequent appearance on our birthday lists, Sportime USA has nearly every type of birthday party you can think of, so it's no surprise it throws laser tag into the mix. Each guest will receive one private game of laser tag, 20 game credits, three ride tickets, pizza or hot dog, and a drink. The fee also includes use of the general party room, paper goods and invitations, and it throws in cotton candy and a spin on the Birthday Prize Wheel for the birthday boy or girl. There are also a series of other add-ons offered if those aren't enough for one day. You must have at least 10 participants, and kids must be at least 7 years old.
FunFuzion – New Rochelle
29 Lecount Place at New Roc City
(914) 637-7575
Laser tag is offered as an add-on package here, but keep in mind it will cost you an additional fee per person on top of the party's base fee. Th is add-on will get each of your guests one session, which consists of three four-minute games.
The Castle Fun Center – Chester
109 Brookside Ave
(845) 469-2116
The Castle is one of the most affordable option on our list (since pricing can change, check with them for exact figures). Eight kids are included in the base price and, like most places, you get the best deal if you book during the week. In addition to two 10-minute games, you get 40 minutes in the party room, paper products and decorations, pizza, soda, ice cream cup and 300 points at the arcade (about four or five games).
Mobile Laser Tag
If you have the space in your backyard, another option is to enlist the help of a mobile laser tag company. These vendors will bring everything you need, from guns to vests to obstacles. While they can be a lot pricier than birthday facilities (and you're stuck with providing everything else, including clean-up!), keep in mind that your guests will have significant more time to actually play laser tag.
Red Line Mobile Laser Tag
(914) 384-9564
Red Line offers a basic package for an hour and eight players, and a Deluxe package for 75 minutes and 12 players, both of which include inflatable obstacles. You can tack on extra time blocks if you want to extend the fun, and custom packages are also available. Prices include 50 miles of travel to and from Cortlandt Manor, but you'll have to pay 75 cents a mile after that.
Outdoor Laser Tag USA
(914) 413-7138
Pricing for this mobile team has a flat fee for 10 players, with an added fee for each additional kid. Although these prices don't include any obstacles, you do get 90 minutes of play time, a "Mission Director" to manage things, and even a music system. Other, pricier packages include extra play time, inflatable obstacles, pop-up tents and dog tags for the players. Outdoor Laser Tag USA will travel within a 50-mile radius of Hastings-on-Hudson for free, but it charges $1/mile for anyone further. Kids must be at least 7.
Creative Commons image credit: Heipei
Places featured in this article:
---
FunFuzion
---
Sportime USA
---
The Castle Fun Center
Sign up for the Mommy Poppins Newsletter today!