Wheelock Family Theatre's Shrek the Musical: A Parent Review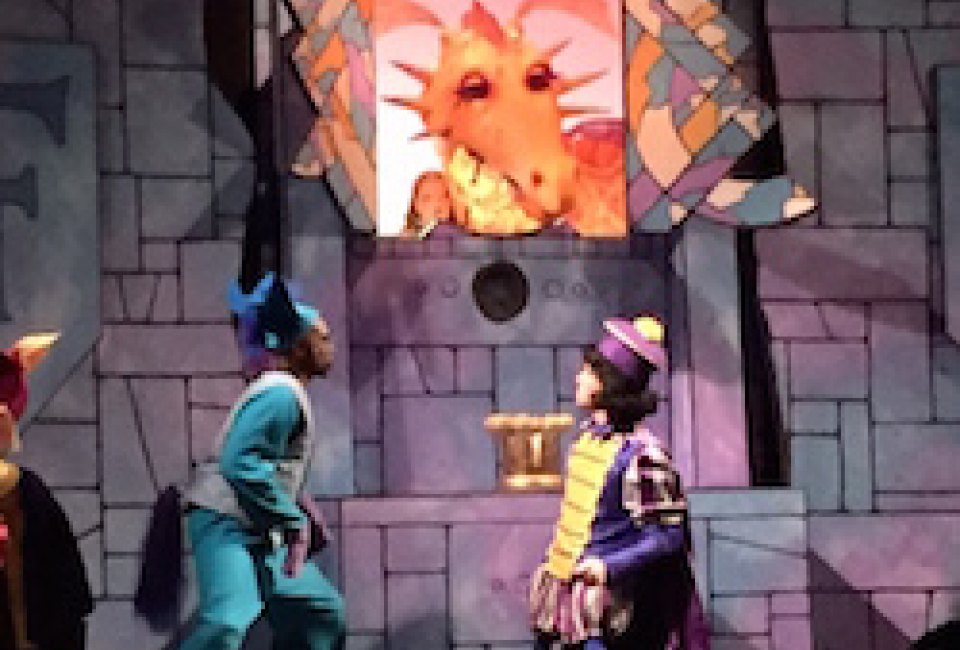 4/22/15
- By
Michelle Curran
If you've seen the movie, you might just wonder, How in the world could Shrek be turned into a musical?
The answer is simple. Start with a smash Broadway script and score, cast a bunch of talented actors, throw in a gifted musical director (who really knows how to translate the sounds of bodily functions to the stage) and a skilled crew, and there you have it. Well, then, of course, there's the director, choreographer, musicians, set and costume designers, prop master, puppet designer, lighting director...
Okay, so maybe it's not so simple to create an engaging and entertaining show that appeals to both kids and adults. But the Wheelock Family Theatre's production of Shrek the Musical, about a grouchy ogre, a feisty princess and a loquacious but kindhearted donkey, does it, and does it so well that when the curtain closed on the final makes-you-want-to-dance-in-your-seat song, my 9-year-old son and I looked at each other and said, "We want to see that again!"
Shrek the Musical sort of has it all: fun music (If you're lucky enough to catch a show, I guarantee that "Let Your Freak Flag Wave," will be stuck in your head long after), laughs, a tad touch of drama, eye-catching sets and costumes and all the elements from the original DreamWorks Animation movie that you loved, including the crude humor, which was fine for my 9-year-old.
But it really was the actors who stole the show. For the entire production, I was convinced that Christopher Chew, who played Shrek, was a Scotland native, as his accent was spot on. It was only in the Q&A with the cast and crew after the Saturday matinee that I discovered he wasn't, and I was kicking myself the whole ride home for not asking how he managed to perfect it. The beautiful Shonna Cirone as Fiona was a perfect blend of princess and head-strong woman. And Maurice Emmanuel Parent, who played Donkey, was as funny, if not more so than his animated counterpart, Eddie Murphy. His facial expressions, delivery and timing were flawless. And we can't forget Lord Farquaad, portrayed by actor Mark Linehan, who spent the entire production on his knees to replicate the wannabe king's small stature, a tall and rather painful order as he revealed in the post-show Q&A, an offering we highly recommend staying for. It's a unique opportunity for kids (and parents!) to see the actors as real people and to get some fun insight as to how a production like this comes together.
In all honesty, every actor on the stage deserved to be there, from the puppeteers who controlled the 20-pound Dragon puppet, making her sing and glide seamlessly across the stage, to the fairy tale characters that make a stand for themselves, right on up to the main characters. And boy, can the cast sing. And dance. The collective talent is no joke. Kudos to the production team at Wheelock Family Theatre for making the right casting choices. Kudos to the crew, too, for tossing in some references to famous (and infamous) Bostonians, including Big Papi and Bill Buckner, which gave the show a welcome local touch.
If it sounds like I'm gushing, it's because I am. When a stage show has the ability to make a scrutinizing 9-year-old exclaim, "That was great!" you know you've stumbled upon something, well, great. I saw very few squirming children. Pretty much the whole audience was enthralled with the production throughout. And the mid-show intermission gave a welcome restroom and snack break. (Chocolate cookies and warm, soft pretzels? Yes, please!)
My son and I give Wheelock Family Theatre's production of Shrek the Musical two big thumbs-up. The show's recommended audience of adults, teens and kids ages 7 and up seems reasonable. The bit of crude humor and language, which is a big part of its appeal to kids for obvious reasons, will be well-received by older children and will most likely go right over the heads of the younger ones. Plus, you can't overlook the positive messages of friendship, unconditional love and the lesson of not judging a book by its cover - important messages for all, young and old.
Shrek the Musical, a show that proves fairy tales come in all shapes and sizes, is a pretty safe bet for an all-ages family afternoon or evening out on the town.
---
Shrek the Musical plays at the Wheelock Family Theatre through Sunday, May 24. Visit wheelockfamilytheatre.org for show times, tickets and information about pre- and post-show activities.
Places featured in this article: