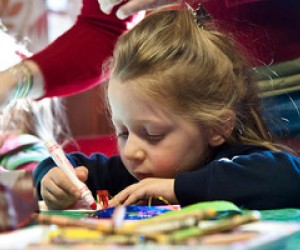 Weekday Picks for Philly Kids: Stories, Art, Animals Jan 25-29
As we shovel the snow from the Blizzard of 2016, it is time to focus on the week ahead. Since many Philly families were cooped up inside over the weekend, both parent and child are ready to get out. Thankfully, our Events Calendar can provide many options for the week.
Explore Morris Arboretum's Tu B'Shevat program, make a craft with Chester County Arts Association at Exton Mall's Mommy and Me, enjoy a winter walk at Briar Bush Nature Center's Magic Mornings, or listen to a Book in the Nook at Delaware Museum of Natural History. Be sure to check out indoor play spaces in Philly, Bucks, Chester, Delaware, and Montgomery Counties, as they can provide a much-needed escape from home this time of year.
Stay connect to Mommy Poppins Philly on Facebook, Pinterest, Twitter, and Instagram. Enjoy the week ahead!
Monday, January 25
Whole Foods Kids Club- Plymouth Meeting, PA
After picking up your groceries, take the kids to enjoy some interactive playtime at Whole Foods' drop in Kids Club. Healthy snacks for participants is an added bonus.
Tuesday, January 26
Story Time and Craft- Media, PA
Preschoolers can listen to stories about animals and the outdoors, as well as make crafts at Linvilla Orchards. The fun begins in the Garden Center and is held rain or shine.

See all Tuesday's events
Wednesday, January 27
Pay What You Wish- Philadelphia, PA
Foster an appreciation for fine arts in your little ones while exploring the Philadelphia Art Museum during its Pay What You Wish evening.
Thursday, January 28
Children's Discovery Room Open House- Schwenksville, PA
This free event is held by Perkiomen Watershed Conservancy and allows children the chance to play with puppets, tree blocks, wildlife costumes, and puzzles. At the top of each hour, a story is shared with visitors.
Friday, January 29
Decline of Bats in the Northeast- Ambler, PA
Why should be be concerned with the decline in the bat population? Find out at Wissahickon Valley Watershed Association's program which could be especially interesting to scouts or nature-oriented tweens.

Photo courtesy of Perkiomen Watershed Conservancy