3 Cool Candy Shops for Westchester Families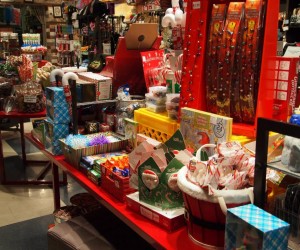 Kids love candy (and so do their parents). Though we usually try to keep candy to a minimum, we know it's fun to indulge in sinfully delightful sweets. And if you're going to indulge, might as well make an experience out of it. While little ones may be content with a packaged treat in the checkout aisle, why not go big at one of Westchester's local sweet shops?
We've mentioned several of Westchester's awesome ice cream shops, however, maybe a good old fashioned candy shop is more your speed. If you're looking for a candy fix while you're out and about checking out the fun family events in Westchester, be sure to check out one of these local sweet shops that go above and beyond to satisfy any sweet tooth!
Candy Rox - Rye and Bronxville
84 Purchase Street, Rye
66 Pondfield Road, Bronxville
Candy Rox is the biggest candy shop in Westchester and is packed floor to ceiling with all the sweets you can imagine, plus fun specialty items including t-shirts, hats, scarves and other accessories that showcase their "passion for boarding--snow, skate and surf". They specialize in customizing goody bags and party favors to the theme of your choice including college pride packages and sports teams. In addition, they host birthday parties and socials and will candy-cater any event.
Imagine Candy - Scarsdale
22 Harwood Court
Update: This story is permanently closed.
We mentioned this candy shop in our post on 25 things to do with kids in Scarsdale. Here you'll find a wide range of goodies to satisfy any request including nut free, vegan, sugar free, raw and kosher. They also have an array of retro sweets including Dots, Pop Rocks, Sugar Daddy and more. If there's an artist in your brood, check out their Candy Arts contest for a chance to have your artwork (or your kid's) showcased in the store. Imagine Candy also hosts birthday parties, corporate events and wine and chocolate tastings for adults.
Sweet Teez - Larchmont
157 Larchmont Avenue
Update: This store is permanently closed. This shop strives to satisfy any craving. In addition to the wonderful selection of candy, both nostalgic and in-the-moment trends, Sweet Teez also makes their own line of sweets. They also serve ice cream, sourced from a local Connecticut creamery. In addition, they host parties onsite and off and will candy-cater events from baby showers to proms and corporate events. Sweet Teez also has an outpost in Greenwich, CT.
Image courtesy of Candy Rox