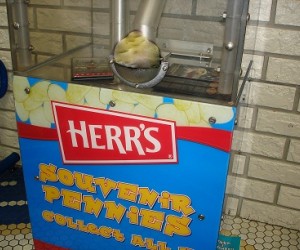 The Herr's Snack Factory Tour - A Parent's Review
Have you ever tasted a potato chip, hot off the factory line? If the answer is no, the free tour of the Herr's Snack Factory in Nottingham, PA must be included on your Philly Bucket List.
But, before loading up the car, make sure to call or email to schedule a free tour. After parking in the lot (which is also free of charge), visitors make their way to the Visitor's Center. It is suggested that guests check in 10 minutes before the scheduled tour.
Visitors are lead to Chipper's Theater for a brief movie about James and Mim Herr and the history of Herr's Foods. At the end of the movie, the audience is divided into groups for the tour. Tours last about 1 hour depending on what products are being manufactured that day. The best days of the week to visit are Monday through Thursday as Fridays are reserved for cleaning the equipment. Strollers are permitted; however, cameras and cell phones can not be used during the tour.
While touring the factory, kids can look through plate glass windows as workers make sour dough pretzels, potato chips and cheese curls. Children watch the entire process while these snacks are made, seasoned, bagged and boxed ready to be loaded onto trucks for delivery. Tour guides provide many interesting facts to the tour groups. For example, did you know the leftover water from washing the potatoes is used to irrigate the Herr's fields?
Now, it's the moment everyone has been waiting for! The tour guide sneaks into the factory to gather a tray full of warm chips for everyone to taste. Truly, they are the best chips ever! Thankfully, as the tour concludes, guests leave with a free bag of chips. And, don't forget to check out the gift shop which has snacks for sale as well as 'oops' bags. 'Oops' bags are snacks that didn't make quality control but they are perfect for kids' lunches. Snack bags can be as cheap as 17 cents!
If all the talk of snack food is making your kiddos hungry, be sure to stop by Chipper's Cafe. Kid-friendly foods like chicken nuggets, hot dogs and chips, of course, are offered at reasonable prices. Many of Herr's snacks are dairy free and gluten free for families with food allergies.
As an alternative to eating at the factory and if the weather is decent, consider packing a picnic lunch and heading to Nottingham County Park which is only a short drive away. This 651 acre park has playgrounds, hiking trails, fishing ponds and pavilions perfect for picnicking.
The Herr's family supports the community in many ways. Not only do they contribute to many charities, they give back to the local community by hosting annual events such as the Holiday Lights display, Halloween Happenings Trick or Treating event and Cruise Nights.
Herr's Snack Factory is located at 20 Herr Drive in Nottingham, PA. For more information or to schedule a free tour, call 1-800-63-SNACK.