Ringo Starr: Peace and Love for LA Kids at the GRAMMY Museum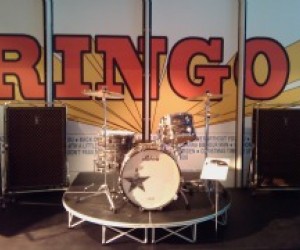 Quick - name a Beatle. Did you say Ringo? Bet you did! Even if you went for John, Paul, or George, chances are that the Beatle your kids know best is Ringo. There's just something about Ringo - the familiar face, the familiar voice, the familiar beat of his familiar drums - everyone loves Ringo Starr. That's why the GRAMMY Museum's newest exhibit, Ringo: Peace and Love (open through April 2014), is such a fab outing for parents, kids, and even grandparents to all enjoy together. Big smiles and hummed tunes are practically guaranteed.
One of the most wonderful things about the GRAMMY Museum is its dedication to making everything accessible, educational, and appealing to kids. Sure, the Ringo retrospective has oodles of cool stuff dug up from his mum's attic, and you'll need to squeeze past several transfixed 60-somethings ogling his rad jackets, iconic drumkits-under-glass, and vintage concert posters; this exhibit has definitely pulled together an impressive collection of memorabilia. But what makes the show really stand out is not the stuff that could hang over a booth in the Hard Rock Cafe; it's the fun your kids can have playing with Ringo, singing with Ringo, and getting to know the man who sounds strangely like that guy from Thomas the Tank Engine.
(Because, yes, to the Thomas Generation the most successful drummer of the 20th century is famous for telling a certain blue train that he's a really useful engine...)
Some of the interactive highlights include sound mixing boards where visitors can experiment with re-mixing the 10 tracks of the Beatles' With a Little Help from My Friends and an interactive screen-top table littered with images of smart phones playing vintage Ringo
concerts, music videos, and movie clips. Kids can watch The Beatles' Ed Sullivan Show appearances on a 1960s TV set while seated on a 1960s sofa. Then there's the Yellow Submarine booth, in which families can gather to sing along with Ringo karaoke style and record the results (which, if too painful, come with a "Make It Stop!" button). The coup de grace, however, is a pair of interactive drum kits that allow visitors to sit down and have a drum lesson with the world's most famous drummer. Ringo shares his licks and riffs with whoever sits down and picks up the sticks, then waits patiently while the student tries to repeat the lesson (patiently with a couple of funny faces, that is). Three different lessons are offered, and I think it may be physically impossible to avoid grinning from ear to ear while drumming with Ringo.
If your family harbors a die-hard Beatles enthusiast, the GRAMMY Museum's show holds plenty to enthrall, including never-before-seen photos from Ringo's personal collection documenting behind-the-scenes fun with the Fab Four, personal mementos from the band's early years, and some original artwork. The musician in the family is likely to appreciate the quotes and interviews that really delve into what makes Ringo the most respected drummer of his generation, far beyond that loveable Mop Top image. And the accompanying video montage that plays in the Clive Davis Theater induces smiles, smiles, and more smiles.
If your child's school, camp, or homeschooling group is looking for a field trip with plenty of rhythm, it's worth noting that the museum has some educational programs only for students and teachers, to accompany the exhibit. Teachers are welcome to arrange a free visit before booking.
The press preview of Ringo: Peace and Love included a Q & A with the man himself, and what came across above all were his powerful love of and seriousness about music, and his appreciation for the good fortune that allowed him to play such an important part in music history. "We only wanted to be musicians," he said. He told tales of trying to move a drum kit around before he had a car, of only ever wanting to play drums, and of teaching his own son to drum. The exhibit captures all of that and more - a fun retrospective of a man who's never missed a beat.
GRAMMY Hours & Prices:
Mon-Fri 11:30am-7:30pm
Sat-Sun 10am-7:30pm
Adults $12.95; Children (6-17) $10.95, (under 6) free