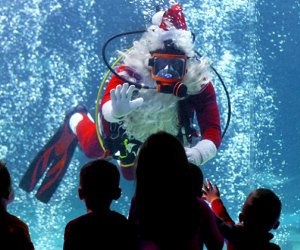 Quirky Christmas: Some NJ Holiday Events You May Not Have Heard Of
We all have our favorite holiday traditions, whether it's viewing annual light displays, cutting down a Christmas tree, or having breakfast with Santa. All good stuff, to be sure. But if you're thinking you might like to mix up your holiday adventures a bit, check out some of these, shall we say, "off the beaten path" ideas. We've got activities that will take you on a boat, to an alpaca farm, and even back in time. Because sometimes parents need to throw something new into the mix to keep kids on their toes. And who knows? One of them might become a new favorite. For even more ways to celebrate the season, check out the December GoList and our Holiday Guide.
Adventure Aquarium's Christmas Celebration – Camden
From December 3 through 30, Adventure Aquarium transforms into an underwater winter wonderland featuring larger-than-life decorations, twinkling lights, glowing trees, and gently falling snow. Daily festivities include live shows and appearances by Scuba Santa, Bumble the Abominable Snow Monster, and Rudolph the Red Nose Reindeer.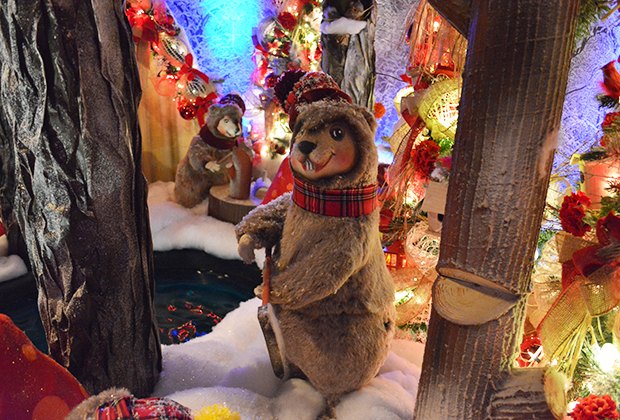 One of the displays at Christmas Ice Caverns. Photo by Rob DiCaterino via Flickr.
Christmas Ice Caverns and Christmas Store – Fairfield
Located inside Jody's Silk Florist and Patio Center, the Christmas Ice Caverns are New Jersey's largest walkthrough animated Christmas display. Santa pictures with North Jersey's #1 Santa are available as well (hours vary). Spread out over 10,000 square feet, the caverns have been updated every year to include characters sleigh riding in the snow, Santa's candy factory, Santa's reindeer feeding barn, Toy Story figures, and a life-size Nativity. The gift shop is full of thousands of ornaments and an excellent array of trees, wreaths, swags, and handcrafted centerpieces.
Santa Ferry Ride – Belford
If you've done Christmas train rides and are looking for something new, why not visit with Santa on a ferry this year? On December 3, take a trip aboard the new Molly Pitcher. The ride includes a visit from Santa and friends, as well as goodie bags, caroling, and a gorgeous view of the Statue of Liberty. Ferries leave from and return to the NY Waterway Belford Ferry Terminal.
Casino Pier Holiday Party – Seaside Heights
When you think of celebrating Christmas, Casino Pier is probably not the first place that comes to mind. But its holiday party on December 3 will surely get you into a festive mood. Events will include an ugly sweater contest, candy cane limbo, and a visit from Santa.
Civil War Christmas – Morristown
History buffs will love traveling back in time to the Civil War era for a Christmas celebration that includes attendance at an officer's ball, complete with period music, costumes, and dancing. Visitors can also walk through a soldier's camp and speak with costumed re-enactors. December 3–4.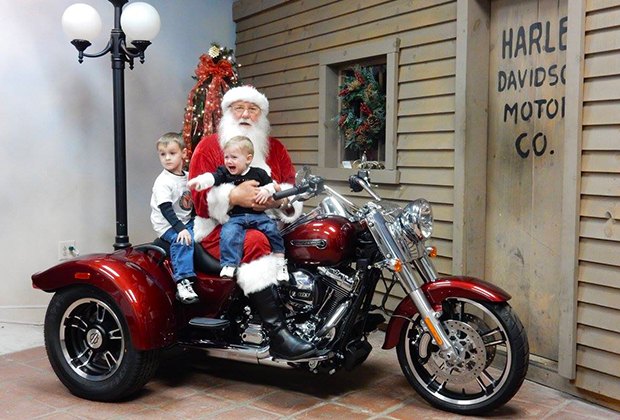 Harley Davidson Santa. Photo courtesy of Shoreline Harley Davidson.
Harley Davidson Santa – Long Branch
This Santa's preferred mode of transportation is a Harley. Stop by Shoreline Harley Davidson on December 4 for free photos with a motorcyle-riding Santa, plus hot cocoa and candy canes.
Dreaming of an Alpaca Christmas – Peapack
On Saturdays and Sundays in December, Bluebird Farm Alpacas welcomes visitors to meet their gentle residents and learn all about them. The Farm Store will feature products that are handmade from their own alpaca fiber, as well as crafted products from Peru—everything from gloves and hats to socks and teddy bears. There will be craft making for kids, alpaca feeding, and opportunities for holiday photos.
Holiday Lights Trolley Ride – Cape May
Ride through Cape May's Historic District to see festively decorated inns and homes as guides talk about Victorian Christmas traditions, lead sing-alongs, and play Christmas music. Rides last about 30 minutes.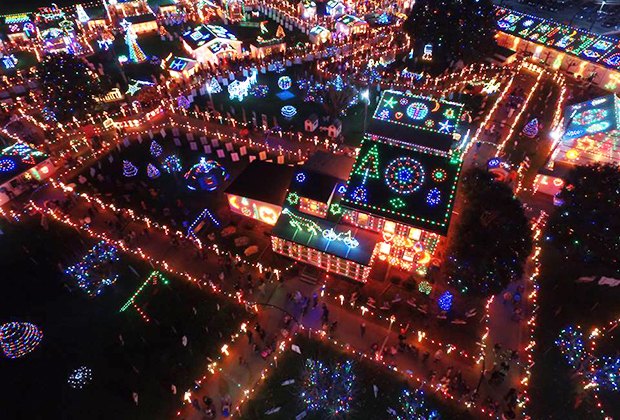 Koziar's Christmas Village. Photo courtesy of Koziar's.
Koziar's Christmas Village – Bernville, PA
Koziar's Christmas Village is worthy of a December day trip. Located about an hour and a half west of New Jersey, Koziar's is a recipient of the Best Christmas Display in the World Award, with more than 50 buildings and structures lit with beautiful, themed displays such as the Old Firehouse, Christmas in the Jungle, and Santa's Toy Shop. Fresh baked goods are available, and you can take pictures with the big guy himself on Santa Claus Lane. Dress warmly (some attractions are outdoors), and bring your camera. Open seven days a week until January 1.
Santa Flies into Princeton Airport – Princeton
Santa trades in his sleigh for a plane when he comes in for a landing at Princeton Airport on December 24. The landing will take place at 11 a.m., and children will greet Santa while snacking on hot cocoa and cookies. If parents would like to arrange to have a gift waiting for their child at the airport, they are also asked to bring an unwrapped present for a child in need.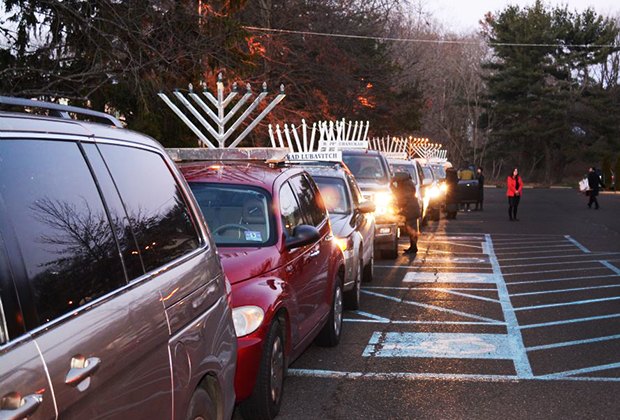 Car Menorah Parade. Photo courtesy of Chabad.
South Jersey's Car Menorah Parade – Cherry Hill
Here's a unique way to ring in Hanukkah: On December 25, watch a stream of cars, all with rooftop menorahs, travel from the Chabad Center to the Barclay Shopping Center. A festive menorah lighting will follow.
Top image: Scuba Santa. Photo courtesy of Adventure Aqaurium.
Originally published 2013