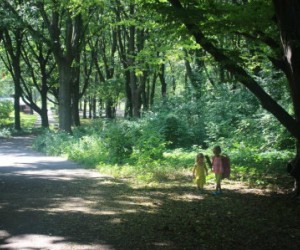 Places to Play in Little Neck, Queens: Nature Preserves, a Farm & Indoor Fun
We wrap up our month-long focus on Little Neck, Queens with a roundup of the best places to play in the bucolic neighborhood. As a Queens native, I frequently take my kids to the area to explore the attraction-packed Alley Pond Park and to feed the animals at the Queens County Farm Museum. If you're looking to get a taste of country life without leaving the city limits, Little Neck is a great day trip filled with lots of wonderful, green places to explore. You won't believe you're in NYC!
Alley Pond Park
From Little Neck Bay, the Long Island Express Way and Union Turnpike between Springfield Boulevard, Douglaston Parkway and Hanford Street
There's so much to do in this 635-plus-acre green space, it's impossible to cover it all in one short paragraph. Activities include walking the hiking trails, exploring its gorgeous meadows and wetlands, romping in its three playgrounds, hitting its plentiful sports facilities including seasonal tennis courts, hosting a barbecue, biking and catch-and-release fishing. But the highlight is the Alley Pond Park Adventure Course, a challenging ropes course that's FREE to try (though you need to enter a lottery during July and August to snag a spot). Before you visit, check the park's calendar to see what kinds of special events are coming up.
Alley Pond Environmental Center
228-06 Northern Boulevard near the Cross Island Parkway
Also located in Alley Pond Park but worthy of its own write-up, this amazing environmental center is open year-round and offers tons of drop-in educational programs for kids and adults, along with after school, school break camps and even cool birthday party packages. Explore the park's attractions like ponds, saltwater marshes and forests with APEC educators, who'll tell you all about the birds and animals that call the green space home. Then return to the center to meet their in-house critters.
Alley Pond Golf Center
232-01 Northern Boulevard near the Cross Island Parkway
The recently renovated Alley Pond Golf Center includes a nine-hole mini-golf course, which makes for a fun family outing. Kids can even pick out a brightly colored ball instead of a traditional white one.
Queens County Farm Museum
73-50 LIttle Neck Parkway near 73rd Road
The only historic working farm in all of NYC, the Queens County Farm Museum is a great place for kids to get up close and personal with barnyard animals, and learn how food is grown. The farm is particularly popular for its array of family-friendly events throughout the year, like its Children's Carnival in spring; the American Indian Mid-Summer Pow-Wow in summer; and the Queens County Fair, the Amazing Maize Maze and a Children's Fall Festival in autumn. Whenever you visit, it's an old-fashioned country experience—if it weren't for the apartment buildings in the distance, you'd swear you were upstate somewhere.
Udalls Cove Park Preserve
From Northern Boulevard to Little Neck Bay between Douglas Road, 247th and Brookside Street
Explore the many natural wonders contained in this 31-acre inlet off Little Neck Bay. Aurora Pond at the center is surrounded by forest, salt marsh, and freshwater wetlands, and insects, raccoons and ducks abound. The entrance at Virgina Point is accessible via subway and bus, but for a more kid-friendly walking experience, enter on 39th Avenue and walk toward Aurora Pond.
Movieworld Theater
242-02 61st Avenue near Douglaston Parkway
In addition to kid-friendly stores like Toys R Us, the Douglaston Plaza Shopping Center is home to this independent cinema owned and operated by a local family. It's nestled behind Fairway on the lower level. Play a few video games, pose with movie star cutouts or snack at the cafe before catching a flick. Movieworld even hosts birthday parties.

Douglaston/Little Neck Branch of the Queens Public Library
249-01 Northern Boulevard near 249th Street
This local branch of the Queens Public Library hosts activities for all ages, including storytimes for young children, crafts, movies and music. The beloved Mrs. Tina leads book discussions for school-age kids.
Read all of our posts about exploring Little Neck, Queens with kids.