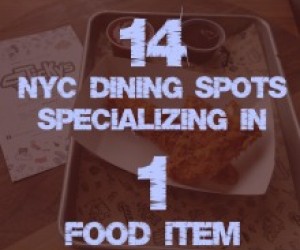 Pierogies, Meatballs and Ice Cream Sandwiches: 14 Fun Specialty Savory and Sweet Spots
One-item specialty restaurants aren't anything new in NYC. This city practically invented bagel, doughnut and pizza spots. Since we first told you about the emerging culinary phenomenon back in 2010, the dining landscape has greatly changed. Some of those eateries, like The Meatball Shop, have opened additional outposts; others have sadly closed. (We do have high hopes that East Village mainstay, Pommes Frites, will eventually reopen after being shuttered by the recent gas explosion.)
That said, this super-specialty restaurant trend is here to stay, which is great news for families since most of these dining destinations offer quick service, and kid-friendly ambiance and menus. Dig in to delicious chicken fingers with a variety of unique sauces, plates of gourmet mac and cheese, sandwiches on homemade biscuits or plump pierogies. Finish off your meal with a sweet treat like an artisanal doughnut, ice cream sandwich or bowl of rice pudding.
Here is our list of 14 single-item specialty restaurants that kids will love in NYC.
Empire Biscuit – East Village
198 Avenue A between 12th and 13th Streets
This 24-hour joint amps up traditional sandwiches with its fresh-from-the-oven, Southern-style biscuits. Kids will love the classic PB&J, while parents can dig in to pulled pork or stuffed poblano pepper biscuit sandwiches. Picky eaters or biscuit purists can eat it plain, or slathered with honey butter, jam or lemon curd.
Burlap Sack Potato Eatery – Murray Hill
507 Third Avenue at 34th Street
This recently-opened spud spot serves up potatoes topped with grilled chicken or steak, or mini turkey meatballs, covered with vegetables and sauces. While Burlap Sack offers whole and sliced baked potatoes as a meal base, these savory fillings can also be layered onto kid-friendly fries and tater tots. It's also a great option for people who are sensitive to gluten.
Potatopia – West Village & Staten Island
378 Sixth Avenue between Waverly Place and 8th Street
2655 Richmond Avenue in the Staten Island Mall
Another spot for potato lovers! Similar in concept to Burlap Sack, Potatopia lets you choose your spud, protein and toppings, but from a much larger selection. Along with baked potatoes, there are a number of different French fry styles, as well as mashed and smashed potatoes, several yummy sauces, five types of cheese and a slew of veggie toppings.
Baba's Pierogies – Gowanus
295 Third Avenue at Carroll Street
As a gal of Polish descent, I am a big fan of my ancestors' signature dumplings, so I look forward to dining with my son at Brooklyn's Baba's Pierogies, which opened this past April. The menu includes pierogies stuffed with traditional fillings like potato, cheese and sauerkraut, as well as blueberry and chocolate dessert dumplings. Its nontraditional offerings all sound super kid-friendly, particularly the mac and cheese pierogies.
The Meatball Shop – Citywide
See website for locations.
Enjoy the namesake item in sandwiches, sliders, salads and heroes. Meatball sticklers may want to have their balls "naked," as it's called on the menu, meaning served with a choice of five delicious sauces. This popular micro-chain has six locations in NYC, but unlike many spots on this list, it is a regular sit-down restaurant, not a quick-serve spot.
S'MAC – East Village & Murray Hill
345 East 12th Street between First and Second Avenues
157 East 33rd Street between Lexington and Third Avenues
Saying my 10-year-old boy loves macaroni and cheese is an understatement, so just imagine his delight when S'MAC (short for Sarita's Macaroni & Cheese) opened up a location in our neighborhood! Decadent but delicious, this mac and cheese is nothing like the stuff you make at home. It comes in a tasty assortment of styles, from pasta served with traditional American and cheddar cheeses, to exotic global flavors including Indian, French and Spanish takes on the classic. Gluten-free pasta is available, too.
Sticky's Finger Joint – Greenwich Village & Murray Hill
31 West 8th Street at MacDougal Street
484 Third Avenue at 33rd Street
If you have a chicken finger aficionado in your family, Sticky's can't be beat! After my son's first bite, he decided that these strips of boneless, breaded and fried chicken were the real deal, much better than any fast-food chain. The chicken is available in small bite-size poppers or larger fingers, and either can be served in a signature salad or sandwich. However, in our opinion, it is best to get it plain so you can sample the dipping sauces. Sticky's has a ton, including barbecue and honey mustard, though my kid's favorites are the marshmallow and chocolate sauces!
The Nugget Spot – East Village
230 East 14th Street between Second and Third Avenues
A hot spot for kids who love nuggets! The coatings are what make this place exceptional. Try chicken nuggets breaded with crushed cereals, cheese crackers, everything bagels or bacon. Not into chicken? Try catfish, mozzarella cheese or polenta nuggets.
Dirty Bird to-go – Chelsea & Tribeca
204 West 14th Street between Seventh and Eighth Avenues
155 Chambers Street between Greenwich Street and West Broadway
This chicken joint (with the misleading name) has expanded from its original Chelsea shop by opening a second outpost in Tribeca. The seating is still extremely limited, but the birds are far from dirty—in fact, the chicken is organic, antibiotic-free and humanely raised in Pennsylvania Amish Country. The fried chicken is amazing, and the menu also offers rotisserie birds and chicken fingers.
Hill Country Chicken – Flatiron & Downtown Brooklyn
1123 Broadway at 25th Street
345 Adams Street between Adams and Pearl Streets
From the folks behind Hill Country Barbecue, this pair of fried chicken spots serves two kinds of signature dishes, along with tenders and a handful of chicken sandwiches. Another highlight here is the homemade pie, available whole, by the slice and in a three-inch "pie cup." The food is served cafeteria-style, perfect for kids (and adults) who don't like to wait.
And for dessert...
Rice to Riches – Nolita
37 Spring Street between Mulberry and Mott Streets
This modern-looking dessert spot has been dishing out bowls of decadent, uniquely flavored creamy rice pudding for over a decade. The variety here is incredible—choose from tiramisu, coconut, almond, cookies 'n' cream or French toast flavors from the standard menu, or try one of the rotating seasonal selections. The cool plastic serving bowls always remind me and my son of funky, little spaceships, especially when the leftovers are covered for an instant doggy bag. (You probably won't finish it all!)
Melt Bakery – Lower East Side
132 Orchard Street between Delancey and Rivington Streets
Melt takes the humble ice cream sandwich to new heights with cookie and ice cream flavors developed by local chef/owner Julian Plyter. The grab-and-go storefront and the seasonal kiosk on the High Line are both perfect places to stop for a quick treat. Cookie choices include red velvet, peanut butter, walnut and chocolate—don't even get me started on the ice cream.
Choux Factory – Midtown East
865 First Avenue at 48th Street
I am technically cheating a little with this one as the tiny shop sells sandwiches, salads and baked goods. However, the main attractions here are the cream puffs. Named for the French twice-cooked choux dough used in eclairs and cream puffs, this is my family's go-to sweet spot after a visit to the UN. The cream puffs are huge, come with four fillings and are filled to order.
Doughnut Plant – Chelsea, Lower East Side & Prospect Heights, Long Island City
220 West 23rd Street between Seventh and Eighth Avenues
379 Grand Street between Essex and Norfolk Streets
245 Flatbush Avenue between Sixth Avenue and Bergen Street
Falchi Building, 31-00 47th Avenue
My family's favorite doughnut shop in NYC. The distinctive recipe was invented by the owner's grandfather almost a century ago in a family bakery. Of course today the doughnuts have a contemporary twist: lots of outrageous flavors including crème brûlée, mole, tres leche, and kid-friendly peanut butter and jelly.
Find other family-friendly dining in our NYC Restaurant Guide.