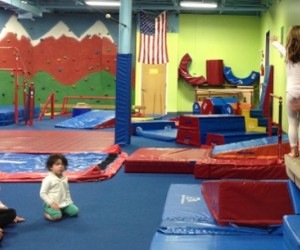 Parents' Night Out: Fun Drop-Off Services for Kids in Westchester
The holidays are safely behind us and the kids are back in school. You've filled up the calendar with fun activities and outings for the kids this month. Now it's your turn for a fun night out sans the kids. Wouldn't it be nice to leave for a date night without your youngest hugging your legs, koala-style, screaming "Mommy, don't goooooo!"?
Well, instead of hiring a sitter for the night, why not make it a night out for the kids also? They may be more willing to let Mommy and Daddy go if they've got a night of fun activities ahead. It turns out that a number of local places your children may already frequent offer Parents' Night Out services. For some, you can even arrange a night out with the staff—all you have to do is ask! Read on for details on drop-off services for your next date night. Enjoy!
Parents' Night Out – White Plains
New York Sports Club, 4 City Place
914-428-2020
NYSC White Plains' Parents' Night Out offers what most child-centered gyms do--the freedom to run around like crazy people for a few hours, with no one telling them to sit still and pay attention to anything. Sounds like a compelling bribe for letting Mom and Dad escape for an evening. Where NYSC White Plains differs is that they are willing to work with you (the parents) to determine how your children will spend their time, from games and fitness activities to crafts. Nothing pre-packaged here; just telephone them and work it all out with the staff. This is recommended for ages 3-12. Times and pricing by appointment.
Parents' Survival Night – Scarsdale
The Little Gym, 777 White Plains Road, Shoppes at Eastchester
914-722-0072
The Little Gym offers its "Parents' Survival Nights" where parents can drop off their children, aged 2.5-12 years old (children must be able to separate), while the parents do whatever they'd like with their precious free time. The children will be served pizza for dinner (and juice boxes and water) and will engage in structured and supervised games and activities, learn gymnastics skills and enjoy a story time. The coaches are lovely (my children attend classes here) and the location is perfect for shopping or dining with access to a great number of options including Vernon Hills Shopping Center and Eastchester Fish Gourmet, which we mentioned in our post on family friendly restaurants in Scarsdale. Parents' Survival Nights are by appointment or as advertised periodically on the website. $35 member, $45 non-members. Siblings are 50% off.
Art Nite for Kids – Katonah
Katonah Art Center, 131 Bedford Road
914-232-4843
On the second Saturday of every month in lovely Katonah, Art Nite takes place at the Katonah Art Center. Children feast on pizza and then create some artwork and have fun. Art Nite is for children in grades 1-5 and reservations are required. 6:30-9:30pm, $35 per child, $30 for siblings.
Kids' Night Out – Mamaroneck
JW Tumbles, 624 E. Boston Post Road
914-698-5437
Every Friday night, JW Tumbles offers an evening of games, coloring, crafts and gym activities at their location in Mamaroneck. Pizza, juice boxes and water served. Kids' Night Out is for kids ages 2-10 and reservations are required. 5:30-8pm, $40 for nonmembers, $35 for members, $25 for siblings.
Fun Craft – Scarsdale
590 Central Park Avenue
914-472-1748
At Fun Craft there are a number of options! On any Thursday or Friday evening, you may drop your children off for an evening of crafting, pending availability (meaning primarily, if they don't have a party going on) whilst you dine or do whatever in the area. All of this is to be arranged between you and the staff. Should you find another couple who would like to do the same thing, or if someone else has chosen the same date night as you, or even if you have more than one child, you're in luck--the cost per child drops from $30 to $15. As a very interesting twist, they also host a weekly night out for adults. The event is BYOB and they offer hors d'oeuvres to enjoy while you create your own piece of pottery. Call to schedule. $30 per child, $15 per child for multiple children.
Did we miss a fantastic drop-off program for date nights? Let us know in the comments!