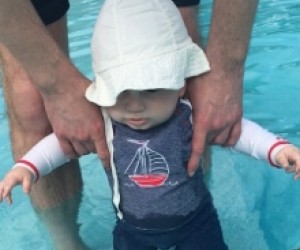 It's Pool Time! Tips for Taking Baby to NYC's Public Pools
With temperatures soaring, New Yorkers everywhere are looking for ways to beat the heat. The city's outdoor public pools are a great, FREE way to cool off, but they can be tricky to navigate with a baby or young toddlers. I recently visited McCarren Park Pool in Williamsburg with my 10-month-old and while we had a great time, there are definitely some things to keep in mind when visiting with your youngest kids. We've got details on McCarren's recently renovated outdoor pool, plus tips to help make trips to NYC pools more enjoyable for baby—and parents!
McCarren Park Pool was closed from 1984 to 2005, when it was converted to a popular entertainment venue. After a major $50 million overhaul and restoration, the pool and adjacent community center reopened in 2012. When we visited, the staff was super friendly and organized. They checked our items quickly, waved and smiled at the baby and directed us toward the pool and changing room.
The facilities were clean and well organized. Family changing rooms are located on either side of the entrance and while they are equipped with changing tables, you won't find toilets here. I used the bathroom located at the end of the women's locker room, which also has changing tables. Lifeguards are on duty, and on our visit, attentive and professional.
My favorite feature at McCarren is the wading pool (not all public pools have this), located on the far left of the entrance. The shallow water is great for babies and tots, so we pretty much hung out here the whole time! There's a large bench next to the wading pool with an awning that offers some shade. This is probably the best spot for little ones to toddle around when they aren't in the water. There's another spot like this on the north side of the pool, though it's farther from the wading pool.

Tips for navigating New York's public pools with baby
Arrive early! As with many baby outings, it's best to arrive early. The pool is less crowded and you're more likely to be in the company of like-minded parents with their babies and tots.

If possible, bring another adult—it makes clothing changes and bathroom breaks much easier for everyone.

There isn't much shade at McCarren pool (the awning we sat under had cutouts) and this is the case at several other pools, so be generous with sunscreen and be sure to pack hats and sun shirts to keep baby sunburn free.

Don't forget swim diapers! (Double up, so you don't find yourself paranoid about leaks.)

Leave the stroller at home or opt for your smallest one. Many pools will have a small designated area for stroller parking, but they're not responsible for stolen items. I opted to bring along our lightweight umbrella stroller and it was fine, but on a more crowded day, I might have regretted it.
All NYC public pools adhere to strict policies and guidelines, designed to ensure a safe and fun experience for everyone. Here are a few rules to keep in mind:
Water wings and other flotation devices are not permitted in the pool area.

Proper swim attire must be worn and white T-shirts are the only other articles of clothing permitted poolside.

No outside food allowed and McCarren has no food or snacks for purchase.

No electronic devices or newspapers are allowed in the pool area (books and other bound periodicals are allowed).

All visitors must have a combination lock in order to enter the pool area, even if you don't plan on using a locker.
Our NYC public pools guide has a more comprehensive list of rules.

McCarren Park Pool is located at 776 Lorimer Street in Williamsburg (between Driggs and Bayard). The outdoor pool is open daily from the day after public school ends through Labor Day from 11am-7pm (with a one-hour break for cleaning from 3pm-4pm). For more ways to enjoy the neighborhood with kids, check our our Williamsburg Neighborhood Guide.

For more public pool options, check out our roundup of the best public pools for kids.