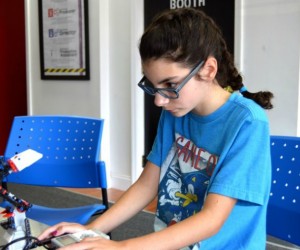 Makerspaces for New Jersey Kids
Science, Technology, Engineering, and Mathematics (STEM) is not only a huge buzzword in education, but also with parents hoping to raise the next Steve Jobs. The term STEM has been around since 2003, but lately there's been a greater focus on education integration at an early age. Makerspaces are locations that foster the notions of STEM, where children and adults can build things, take risks, celebrate successes and failures, collaborate and most of all, have fun! Check out these great Makerspace locations. From 3D printers to sewing machines and software, each of these destinations is stocked with high-tech equipment that will help you and your kids turn ideas into reality.
Bergen Makerspace (Hackensack, NJ)
Bergen Makerspace is a haven for those interested in any form of creating. Parents are invited to bring their kids and introduce them to the world of "making". Bergen Makerspace offers a combination of paid classes, free workshops and open shop time. From 3D printing to computer programming events and software design classes, Bergen Makerspace is the perfect spot for your tech-savvy kids. For more information call 201-343-6000 ext. 2305.
Maker Depot (Totowa, NJ)
Maker Depot is a 6,000+ square foot member-based workshop. Maker Depot provides thousands of dollars worth of tools/machinery, space for projects of any size and a vibrant community of like minded people who love to create. They offer tools and classes in woodworking, electronics, fabrication and more. Both adults and kids are welcome at this state of the art facility. The Maker Depot also offers birthday party options for kids ages 5 and up. For more information or to take a tour, email them at info@themakerdepot.com.
Small Factory Productions (Locations in Fair Haven and Manalapan)
Small Factory Productions offers arts, technology and multi-media classes for young digital minds. Classes are offered in 3D Printing & Design, Robotics & Engineering, Programming, Film and Video. More information, including class and workshop schedules, can be found on their website.
Makerspace at the New Brunswick Free Public Library (New Brunswick, NJ)
The New Brunswick Free Public Library is home to a Handcrafting Makerspace, which provides visitors access to materials and equipment used in handcrafting and traditional methods of creation. Equipment, including sewing machines and printing with transfer paper, are available for all ages. The library offers free workshops that are open to the public. Children must be accompanied by an adult. A calendar of events can be found here. For more information call 732-745-5108 ext. 20.
Makerspace at the Newark Museum (Newark, NJ)
Makerspaces are where innovation and fascination meet, and what better place for them to meet than the Newark Museum Makerspace. This Makerspace invites users to "build to think" by utilizing rapid fabrication equipment and materials. Equipment and supplies range from silk screens to sewing machines; microscopes to micro-controllers; dremmel tools to DC motors; and 3D software to 3D Printing robots. In April, the Museum will host the Greater Newark Mini Maker Faire, a showcase of innovation and creativity in the New Jersey community. For more information, visit the museum website or call 973-596-6550.
MIY: Makerspace at Piscataway Public Library (Piscataway, NJ)
MIY gives residents of all ages access to tools, techniques and hands-on learning experiences that will spark their imaginations and enrich their lives. MIY provides a variety of opportunities for the public to learn new skills, cultivate and prototype new ideas and collaborate with others to create things. Weekly open hours (Monday 7pm-9pm and Thursday 3pm-5pm/7pm-9pm) allow visitors to freely use the space to work on their own projects. Instructor led activities and family friendly events are also offered. In addition, a "Summer of Make" initiative will be offered this year for kids. For more information, visit the library website.
Steamworks (Bridgeton, NJ)
Steamworks is a place where inventors, artists and all creators in Southern New Jersey can come to find the tools they need to turn their vision into a reality. This makerspace is home to a music recording studio, 3D printer, laser etching machine, wood working machines, and robotics and computer labs. Steamworks offers memberships, classes and special events. For more details visit www.steamworksnj.com.
For even more great makerspaces, check out Makerspaces for NYC kids on Mommy Poppins NYC.
Image courtesy of Small Factory Productions.
Originally published 2013