LA and OC Nature Centers for Environmentally Minded Kids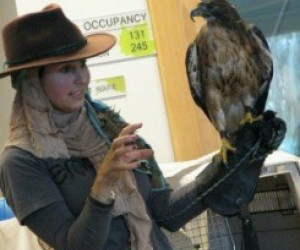 Kids love just being outside, and they love exploring in nature. We are so lucky that greater Los Angeles has so many different types of natural environments and plant communities—coastal, mountain forest, chaparral, and wetland—with so many opportunities for our kids to explore and learn. If your kids are super active and just want to get out and hike, our Hiking Guide offers specific hike info, as well as lists of great places to hike with toddlers, strollers, and more. But do your kids love learning about nature in an organized way? Know what's close by, inexpensive, safe, and geared toward kids' programming? Nature centers! There are nature centers throughout LA and OC. These are small museums with a variety of displays that focus on the local area and typically have nature trails as well as regular scheduled kids' activities. Any of these locations gives kids the chance to learn something new and have fun in a place that's neither overwhelming nor huge.
Please note that the hours posted are for the nature center museum buildings (and are subject to change - please double check before heading out). The parks themselves are typically open dawn through dusk daily.
Los Angeles County
Eaton Canyon Nature Center
1750 N Altadena Dr
Pasadena 91107
626.398.5420
Tuesday–Sunday: 9am–5pm
The Eaton Canyon Nature Center features live animals; natural history displays on animals, bones, and geology; history of the canyon, and a kids' activity area. Every Saturday from 9am–11am is a family nature walk (call to confirm as weather can cancel), and once a month in spring and summer are Friday night moonlight walks. There are three nature trails, with one focusing on fires—very relevant to this center, the previous building burned in a 1993 fire. There is a lot to do here—you can finish up your visit by hiking the 3 miles (round trip) to the lower Eaton Canyon Falls.
El Dorado Nature Center
7550 E Spring St
Long Beach 90815
562.570.1745
Museum: Tuesday-Sunday 8:30am-4pm
Trails: Tuesday-Sunday 8am-5pm
Vehicle entry fee (no fee for pedestrians or bicycles)
El Dorado Park is a large park in Long Beach that has a golf course, frisbee golf course, tennis courts, skate park, sports fields, paved bike paths, stocked lakes, playgrounds—and a nature center with paths through the woods! There are 2 miles of dirt trails that loop through the preserved area, as well as ponds and a creek. The visitor center houses educational displays. The Nature Center also offers a variety of summer day camps for children, as well as classes for toddlers and family events; fees vary.
Madrona Marsh Nature Center and Preserve
3201 Plaza Del Amo
Torrance 90503
310.782.3989
Tuesday–Sunday 10am–3pm
Additional hours for certain programs

Madrona Marsh preserves an area of marshland that used to be so common in Southern California. With a nature center building and trails through the preserve itself, your kids can stay busy for quite some time! The preserve is free and open to the public, though some programs request a small fee. See the schedule of ongoing programs. In addition to kid-specific programs, the center also has events meant for families and for adults. And this is all right in the middle of Torrance!
Placerita Canyon Nature Center
19152 Placerita Canyon Rd
Newhall 91321
661.259.7721
Tuesday–Sunday: 9am–5pm
Placerita Canyon Natural Area's Nature Center hosts 11am Saturday family walks, and 1pm Saturday animal presentations. The museum displays are currently being upgraded, and focus on the natural history of the oak woodland and chapparal habitats in the Natural Area. The museum has live animals as well as preserved specimens. There are four short nature trails leaving from the Nature Center, one is fully paved and accessible; there are 12 miles total trails in the Natural Area. You can visit historic sites as well—gold was first discovered in California near the Oak of the Golden Dream, and the Walker Cabin is open for tours during the family nature walk on Saturdays.
San Dimas Canyon Nature Center
1628 N Sycamore Canyon Rd
San Dimas 91773
909.599.7512
Monday–Friday: 9am–3pm
Saturday–Sunday: 9am–5pm
The San Dimas Canyon Nature Center has been around since the 1950s—and has served generations of Angelenos. The museum features live animal displays, natural history exhibits, and a 1-mile loop nature trail. There is also a junior ranger program. There are many more miles trails out in the 138 miles of park, and picnic tables if you bring a lunch. And every Saturday at 1pm is the live animal presentation, featuring animals native to the San Gabriel Canyon area. You won't want to miss it!
In addition to these centers, the Santa Monica Mountains Conservancy runs programs at parks throughout the mountains area, including Franklin Canyon, Temescal Canyon, Vista Hermosa, Upper Las Virgenes, and King Gillette Ranch. Visit the Conservancy's website for program details at each location.
Orange County
Environmental Nature Center
1601 E 16th St
Newport Beach 92663
949.645.8489
Monday–Friday: 8am–5pm
Saturday–Sunday: 8am–4pm
ENC has a beautiful new LEED building, with new, interactive displays on the natural history of the area. A variety of kid- and family- friendly community events occur during the year: summer day camps, full moon hikes, crafts, even campfires. There are spring and fall festivals, as well as a summertime butterfly house. ENC also offers a lot of volunteer opportunities for teens, and this is a great place for a senior project or for boy scout eagle projects or various girl scout award projects.
Oak Canyon Nature Center
6700 E Walnut Canyon Rd
Anaheim 92807
714.998.8380
Saturday–Sunday 10am–4pm

Oak Canyon has several hiking trails—none too long, but some are steep and others are shaded. The museum itself is only open on weekends, and there are some regular programs to go along with the natural history displays. Every Saturday and Sunday at 10:30am the Discover Nature program features a short hike and a live animal demonstration. Nature nights are on Wednesdays at 5pm at the outdoor amphitheater. A small donation is requested for each. Summers feature movies under the stars, and there are weekly day camps available for kids 5–12. See the current events page.

Shipley Nature Center
17851 Goldenwest St
Huntington Beach 92647
714.842.4772
Monday–Saturday: 9am–1pm
July/August Saturdays: 9am–4pm
The Shipley Nature Center is located in Huntington Beach's Central Park. The interpretive center features displays on Huntington Beach's history–from the Ice Age to now. There is also an imaginative play area for children. A hiking trail meanders the property, visiting several plant communities and Blackbird Pond. There is also a waterwise demonstration garden next to the center—a great place to watch for hummingbirds and butterflies. Parent and Me programs take place every Wednesday at 11am, and second Saturdays feature kid-friendly events from 11am–2pm. On summer Thursdays, the Cool Summer Nights programs, from 6pm–8pm, feature talks and demonstrations that older and interested kids can enjoy.
San Bernadino County
Big Bear Discovery Center
40971 N Shore Dr (Hwy 38)
Fawnskin 92333
909.382.2790
Thursday–Monday: 8:30am–4:30pm
Maybe this nature center isn't quite so close to home, but this is a great place to introduce kids to the natural history of the area mountains. Displays, a kids' outdoor area, a nature trail, and ongoing programs for kids and families are all available. This location also houses a ranger station, so you can also get all the information you need on things to do in the national forest right here. Want to hike? You can park here for free (not overnight) and start your hike on the trails available here.
What's your favorite nature center? Share it in the comments section below!