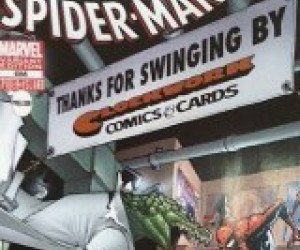 Kid-Friendly Comic Book Shops in Northern New Jersey
Boom! Pow! Crash! Zap! If your kid's hero is more Tony Stark than LeBron James, finding a local comic book shop is a must. Just think of all the cool things your kid can learn through reading comic books: the battle of good and evil, visual storytelling, hilarious (intentional and unintentional) dialogue, and how to rock a cape. Read on for quotes and recommendations from some Jersey comic book store owners and a listing of great Northern NJ stores.
Marc Ferraro, owner of Comics N Toys in River Edge says "most kids start their collections through their love of videos games – Sonic, Super Mario Brothers, The Simpsons, you name it. Parents come in asking for Batman or Spiderman, but you would be surprised at what our hot sellers are. Adventure Time is huge with pre-teens right now."
Comics, on average, are $2.99-$3.99; however, double or special issues will usually be a bit more pricey. Most comic books shops have knowledgeable employees to point you in the right direction or make recommendations.
"I love the art and the escapism aspect of comics," said Erica Schultz, author of the adult crime-thriller comic series M3. "Kids probably start getting into comics between seven and nine years old. There are a lot of kid-specific comics like G-Man (Image Comics), Molly Danger, Tiny Titans (DC Comics), as well as Sonic the Hedgehog, and The Muppets comic books. Disney also has a line of comic books."
Don't forget, Saturday November 24 is Small Business Saturday, so make sure to stop by and support one of these local shops!
Bergen County:
The Joker's Child
12-23 River Road
Fair Lawn, NJ
(201) 794- 6830
Comics N Toys
26 River Edge Road
River Edge, NJ
(201) 483-8905
A & S Comics
563 Cedar Lane
Teaneck, NJ
(201) 801-0500
Paradox Comics
269 Ridge Road
North Arlington, NJ
(201) 998-1212

Union County:
Clockwork Comics & Cards
1003 Vauxhall Road
Union, NJ
(908) 688-2660
Classic Comics
1006 St. Georges Ave.
Rahway, NJ 07065
(732) 396-0555
Little Shop of Comics
393 Park Avenue
Scotch Plains, NJ
(908) 322-9402

Hudson County:
FBJ Comics & Games
17 Coles Street
Jersey City, NJ
(201) 946-2200
Traders of Babylon
66 Willow Avenue
Hoboken, NJ
(201) 659-0802
Vector Books
902 Broadway
Bayonne, NJ
(201) 437-2228
Essex County:
Comic Explosion
86 Centre Street
Nutley, NJ
(973) 235-1336
TimeWarp Comic & Games
555a Pompton Avenue
Cedar Grove, NJ
(973) 857-9788
New World Manga
93 East Mount Pleasant Avenue
Livingston, NJ
(973) 597-0625
Morris County:
Dewey's Comic City
13 Park Avenue
Madison, NJ
(973) 593-0042
Fat Moose Comics and Games
53 A Parsippany Road,
Whippany, NJ
(973) 884-4898
Funny Books Comics and Stuff
98 North Beverwyck Road
Lake Hiawatha, NJ
(973) 263-1733

Passaic County:
Zapp Comics – Wayne
574 Valley Road
Wayne, NJ
(973) 628-4500
Sussex County:
Pyramid Comics & Card
24 Main Street
Sparta, NJ
(973) 729-5343
If your child's interest goes beyond reading, check out one of the local upcoming comic book events.
November 23-25: Toys on the Hudson (Jersey City, NJ)
November 25: Meadowlands Monthly Comic Book Expo (Secaucus, NJ)
December 2: Wayne Toy & Collectibles Show (Wayne, NJ)
December 9: Clifton Monthly Comic Book Expo (Clifton, NJ)