Indoor Play Spaces in Warwick: Where Hudson Valley Kids Can Play & Learn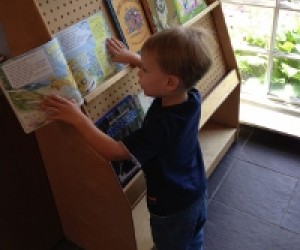 So far during our month-long spotlight on Warwick in Orange County, we've rounded up our top 25 things to do with kids in town and the area's best places for outdoor play. Today we're looking at our favorite spots where kids can learn and play indoors in this Hudson Valley community.

Whether it's trying a new sport, getting creative or lounging around with a good book, Warwick has options for a range of interests and ages. Read on for our list of the best places for kids to spend some fun and enriching time indoors in town.
Albert Wisner Public Library
1 McFarland Drive
Re-built into a large and beautiful facility in 2009, the new library has a large and bright children's section housed on the lower floor, far away from the adult section. While indoor voices are, of course, still required, parents of super-loud little ones (you know who you are, and I stand in solidarity) won't receive death glares. In addition to rows and stacks of books and graphic novels, and the lines of computers and tablets, the library has dozens of puzzles, board games and even puppets to while away the hours. There is a full suite of programs for residents, as well as drop-in storytime most Saturdays. Budding readers can test their chops with the patient and sweet "Reading Dogs," and a drop-in Lego building hour is held roughly one Sunday a month. The library also holds regular family-friendly events in the evenings, both indoors and out, throughout the year.

Warwick Valley Community Center
11 Hamilton Avenue
Open to all, the Community Center holds a series of ongoing music, art, yoga and dance classes and workshops. While registration is required for some, others (like the bimonthly drum circle and the monthly community dinner) are drop-in. The center, which is housed in the Doc Fry Building, is also home to a preschool program, as well as a free teen center.

Pin Street Bowling Alley
154 Route 94S
Yes, its exterior leaves a little something to be desired, but don't be fooled. Pin Street (formerly called Frontier Lanes) has 28 bowling lanes inside, with bumpers available for the younger bowlers in your group. With a snack bar and a handful of video games, it's an easy way to kill a few hours on a rainy day. Pin Street is also a participant in the Kids Bowl Free summer program, which provides registered kids with two free games each day in the summer!

Pcasso/7 West St. Art Studio
7 West Street
Bring your budding Michelangelo to Pcasso and let him or her make something special. Featuring both drop-in pottery painting and scheduled art classes, artists of all ages are welcome to create here.

Primo Sports
1741 State Route 17A
If your toddler or preschooler is bouncing off the walls after yet another rainy day--or if you can't handle one more game of Dragon Princess City Play Pretend--head over to Primo Sports Mommy & Me Drop-In & Play. You'll be given use of one of Primo Sports' indoor turf field, basketball court and obstacle course, as well as a variety of equipment. You can even bring your own-ride on toys (no motors) to cruise around on the field if you're so inclined. Snacks can be eaten in one of Primo's party rooms. The facility also has a full suite of sports, martial arts and gymnastics classes and camps available.

Kids Club House
628 County Route 1
Open year-around with preschool, enrichment, camps and parent/child classes, Kids Club House is a cozy and inviting atmosphere for toddlers and preschoolers. A wealth of enrichment classes is offered, including science, cooking and art, and it also has both kid-only and Mommy & Me selections. Birthday parties can also be held at Kids Club House.