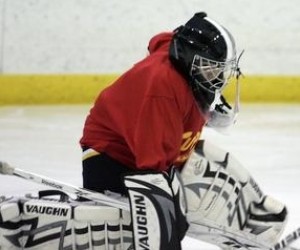 Hockey Lessons for Kids on Long Island
Families everywhere will be watching the Winter Olympics, and the games might just inspire your child to take up one of the winter sports showcased during the games, such as ice skating or hockey. With that in mind, we've rounded up some Long Island rinks that offer ice hockey lessons for kids of all ages. Who knows? There just might be a future New York Islander in your home! There are even several Indoor and Outdoor rinks around the area so your child can practice his new skills.
And for more fun learning opportunities in the area, check out our Long Island Classes Guide.
Superior Ice Rink
270 Indian Head Road, Kings Park
631-269-3900
During the school year, Superior offers Tot Hockey for ages 6 and under on Mondays at 1:30pm (5 weeks costs $100). There is also a Mini-Mites program for kids 7 and under on Monday nights at 6pm (15 weeks for $325), which includes 30 minutes of instruction followed by half-ice games. Friday Night Clinics and Pre-Hockey for kids 10 and under can help those with basic skating skills get ready to play an actual hockey game.
Islander Iceworks
175 Underhill Boulevard, Syosset
516-496-2277
Your future pro will love taking lessons at the actual training facility of the New York Islanders. Mini Islanders (ages 4-6) is an introductory hockey clinic that teaches basic skating and puck skills, while Hockey 101 (ages 6-12) prepares kids for Iceworks House Leaguie and Hockey 201 (ages 7-12) challenges those with intermediate skills. Prices range from $254-$291; check the site for class schedules.
The Rinx
101-A East Broadway, Port Jefferson
631-403-4357
660 Terry Road, Hauppauge
631-232-3222
Kids need some basic skating skills for the Tots Clinic (ages 5-7). The Skills Clinic (ages 6-11) features powerskating, puck handling and shooting drills, while the Advance Clinic (ages 10-16) has more high intensity drills.
Port Washington Skating Center
70 Seaview Avenue, Port Washington
516-484-6800
The Basic Hockey Clinic teaches backward and forward skating, stopping, basic stick handling and passing. The 7-week program costs $199; 14 weeks is $349. Check the site for schedule.
Town of Oyster Bay Skating Center
1001 Stewart Avenue, Bethpage
516-797-4126
The Squirt - Pee Wee - Bantam helps kids (ages 10-15) improve their skating, stick handling and more. Residents pay $175 for 10 sessions; non-residents $200. You can also drop-in on a class for $20 (residents) or $25 (non-residents).
Long Beach Ice Arena
150 W. Bay Dr., Long Beach
516-208-6136
While kids should have basic skating skills, the Learn to Play Hockey program is designed for those who have never played before. For those lacking those skills, there is also a Basic Skills Hockey program. The fee is $120 plus a $12 USFSA registration fee. Email rdunn@longbeachny.gov for more info.
Photo by Superior Ice Rink