Haunted Houses and Spooky Attractions for NJ Families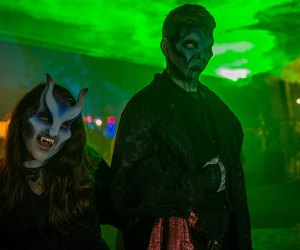 Whether you enjoy a good fright or you prefer your Halloween haunt-free, we've got you covered. There are plenty of night-time haunts to please the older kids, some creepy walking tours of (possibly) haunted towns, a scaredy-cat amusement park, and even a few scare-free zones where younger kids can just trick-or-treat. Several places have options for both older and younger kids. For even more choices, check out our NJ Halloween Guide. And you'll find plenty for the little ones in the Best Halloween Events for NJ Preschoolers.
See specific websites for hours and prices.
Ghost Tour of Ocean City – Ocean City
Recommended for ages 4 and up
October 1,7,14,15, 21, 22, 28, 29
Fun in the sun turns into fear in the dark during this candlelight walking tour, which includes spooky secrets and local ghost stories. The tour takes approximately 90 minutes.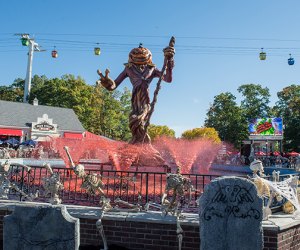 Six Flags' Fright Fest is little kid–friendly during the day, and super spooky at night.
Six Flags Annual Fright Fest – Jackson
Ages 12 and older after 6 p.m. Younger kids can try: coming during the day!
October 1-3, 7-10, 12, 14-16, 21-23, 28-31
As always, Six Flags is ready for Halloween. Visitors can mingle with ghosts and ghouls in costume, enjoy spooky music and entertainment, and even go trick-or treating – and there are plenty of scare-free zones for little kids. And of course there are the spine-chilling rides, which are scary no matter what season is it.
Bane – Livingston
Ages 12 and up. Younger kids can try: Happily Haunted
October 1, 2, 7-9, 12-16, 19-23, 26-31; Happily Haunted open October 16, 23, 30
The Bane family's house is full of zombies and flesh-eating relatives, and daring visitors will have to climb through, over, and around what lurks inside. Visitors are allowed through in small groups only, to allow for a more up-close and personal (read: terrifying) experience. While Bane is not recommended for kids under 12, the younger set can enjoy the Happily Haunted on Sundays from 3-5 p.m., when kids are invited to trek through the house with the lights on.

The Red Mill Haunted Village – Clinton
Not for young children. Younger kids can try: Happy Hauntings
Red Mill: October 14, 15, 21, 22, 28, 29; Happy Hauntings: Oct 16, 22, 29
The Red Mill Museum has been scaring the pants off of New Jerseyans for 26 years, so they really know what they're doing. Every year Red Mill presents a new theme, with more than 50 live actors and state-of-the-art audio and visual effects setting the scene on 10 acres of property. This year's theme is "Grim Fairy Tales." New this year, visitors can brave "The Vortex," a spinning, disorienting hallway. Be warned: this haunted house is NOT for small children.
C. Casola Farms – Colts Neck
Ages 12 and up
October 1-2, 7-9, 14-16, 21-23, 29-30
Casola Farms goes all-out with five terrifying offerings: The Haunted Hayride of Terror, 3D Haunted Barn,The Haunted Wooded Trail, The Living Maze, and The Marlboro Zombie Breakout. All are set in the fields of Colts Neck in Monmouth County.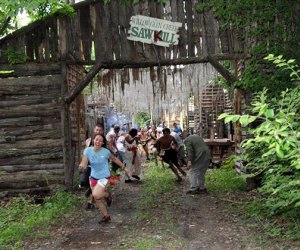 Field of Terror's Zombie Mud Run.
Field of Terror – East Windsor
Ages 12 and up. Younger kids can try: Flashlight maze and pumpkin picking
October 1, 2, 7-9, 14-16, 20-23, 27-31
Now in its 13th fright-filled year, K and S Farms puts on a series of scary attractions including Killer Kornfield, Unknown Barn, Zombie Attack, Dementia 3-D, and Zombie Hunt Paintball Hayride. For the younger set, there is a family-friendly flashlight maze and pumpkin picking. A DJ, concessions, and a bonfire complete the spookfest nightly, and there are fireworks on certain occasions. In addition, the annual Zombie Mud Run takes place October 29.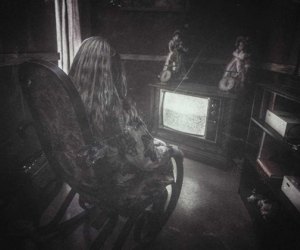 Poltergeist set at Haunted Scarehouse.
Haunted Scarehouse – Wharton
Ages 12 and up
October 1, 2, 7-9, 14-16, 20-23, 27-31
Rated "Best Indoor Haunt in NJ" by Haunt Hunters 2014, the Haunted Scarehouse features two giant floors of scary movie sets built by professional set builders, with maze-like rooms, special effects, realistic scenes, and veteran actors. And this year, you can win back your admission fee by finding the key and saving the scientist on your haunted journey.
Don't forget to check out our Halloween Guide for more scary fun!

Top image: Fright Fest. All photo courtesy of the venues.
Originally published 2012