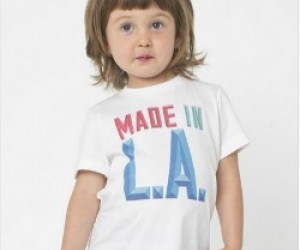 Fun & Free Things to Do with LA Kids this Weekend: Dinosaurs, Tall Ships, and Make in LA, Sept 6 - 7
I admit it, I complained a lot about the end of summer; but I'm starting to get onboard with this whole school thing. Think about it: someone else is taking it upon themselves to make your kid smarter. And as if that weren't enough, there are even afterschool programs to make your kids even more accomplished, and many of them are cheap or even free! (Have I mentioned how much I love free?) Why, with your smart and now skillful children, you'll have no choice but to set them free into the world. (Just be sure to pack them a healthy snack).
But that's just Monday to Friday, the 9-to-3 grind. On the weekend they're all yours. Whatever will you do with them? (Are you sensing the ace up my sleeve?) Why yes, we might have a thing or two to amuse them. Like, I don't know, large as life dinosaurs! Really big ships! Nom nom lobster and fried-anything-you-can-conceivably-fry. Free family fests at the Hammer, the Bowers, and CAAM. Chalk and bugs and howling at the moon....
It's a good thing there's school on Monday, because you're going to need a break after this weekend.

Keep reading to get schooled on our favorite picks for this weekend....
ALL WEEKEND

Walking with Dinosaurs: Honda Center - Anaheim
Dinosaurs come to life at the Honda Center. (Think Jurassic Park without all the yelling and the screaming.)

Toshiba Tall Ships Festival - Dana Point
Families can get their sea legs touring tall ships, visiting living history encampments, and listening to sea chanteys. Enroll in Cap'n Jack's School for Scallywags and learn to walk, talk, and sing like a pirate. (Hint: start with aaaaaarrrr!)

Festival of Children - Costa Mesa
The fun, free shows at South Coast Plaza this weekend include a back-to-school fashion show, face painting, animal magician John Abrams, and numerous dance performances.

Original Lobster Festival - Long Beach
The Crustacean is King at this annual Lobster Festival. Come hungry

Los Angeles Greek Festival - Los Angeles
Opa! Get ready for souvlaki, gyros, moussaka and spanakopita, and leave room for baklava; the Greeks are setting up shop at Pico & Normandie.

Frozen Sing-a-long (PG) - Hollywood
Last weekend to sing along with Elsa at the El Capitan. (Bonus: you can finally see what frozen things do in summer.)

Santa Monica Airport Observation Deck "Field Trip" - Santa Monica
Come fly with me! Or at least, come sit in a plane with me! Santa Monica Airport welcomes kids to sit in a real airplane and take a photo with a pilot.

Malibu Surfing Association's MSA Classic - Malibu
Surf's up in Malibu! More than 250 invited athletes representing surfing clubs from around the world compete at First Point, one of surfing's legendary waves.

LA County Fair - Pomona
This weekend at the Fairplex, the fun includes Buccaneer Bootcamp, Camel Cove, the Rainforests of China, and a live Stingray encounter. Not to mention the deep-fried oreos and triple decker Krispy Kreme burgers.

SATURDAY SEPTEMBER 6

Big!World!Fun! - Hollywood
Viver Brasil, an energetic troupe of dancers, drummers, and singers perform Afro-Brazilian dance to close out the Big!World!Fun! season.

Ilene Cohen and her Puppet Friends - West LA
Professional storyteller and puppeteer Ilene Cohen visits Children's Book World for Saturday morning fun.

Home Depot Kids Workshops- Multiple Locations
Are you a good bird or a bad bird? The free monthly project at Home Depot is a Wizard of Oz themed birdhouse (complete with wicked witch legs squooshed underneath!).

Drum Downtown - Downtown
Grab a drum and bang along to the last drumming circle of the season: this time set to West African rhythms.

Silk Road Story Time - Pasadena
Kids can learn from tales with a schooltime theme at the Pacific Asia Museum.

FIGat7th Kids Club Downtown
The Dinosaur Walking Stick Puppet craft is inspired by Walking with Dinosaurs, (and attendees can enter to win tickets to the Staples Center show).

Free Crafts for Kids - Multiple Locations
Kids can build an owl pencil holder to hold their new school supplies at the free weekly craft at Lakeshore Learning.

12th Annual Chalk Art Festival - Redondo Beach
Got chalk? No worries, the first 150 registrants get some free, at this free, draw-it-yourself festival on Redondo Pier.

Eat See Hear - Pacific Palisades
No one puts Baby in the corner. They put her on the big screen at Will Rogers State Park, for an under the stars screening of Dirty Dancing.

International Observe the Moon Night - Downey
Let's hear it for the moon! The Columbia Memorial Space Center pays tribute to our nearest and dearest celestial neighbor.

Free Movie: Cars 2 - Mid-Wilshire
The Petersen Automotive Museum shows a free automotive themed movie; on Saturday, kids and parents can enjoy Cars 2.

Moonlight Movies on the Beach - Movies at Mom's - Long Beach
Frozen screens on Mothers Beach.

SUNDAY SEPTEMBER 7

Family Day: Make in LA - Westwood
Hammer Museum's annual free family festival is a celebration of the local artistic community. Highlights include family-friendly readings, hands-on workshops, airbrush tattoos, and a family photobooth.

Free Day at the Bowers - Santa Ana
The free Caribbean Family Festival at the Bowers Museum features performances from Upstream and Caribbean Jems as well as face painting, jelly fish, wood fan art projects, and free frozen tropical fruit bars.

A Faery Hunt - Brentwood
The Faery Hunt team searches for the Mermaid's Tail in Crestwood Hills Park.

Rhythm Child - Topanga
Rhythm Child leads family drum circles that introduce kids and their parents to the rudiments of participatory, music-making fun.

Creepy Crawly Creature Feature - Culver City
It's all about bugs at STAR Eco Station.

Andell Family Sundays - From Quilts to Kimonos - Mid-Wilshire
Sundays in September, families can explore LACMA's extraordinary collection of textiles throughout the museum and design their own textile creations.

Kids in the Courtyard: Now that's a Wrap - Westwood
Kids can learn about weaving and decorating fabric then create a take-home textile at the Fowler Museum.

Kids Run the Bases - Dodgers Home Game - Echo Park
The Dodgers play the Diamondbacks; attendees receive an AJ Ellis bobblehead, and kids run the bases at Dodger Stadium.

Target Sundays at CAAM: A Caribbean Musical Potpourri - Exposition Park
The California African American Museum celebrates Caribbean communities and their cultural contributions at this special annual extravaganza.

Sunday Studio at MOCA - Downtown
MOCA's free, quarterly event offers active conversations about art on view, participatory art experiences, music, and snacks.

Zimmer Sunday Family Programs - Mid-Wilshire
In celebration of National Grandparents Day, families can create a simple story book to share tales.

And as always, there are many more activities listed on our daily events calendar. Whatever you choose to do this weekend, we hope you have oodles of fun!