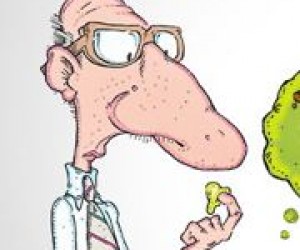 Cool Summer Museum Exhibits: Mega Model Trains & Grossology
We're halfway through July, which means the dogs days of summer are quickly approaching (and may already be here, judging by the temperature). To beat the heat and humidity (and keep your sanity), check out one of the special exhibits at a local museum. You know we love The Morris Museum and Liberty Science Center and their summer exhibits Mega Model Trains and Grossology will keep your little ones entertained while you stay cool!
Train lovers unite! The Morris Museum (Morristown, NJ) is currently hosting Mega Model Trains now through August 16th. First created in 1985, this grand display features six working tracks winding its way through skyscrapers, rail yards, a waterfall, small towns, the countryside and even a playground.
Long-time residents of Morris County might recognize the exhibit from the Nabisco Factory (East Hanover, NJ) before its donation to the Morris Museum in 2012. The 48+ interactive features, including lit tunnels and flashing taxis, allow every visitor to take part in this display.
While at the museum, make sure to check out the kid-friendly (and educational!) exhibits such as the Dinosaur Den, Rocks & Minerals and Mammals. These permanent displays are year-end classics worth the visit. The Dinosaur Den, a hit with our little ones, gave a glimpse into New Jersey 65 million years ago. We followed dinosaur tracks, made a dinosaur track rubbing and also handled a replica egg. Model Trains and Railroads, another year round exhibit, explores the sights and sounds of train travel and safety with hands-on activities – an added bonus for our train enthusiasts.
And mark your calendars! The always popular LEGO artist Nathan Sawya will return to the Morris Museum from November 14, 2013 to March 9, 2014 with his latest exhibit. The Art of the Brick will resurface with awe-inspiring, large scale sculpture made only from LEGOs.
Address & Phone: 6 Normandy Heights Road, Morristown / 973.971.3700
Admission: $10 per adult; $7 per child (ages 3-12) or senior. Children under three are free.
Side note: Morris Museum's evening hours will be on the second and third Thursdays of each month. On those days, museum admission is free from 3:00pm to 8:00pm.
Hours of Operation: Tuesday, Wednesday, Friday and Saturday 11:00am to 5:00pm, Thursday 11:00am to 8:00pm and Sunday 12:00pm to 5:00pm.
Want to know more?
Morris Museum on Tumblr
Morris Museum on Facebook
Morris Museum on Pinterest

Ewwww, Gross! Now through September 2nd, Liberty Science Center (Jersey City, NJ) is hosting Grossology: The (Impolite) Science of the Human Body. Based on the bestselling book series, this exhibit uses animatronics to teach kids about the good, the bad and the gassy! From runny noses to hairy warts, kids can crawl through a 30 foot model of the digestive system, play gas attack pinball or stimulate a giant burp while learning about our bodily functions.
While at LSC, make sure to check out the Art of Science, Block Party, Wildlife Challenge, Touch Tunnel and Skyscraper! exhibits. Upcoming displays will include Beyond Rubik's Cube, Gridiron Glory and Bob the Builder™ – Project: Build It.
Conveniently located in Liberty State Park, LSC encourages you to explore Ellis Island, the Statue of Liberty and the historic railroad terminal all within walking distance.
Address & Phone: 222 Jersey City Boulevard, Jersey City / 201.200.1000
Admission: $19.75 for adults, $14.75 for children ages 2-12 and senior citizens are $16.75. Teachers, with ID, are $9.75.
Hours: LSC is open daily from 9:00 am – 5:30 pm during the summer.
Want to know more?
Morris Museum
6 Normandy Heights Road
Morristown,
LIberty Science Center
222 Jersey City Boulevard
Jersey City ,