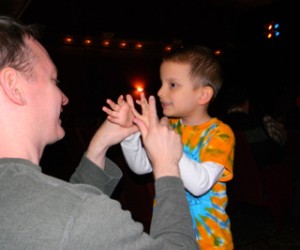 Boston's Top 5 Accessible Live Performance Venues for Families with Special Needs
Mommy Poppins Boston is delighted to share this guest post from Amber Bobnar of WonderBaby.org, a support and information site for parents of children who are visually impaired (featured in our list of favorite blogs in 2013):
We take our family out to concerts in the Boston area almost every weekend, and my eight-year-old son, Ivan, is in a wheelchair and totally blind. Accessibility is very important to us!
Below you'll find my rundown of our favorite accessible theaters and live performance venues in the Boston area. I share pros and cons based on a multitude of special needs because I realize that the criteria for what's accessible will be different for each family. Some kids are in wheelchairs, some have sensory issues, some have hearing or visual impairment and all will react differently in different environments! Find one that looks like a good match for your family and give it a shot! Remember, if it doesn't work out you can always leave. No big deal.
---
The Regent Theatre in Arlington
Regent Theatre (pictured) is our favorite spot for music, hands down. It's a classic theater space and smells like movie theater popcorn, which can be a wonderful cue for kids plugged into scents. They also keep the house lights on during shows which is great for children with low vision who can get nervous in the dark. Everything is on one level in the theater and they have large open spots in the back of the theater for wheelchairs. The chairs in the back can be moved so if you need extra space just let them know and they'll make an area for you.
The Regent also has a very large bathroom in the back of the theater (with a changing table) that's great for families or kids that need more room.
The team at the Regent is extremely accommodating and understanding. If you need something special or different, just ask! We bring a large group to the Regent every year for our holiday party and they are always happy to welcome us back!
Coolidge is in a great central location and has a nice big parking lot with lots of handicap accessible spots. The building has multiple levels, but they also have an elevator so it's easy to get around. Unfortunately, there are very few wheelchair accessible seats in their theaters, so if your child is in a wheelchair or if you are coming with a group you may want to call ahead for reserved seating (they can move seats around in the upper theater if you need extra space, but not in the lower theater).
Smaller shows are usually held in their upper theater (Moviehouse 2) and larger shows (for big stars like Vanessa Trien or Debbie and Friends) will be in the large theater on the first floor (Moviehouse 1). They tend to keep the lights on in the big theater, but there is very limited space for kids in wheelchairs. The upper theater is more flexible in seating, but they usually turn the lights down really low, which can be upsetting for some kids. It can be helpful to check on their site and see which theater the show is going to be in before you head out.
One really nice thing about Coolidge is that since the building is so big, you can get away from the music and audience if your child needs a break in the middle of the show. You can walk around the building and reorganize before getting back into the music and clapping.
TCAN isn't too far of a drive outside the city, and the artists they highlight are totally worth it! The theater is a converted firehouse, which is fun and also means everything is on one level and it's easy to get around. The seats are not attached to the floor, so if you need to move things around you can ask them to do that. I would recommend calling ahead with TCAN though. They have assigned seating rules and it can get busy right before a show, so giving them a heads up helps.
They do turn the lights way down during a show, but there is also a lot of room for moving around in the aisles and the back of the theater so kids can get their wiggles out. They also have a snack bar in the theater room for kids who need an emergency snack (or parents who need an emergency coffee)!
The Regattabar hosts a kids' series every summer and they get some really great artists (like Justin Roberts). They have a large room and encourage sitting on the floor (which is carpeted!) right next to the stage. The stage isn't raised, so the experience with the band is very intimate and kind of informal. It's a nice change for kids who can't sit still in chairs – but you do have to watch out for kids who want to run right up to the artists while they are playing!
Parking in Harvard Square is never easy, even with a handicap placard (especially if you have a wheelchair van), so you may end up paying more for parking in a lot than you do for your tickets! The Regattabar also tends to plan their shows for late in the day (4 pm or 5 pm) which is right in the middle of Ivan's afternoon blahs, so that's tough for us. Most of the other venues plan their shows for 10:30 am or 11 am.
I couldn't not mention Passim, but if your child is in a wheelchair or is non-ambulatory, Passim will be a challenge. The club is down a flight of stairs and then there are a couple more steps to get into the event area. The tables and chairs are tight in a small space… let's call it snug. There's not much room for moving around and the bathrooms are tiny.
But the music there is tremendous and the staff is very nice and eager to help. They will help you make the experience work if they can. And after the morning shows at Passim their vegan café, Veggie Planet, opens up to serve lunch.
---
Amber Bobnar is mom to the sweetest and cutest little boy, Ivan. Ivan is eight years old and was born blind and multiply disabled. Ivan attends the Lower School at Perkins School for the Blind in Watertown and Amber runs the WonderBaby.org website, a support and information site for parents of children who are visually impaired. If you have any questions, please feel free to email her!