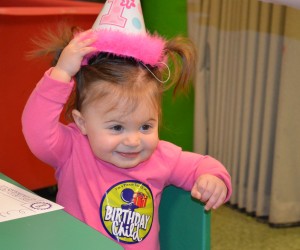 Birthday Parties at Philadelphia Museums
Birthday parties are both a cause for excitement and many sleepless nights with all the planning and logistics that come along with the big day. Why not save the planning for the experts and book your kids' special celebrations at one of Philadelphia's premier museums? The decorating is done—all you do is create the invite list and hit send!
Here is our list of museums in Philadelphia that will make your kid's birthday party one to remember.
Age: 3-12
Celebrate your big kid's birthday with creatures large and small—from bugs to dinosaurs—at the Academy of Natural Sciences. Parties are two hours long and include a private party room, birthday host, and all-day access to the museum, including a private tour for your group. Party with up to 20 guests and add on extras like a theme that includes a color-changing mood cup for each guest with a matching, themed design.
Age: 3-11
Get a unique, hands-on museum experience at the Franklin Institute. Perfect for ages 3-11, the Franklin Institute includes all-day museum exploration, admission to IMAX or Planetarium, a special guided tour, dedicated party room, and the opportunity to add on themes based on your kids' interests. Entertain up to 15 guests and get a 10% discount if you are a member. Choose food and cake options, extra guests, and even liquid nitrogen ice cream if it's in the budget. How cool is that?
Age: 4-12
Have a pirate in the making? Your swashbuckling tike will love the pirate-themed birthday that includes hands-on crafts, scavenger hunt, and private party room in addition to party set-up and paper products. Plus, access to the Cruiser Olympia and World War II and Cold War Submarine Becuna are included in the party fee. The basic party accommodates up to 20 guests, but invite extra guests for nominal fees (or tack on a real pirate for only $150!)
Age: 3-8
If your kid likes to bug out, the Insectarium is a perfect birthday spot. For 10 people, enjoy a private tour and party in the Buggy Party Room for 90 minutes. Invite extra guests or include extras, like crafts and demonstrations.
Age: 5-15
This uniquely Philadelphia experience is available for 10-50 guests on Saturdays only. Birthdays include cake, soda, pizza, and access to the museum. If you think the parade is quite the extravaganza, you should see the museum! Prices are available upon request.
Age: 1-10
While not technically a museum, the zoo is one of Phialdelphia's finest family-friendly attractions (say that three times fast!). Birthday Zoofiestas, as they call them, include all-day access to the zoo, as well as a private themed room.
Age: 1-6
This go-to party favorite is perfect for little ones. All guests gain all-day access to the entire museum, a special helper for parents to plan all the party essential, customized party invitations, decorations and paper products, and an exclusive party room. The kids have all the fun you can imagine, and parents barely have to lift a finger to plan it after they get in touch with their party coordinator. PTM members get 15% off all prices and packages, and you can add on extra guests, swag bags, themed decoration packages, and a birthday cake for up to 60 people!
Photo courtesy of the Please Touch Museum