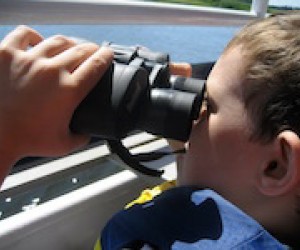 Bird Watching with Kids in Newburyport
Did you know that over 300 species of our fine-feathered friends are observed in the Newburyport area each year?
It turns out this place really is for the birds.
In fact, serious birders from all over flock to this northeast section of the state in the hopes of getting a glimpse of their favorite winged animal. But birding is a nice, leisurely family activity, too – in all seasons. Check out the following resources, grab a pair of binoculars, and head out into the great outdoors to see how many cute little birdies your family can spot.
Joppa Flats Wildlife Sanctuary
This Mass Audubon sanctuary, located at the gateway to the Parker River National Wildlife Refuge, contains 52 acres of salt marshes, mud flats, rivers, bays and coastal waters, the perfect pit stop for migrating birds.
Before you head out to explore the sanctuary grounds, stop inside the Joppa Flats Education Center, located near the entrance to Plum Island and the Parker River National Wildlife Refuge, for a checklist of birds you might see and to speak with a staff member or volunteer for birding tips. Or, let older children observe wildlife from the indoor observation area while younger children explore the marine touch tank in the summer, and art exhibits, drop-in craft activities and story times year-round.
Budding ornithologists can also visit the Joppa Flats bird-banding station, where guests can get an up close view of spectacular species of birds being safely caught and banded for research. Be sure to check the Joppa Flats program catalog for bird-related events, classes and programs.
Parker River National Wildlife Refuge
The Parker River National Wildlife Refuge consists of nearly 5,000 acres of sandy beach, dunes, bogs, swamps, freshwater and salt marshes, mud flats and more. The Refuge headquarters, located across Plum Island Turnpike from Mass Audubon, is where you should start your Refuge birding adventure. Pick up a map for information on the observation platforms, towers, trails and overlooks, many of which are wheelchair accessible, and a checklist of Refuge birds you might see on your nature walk. Then, hop in your car and enjoy the ride down the 6.5-mile scenic roadway that passes through a variety of habitats to your chosen destination.
The 3.5-mile Hellcat Interpretive Trail, which is broken up into several shorter walks, is a favorite for bird-seeking families. The Refuge also offers occasional educational and interpretive programs. Check the Refuge website for updates on the schedule. Please take note that much of the refuge beach is closed starting April 1 for the protection of nesting piping plovers.
Birds by the Season
Following are a list of some birds you might spy on Plum Island each season. Kids will love checking these species off their lists!
Winter (December – January): Loons, Bald Eagles, Snowy owl, grebes and rough-legged hawks.
Spring (March – May): Piping plover, red-winged blackbirds, American woodcock, osprey, purple martin, American kestrels. Mid-may is when bird diversity is at its height, and bobolink, American redstarts and other songbirds can be heard.
Summer (June – August): A variety of songbirds, migrating tree swallows.
Fall (September – November): Shorebird diversity is at its height; Peregrine Falcons and waterfowl are plenty.
Annual Bird-Related Events
Superbowl of Birding: Sponsored by Mass Audubon, each January teams compete to find the greatest number of species of birds.
Merrimack River Eagle Festival: Every February, weather permitting, Mass Audubon and Parker River National Wildlife Refuge sponsor this all-day festival of indoor and outdoor activities, including eagle-spotting along the Merrimack.
Great Backyard Bird Count: An annual four-day event that engages bird watchers of all ages in counting birds to create a real-time snapshot of where the birds are. Everyone is welcome, from beginning bird watchers to experts.
Birding Trips with Newburyport Whale Watch: Accompanied by a naturalist from Mass Audubon, travel to the Isle of Shoals where bird life is active. Offered on select Mondays and Saturdays during the summer season.
For more Newburyport birding information, visit Newburyport Birders, and to bring the birding fun home, try making these homemade bird treat ornaments.
---