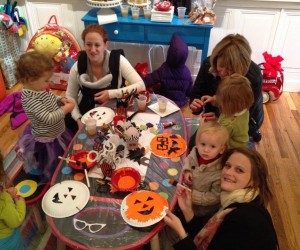 20 Things To Do With Kids In South Boston
Over the last 20 years, South Boston ("Southie") has been the setting for a number of Hollywood blockbusters. But with its uniquely Boston charm, proximity to downtown and beautiful beaches, many young families also call this bustling neighborhood home. In fact, since moving here in 2009 I've lived here the longest I've lived anywhere in 15 years! The strong sense of community known as "Southie Pride" is apparent in every business and aspect of South Boston living. For this reason (and many others) I am delighted to show off the area. So here are our favorite kid-friendly spots we love bringing our three-year-old daughter and our four-month-old son:
Grab your bike and walking shoes and ride or stroll Castle Island. Make sure to check out my post showcasing the Top 10 Things To Do!

Head to M Street Playground. Nestled safely away from Broadway (the main drag in Southie), this playground offers something for everyone. Swings and slides for big and little kids with a sandbox equipped with pails and shovels. Bring your four-legged friend, because the playground is surrounded by a large park where kids, families, and dogs can play. (Note that this is not an official dog park; you'll find that across from Carson Beach, not far from G Street.) Take a peek at the big cruise ships pulling into the port across the way and the planes taking off overhead.

Go to the beach! Not many city neighborhoods can boast that beaches make up part of their landscape. My favorite is Carson. New sand, walkways, benches, and lighting have made it a popular destination. The McCormick bathhouse offers restrooms, showers, chess tables and bocce courts and "A Mother's Rest" sitting area.

Break out the sled. Southie offers an awesome sledding hill across the street from Day Boulevard. Choose from the smaller hill on the side or the big one with built-in bumps (you can't miss it with the colorful parkas flying past.)

The

Boston Children's Museum. You simply can't go wrong spending a day here with kids.
The Institute of Contemporary Art Boston. The Boston Globe calls the ICA one of the most family friendly and down to earth museums in Boston. On the last Saturday of each month, the museum offers Play Dates - a full day of activities for families with hands-on art making and more. Admission is free for families with children 12 and under.
The Boston Fire Museum. Take a tour, check out firefighting equipment, or schedule a birthday party at this unique landmark in South Boston, right down the street from the Children's Museum.
Read a book or do a puzzle in the children's section of the South Boston Public Library Branch. And don't miss story hour for toddlers on Wednesdays from 10:30-11:30 am.
Head to a Baby Wiggle Little Groove class at the Tierney Center.
Make a fun craft and learn DIY skills every first Saturday of the month at Home Depot in the South Bay. Next up? Build a Trojan Horse Bank on Saturday March 1st from 9am-12pm (designed for ages 5-12). Located at Five Allstate Road, Boston, MA 02125.
The Boston Athletic Club offers drop-off babysitting and swim classes for kids. There is an entire section just for play-time, complete with trampolines, toys, bouncers, rockers, and play structures.

Go to

Ms Kathy's Dance Class at the Fourth Presbyterian Church. The church also offers art classes, theater workshops, and private voice and guitar lessons.
Take a boxing class at the local favorite, Peter Welch's Gym.
Go ice skating at Murphy Memorial Rink (1880 Day Blvd., South Boston). Rent skates for only $4 on Tuesdays thru Fridays 12-2pm & 7-9pm, and weekends 2-4pm.
The Moms & Tots class at Ultimate Self Defense & Performance Center offers a unique chance to get fit with your toddler. Play chase, run through obstacle courses and use their little bodies as weights while you have a ball with Miss Tina!
Bringing up Baby is a new clothing store at 663 East Broadway that offers monthly craft hours. Sign up at the store to receive emails about when they're happening.
Check out Family Yoga on Sundays from 2:30-3:30 pm and Yoga for Single Moms and Dads Fridays from 7:05 pm -8:05 pm at Radiant Yoga.
Join the Kids Club at Mass Bay Credit Union. Teach kids ages 5-12 how to save money with as little as $5 and receive a free gift. Quarterly contests, online games, and activities offered.
Buy a treat at Sweet Tooth Bakery. The best around. Amazing selections for kid's birthday cakes too.
And finally, make sure not to miss the epic, world famous St. Patrick's Day parade every March. Slainte!
---
Photo Credit: Bringing Up Baby