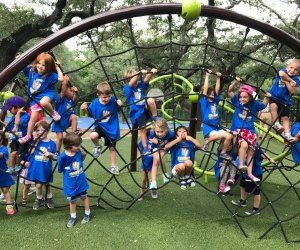 Perfect Day Camps for Preschoolers to Try This Summer
Finding ways to fill long summer days with fun and enriching activities for kids can be a challenge. This is especially true for preschoolers, many of whom seem to have boundless energy and want to constantly be entertained. Day camps can help get kids out of the house and provide a variety of engaging events to participate in. Whether your little one is into exploring the outdoors, experimenting, or creating, Houston has a variety of day camp options. Read on for a selection of day camps that are specifically designed for preschoolers.
For more summer and vacation camp ideas, check out our comprehensive Houston Summer Camp Guide or full directory of camp listings to search by age, interest, or area.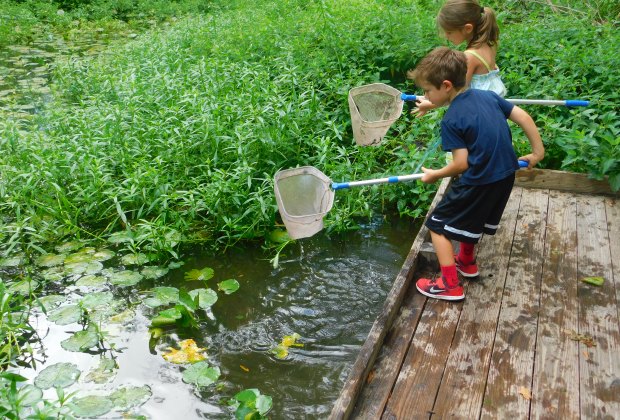 Get your hands dirty this summer with interactive indoor and outdoor activities in nature./Photo courtesy of the Houston Arboretum & Nature Center.
Houston Arboretum & Nature Center - Houston
4501 Woodway Drive
713-681-8433
Ages: 4 and up
Explore nature and all it has to offer through one of the Arboretum's week-long day camps. Each week campers dive into a different aspect of nature through interactive indoor and outdoor activities and adventures. Campers must be registered according to the age they will be at the time of the camp. Camp registration closes per week, the Friday before the first day of camp, at noon. Half day, full day, and after camp options are available.
Westbury Christian School - Houston
10420 Hillcroft St.
713-551-8100
Ages: 3 and up
Each week of summer provides a different experience for preschoolers at Westbury Christian School. Sports, Fine Arts, Social Studies, and STEM subjects provide the basis for each weekly theme. On Fridays, preschoolers will take part in special presentations geared toward their stage of learning. Age-appropriate water play, field trips, and bible study will also be incorporated into each week.
Discover Gymnastics - Houston
747 N. Shepherd Drive #400
713-689-0045
Ages: 3 and up
CPR and first aid certified coaches provide full day and half day camp options for preschoolers at Discover Gymnastics. Each day will include four hours of gymnastics instruction as well as obstacle courses, games, arts and crafts, and free play time. Campers will need to bring a lunch and two snacks to camp daily. Early drop off and late pick up are available for an additional fee. There's even live entertainment on Fridays from 12:30-1:30pm!
Yorkshire Academy - Houston
14120 Memorial Drive
281-531-6088
Ages: 24 months (as of June 1) and up
Preschoolers can choose from traditional summer enrichment camps or themed camps at Yorkshire Academy. Themed camps include singing songs, arts and crafts, and hearing stories based on fun themes like The Jetsons, Dr. Seuss, and Pet Palooza. Enrichment camps give preschoolers the opportunity to explore a specific craft or area of study such as dance, theatre, medicine, coding, and athletics. Not sure what you want to do? You can also and match programs for the perfect fit. Students must be potty trained in order to attend enrichment camps.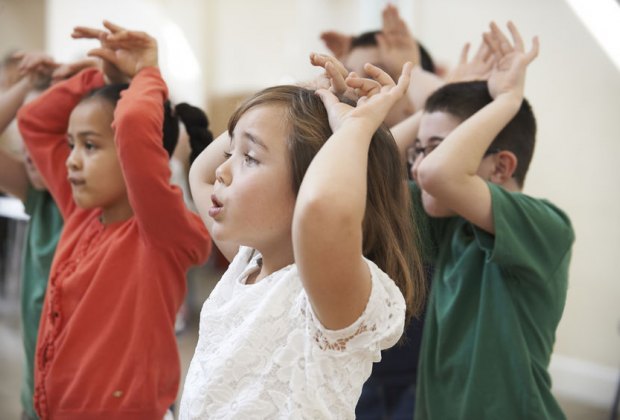 Learning new language skills through singing and playing/ Photo courtesy Language Kids World
Language Kids World
Multiple locations around Houston; find one closest to you here
281-565-1388
Ages: 3-5
Preschoolers can attend this immersive language day camp as "Linguist Apprentices" where they will learn either Spanish, French, Mandarin Chinese, or English. Interactive games, arts and crafts, music, and hands-on activities are all utilized in the daily curriculum to help little ones learn language rhythm and conversational skills.
Houston Gymnastics Academy - Bellaire
5804 S. Rice Ave.
713-668-6001
Ages: 3 and up
Keep preschoolers moving this summer at Houston Gymnastics Academy. Students will learn from top-notch coaches practicing beginner gymnastics skills, doing obstacle courses, climbing ropes, and romping in a foam pit. Campers should pack a lunch, but snacks will br provided daily and pizza will be served on Fridays. Half day, full day, and all day pricing options are available, as well as daily and weekly camp options.
iKids Inc. Camps
Multiple locations around Houston; find one closest to you here
713-665-5200
Ages: 3 and up
This technology-based camp offers hands-on STEM activities for preschoolers to participate day in and day out this summer. Themed camps provide creative activities to engage little ones while they explore the basics of building, robotics, LEGO design, and more. If STEM isn't your speed, you can also choose from a kid-style cooking camp for budding chefs or fairytale fine arts camps for little dancers or actors.
Houston Mad Science Camps
Multiple locations around Houston; find one closest to you here
713-663-7623
Ages: 3 and up
Hands-on activities provide preschoolers the opportunity to explore science in a fun and exciting way. Each week of camp explores a different science-related theme. A different "snack-tivity" will be provided at camp each day to keep kids full, yet focused during their lessons. Two take-home activities will be sent home with campers each day to provide additional enrichment opportunities.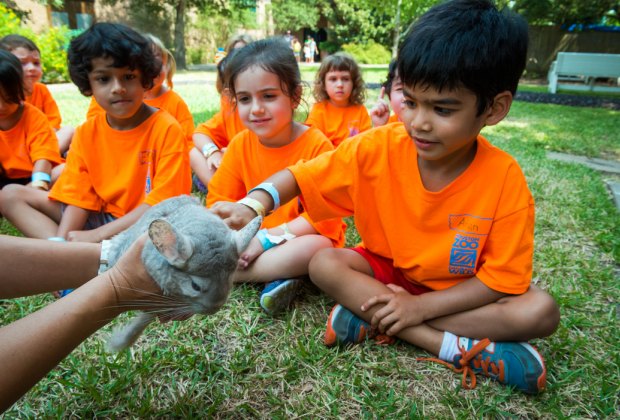 Getting hands-on experience with some of the smaller animals at the Zoo./Photo courtesy of the Houston Zoo.
Houston Zoo Camp Zoofari - Downtown
6200 Hermann Park Drive
713-533-6500
Ages: 4-5
The Houston Zoo's annual summer day camp features a program just for preschoolers ages four and five. Age-appropriate activities provide campers with a chance to get up-close-and-personal with zoo animals while learning about the animals lives, habitats, health, and more.
The Village School - West Houston
2005 Gentryside Drive
281-496-7900
Ages: 3-5
This daily camp provides social interaction for preschoolers and encourages child-centered learning. Campers will engage in activities that promote physical coordination and creativity, as well as participate in STEAM activities and special presentations each week. Before and after camp extended care hours are available. Snacks and lunch are provided daily.
artmix Studio - West University Place
2522 Times Boulevard
713-552-9028
Ages: 3 and up
Budding artists will draw, paint, and sculpt their way through this camp as they explore culture, landscape, artists and artisans. Each day has a different focus and on Friday students put everything together to create a masterpiece.
Kidventure
Multiple locations around Houston; find one closest to you here
713-960-8989
Ages: 3-5
Kidventure "Discoverers" (ages 3-5) will spend their days at camp participating in activities that engage their creativity, provide physical outlets, nurture exploration, and provide reflection. Arts and crafts, dress up, playground time, music, yoga, LEGOS, circle time, and weekly special guests are just a few of the things preschoolers can look forward to at Kidventure. All campers must be fully potty trained.
Top photo courtesy Kidventure
This post originally published in May 2018.