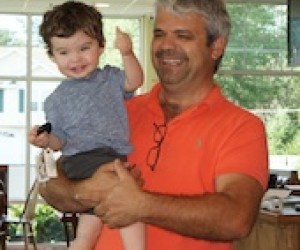 Breakfast Spots to take the Kids in Fairfield County, CT
There comes a day in parenthood, when you realize it's time. Time to bite the binky, and actually enter a restaurant with your seriously messy/boisterous/insert-adjective-here family unit. Considering the sugar per serving ratio, breakfast undoubtedly provides the biggest chance for success, whether you're dealing with toddlers or teens. So then, where to go with your precious weekend mornings? We visited a couple hot spots we'd heard about (I know, such a sacrifice. All kidding aside, though, it's mucho complicated with a dairy allergy in the picture). We also asked around. And we'd love for you to keep the conversation going if we've missed your favorite breakfast hangout…please let us know what we're missing!
Chip's
It's all about the pancakes, people. Chocolate Chip Banana. Coconut Crunch. German Apple. You get the idea. It's no wonder these flapjacks have been voted best in the state by Connecticut Magazine three years running. Chip's has been a landmark in Orange for decades, and opened a location in Fairfield last summer. Breakfast is served ALL DAY long.

Orange
321 Boston Post Rd.
Orange, CT 06477
203-795-5065
6:30am - 9:00pm daily

Fairfield
525 Tunxis Hill Cut off
Fairfield, CT 06825
203-332-3370
6:30am - 9:30pm daily

Harborview Market
This neighborhood spot has legit written all over it. A friendly, in-the-know crowd huddles around community tables checkered with the day's papers. Collect your fresh croissants, imported coffee and kids' drinks before moseying up to the front counter to order. Scrambled eggs and toast passed this mom's dairy-free test. Take a stroll through charming St. Mary's by the Sea to walk off your meal.

218 Harborview Avenue
Bridgeport, CT 06605
203-367-7336
Opens 6am daily

Joe's American Bar & Grill
One of my mommy-with-food-allergic kids swears by the brunch here. Ample parking and service with a smile.

750 Post Road
Fairfield, CT 06824
203-319-1600
Weekend Brunch, 11am - 2pm
King's
Seriously…yum. Another yum just for good measure. But homemade breads, fruit spreads and malted Belgian waffles won't make up for a long wait, tight seating, and the fact that service isn't King's strong suit. This is the place you save for kids who know their way around a menu, and keep their tantrums to an agitated eye roll.

271 S. Main St.
Newtown, CT
203-426-6881

Sherwood Diner
Locals flock to this Post Road landmark for consistent fixin's and super fast service, so you shouldn't have to wait terribly long even if it's prime chow time. Prices are a little high for diner fare, but you can expect better than average flavor. The only real problem here, is parking.

901 Post Rd E.
Westport, CT 06880
203-226-5535
Open 24 hours

The Sugar Bowl Luncheonette
This place has been here forever. Well, close to it anyway. It reminds me of a summer camp cafeteria and canteen all rolled into one, then spastically decorated to celebrate whatever holiday's next. Suffice it to say, the stroller set is a mainstay in this diner's tight quarters…whether the servers like it or not.

1033 Post Rd.
Darien, CT 06820
203-655-1259
And if you're not quite ready to bite the binky (…we understand…), you can bring the restaurant to you, by hosting brunch. Friends of ours (also dealing with the dreaded double-nap) recently had us over for midday mimosas, breakfast casserole and bagels. Prepare the casserole in advance, so you'll have time for great conversation. Brilliant!