Artificial Intelligence with Scratch Online Camp
Young Gates - Kids Online Personalized Classes

Online Robotics Camp
Young Gates - Kids Online Personalized Classes

Spark Math: Free Trial Class
Virtual
Sign up for our free newsletters.
Upcycled Clothespin Puppets Craft for Kids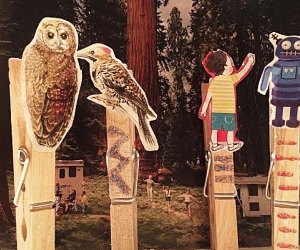 7/16/14
- By
Maria Colaco
Kids love to role-play and act out stories and, the truth is, they don't need fancy toys or puppets to do it. The beauty of kids' imaginations is that they can be sparked by anything and the stories just seem to flow from inside of them. These simple puppets facilitate that because they put the focus on your child's imagination, not store bought puppets that are confined to preconceived roles.
This upcycled clothespin puppet craft is a perfect rainy day activity or summertime activity and can be whipped up with whatever you have lying around the house. searching for the images or drawing your own is half the fun. The whole family can even get involved in making sweet puppets for storytelling fun.
Here's what you need: Clothespins, magazines, glue, scissors and glitter. – because everything needs glitter!
Step one: Cutout interesting images from the magazines. These can be pictures of birds, people, dragons, candy or anything that catches your eye.
Step two: Glue the cutouts to the clothespins.
Step three: Add glitter or other adornments to embellish your creation. You can also use markers and paint to add to the creativity of your puppet, Throw some sequins or yarn to bring a 3D element to your creations.
If you want you can use a page from a magazine as a backdrop for your story. Glue it into a show box lid to stand it up and let the storytelling begin!
This craft is for all ages – older kids will love adding addition dimension and creativity to their puppets while younger kids will be satisfied with gluing their cutouts on to the clothespins. The best part of this craft is that it uses old mags and things from around the house!
Show us what you make. Share it on Facebook, Twitter or Instagram and tag @mommypoppins so we can see your creations too!
Find more fun things to do in Boredom Busters Activities Guide.