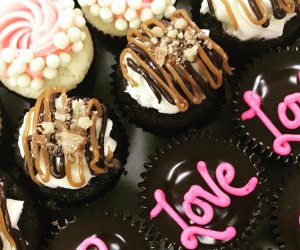 Where to Curb Your Cupcake Cravings in Fairfield County
In our house, birthdays start out with cupcakes (or cake!) for breakfast. It's our perfect family tradition that ensures that the best part of the birthday celebration doesn't get upstaged by a full belly!
But hey, cupcakes aren't just for (birthday) breakfast anymore! They are the perfect-sized treat that have earned their own specialized bakeries and even food trucks. So whether you need cupcakes for a special occasion, or you are are just plain hankering for a cake-fix, try one of these local bakeries in Fairfield County for delicious cakes or cupcakes.
For birthday party ideas, make sure to check out our Party Guide.
Izzy B's Allergen Free Bakery - Norwalk, Various locations
You can order these ridiculously good cupcakes baked free of gluten, wheat, soy, dairy, eggs, all nuts, and casein directly from Izzy B's wholesale location in Norwalk. Or buy them from dozens of outlets across Fairfield County and Westchester County.
Forever Sweet Bakery - Norwalk
Don't even bother going to Norwalk without making a stop at this "sweet" little of hub of the community. Forever Sweet offers MUCH more than cupcakes (chocolate chip cookies anyone??), so even if you are just there to order birthday cupcakes, you will find something you love.
Lovely Cakes - Stratford
A "Cake Wars" winner, Lovely Cakes has no retail space, but offers its divine cupcakes to order. All hail the Salted Caramel buttercream! The bakery boasts only premium ingredients like European butter and Madagascar vanilla.... mmmm.
Sweet Cupcasions - Milford
The Food Network's "Cupcake Wars" season 8 winner is worth the detour off 95. This little cafe is drenched with as much style as their cupcakes themselves. From "Ruby Slipper" to "Kentucky Derby," this bakery delivers high-end flavor and design.
Rosie's - New Canaan
More than just a bakery, a trip to Rosie's is an excuse for a plate of huevos rancheros, finished off with delicious mini-cupcakes. Or order and take home an award-winning carrot cake. Call ahead to order, and leave yourself plenty of time to pick up, as parking and service can take some time.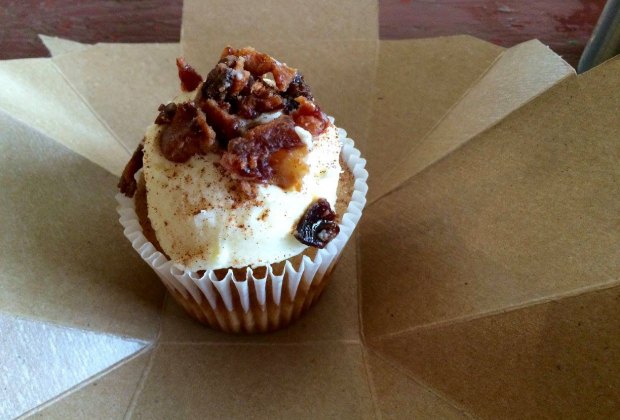 French Toast Bacon courtesy of The Cupcake Chick
The Cupcake Chick - various locations
This special order cupcakery and "cupcake caboose" will steal your heart with one flavor alone: French Toast Bacon! But don't settle for one flavor... The Cupcake Chick marries Lemon and Blueberry and will break you with her Pumpkin Spice. Order or find her caboose out and about.
DiMare's Bakery - Riverside
This Italian bakery has flavors that put my homemade cakes to shame. Raspberry Chambord, Tiramasu, Pina Colada! Do I really have to choose? Vegan and gluten-free options available.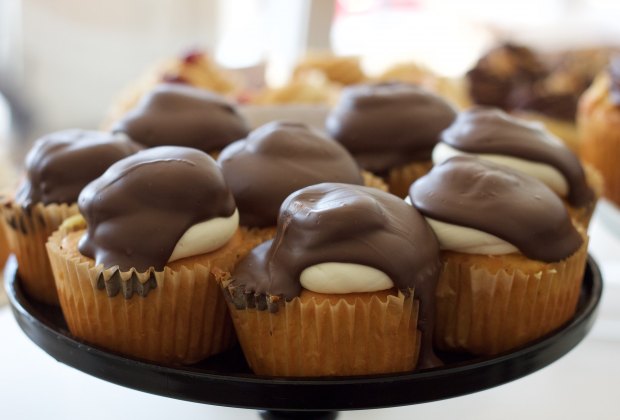 Boston Creme cupcakes. photo courtesy of Wildflour Confections
Wildflour Confections - Seymour
The second best part of visiting Wildflour is that you get to discover (or re-discover!) the adorable old downtown area of Seymour, with its highly-walkable antique shops. Of course, the highlight of this visit will be these amazing gourmet cupcakes, everything from Strawberry Pop Tart to Mother Earth.
Swoon and The Cake Box - Ridgefield & Westport
These sister stores started out with just The Cake Box, then expanded to move all of their dedicated allergen-free and gluten-free cakes to Swoon, in Ridgefield. Visit The Cake Box for a traditional bakery experience (even grab a grilled cheese!) or order your special cupcakes ahead from Swoon.
--
Main image courtesy of Sweet Cupcasions