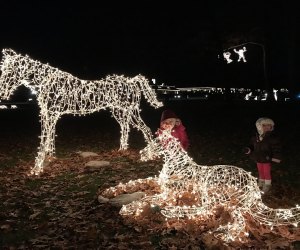 Silver Lights Festival Adds Sparkle to the Season
Once upon a time, in a land far, far away, gorillas swung from trees, playful penguins surrounded an igloo, and a seal put on a rooftop show. Technically, the time is now, the land is the not-so-distant city of Meriden, and the adorable creatures are more than 300 characters featured during the Festival of Lights. This annual and very family-friendly holiday lights event in the New Haven area is not to be missed due to its charm, great photo opportunities, and affordable price tag (umm, it's free!).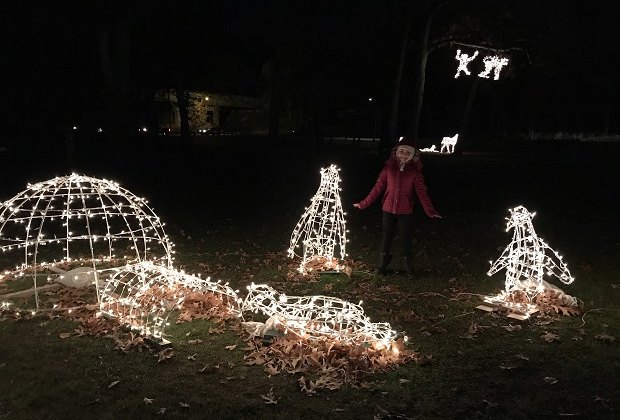 As soon as darkness falls, hundreds of lights set Hubbard Park in Meriden aglow.
Whether you choose to drive or walk through the exhibits, the 350,000 sparkling white lights are a visual treat - and their glow will greet you before you even turn off W Main Street into Hubbard Park. My children were giddy with excitement as we dashed from light display to display. From snowflakes "falling" from trees, to bears and dinosaurs nestled in the woods, and swans floating on the pond, the element of surprise and whimsy abounds. Even Castle Craig, perched atop East Peak Mountain, is decked in bright lights.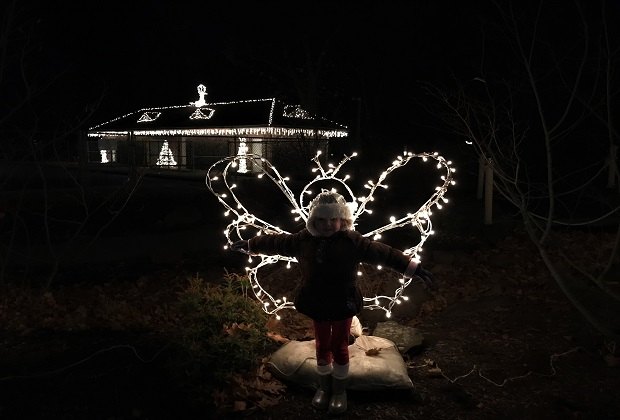 Turtles, moose, and butterflies, oh my! More than 200 light displays decorate the park.
The illuminations are on display daily through January 1, from 5 p.m. until midnight. Of course, the park is also open during daylight hours. My family visited on a Friday evening, and the traffic flow (one-way) was constant but moved at a reasonable rate. We drove the loops through the park in about 20 minutes, then parked near the playground (which is a lot of fun during daylight hours) and walked around for another hour, enjoying a round of I Spy.
As temperatures begin getting colder, bringing hot beverages for everyone in your group will add to the evening's coziness. Of course, remember hats and mittens so your adventure is not cut short.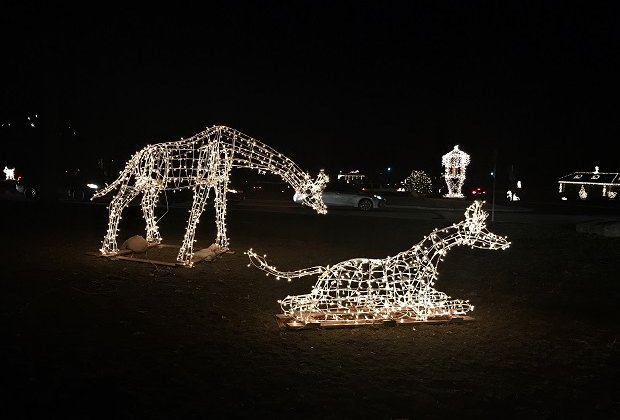 One-way loops direct traffic through the light displays for visitors who choose to remain in their cars.
The light displays are mostly non-holiday themed, with the exception of a building housing Santa's Workshop located at the front of the park (a small parking area is located nearby). Here you can peek through windows at a snowy miniature village decorated for Christmas.
If the fresh air and strolling around make you hungry, look to the lights across the street. Hubbard Park Pizza, open until 10 p.m. (9 p.m. Sundays), offers a variety of pizzas and homestyle dinners. You can definitely spend a couple of hours in the area, so put the Festival of Lights on your "To Do" list before the year's end. Here's looking forward to the first snowfall of the season, which will no doubt make this setting even more enchanting.