13 Kid-Friendly Things to do in Hingham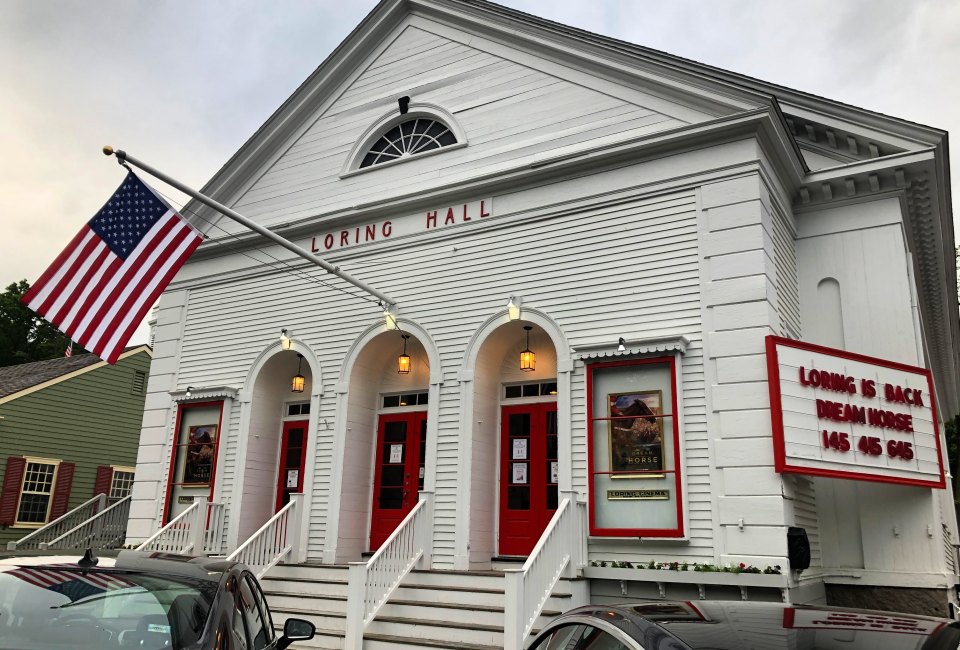 6/15/21
- By
Catherine Aillon
About 12 miles south of Boston is Hingham, a coastal town located right on Boston Harbor. Hingham is known for its Fourth of July fireworks on the harbor, a Main Street filled with historic homes, and stately trees that offer beautiful canopy covers in the warmer months, a charming downtown, and the home of the South Shore Conservatory and Derby Academy. Eleanor Roosevelt once designated Hingham's Main Street as "The most beautiful Main Street in America."
For visitors, there are at least 4 main reasons to love Hingham: Seaside town. Check. Quaint. Check. Non-touristy. Check. No fast food. Check. Families in the Boston area who are looking for something fun to do should plan a visit to Hingham for a wonderful experience.
Families can dine, shop, and catch a movie, all right by the water. Warships, Destroyer Escort Ships, and Landing Ship Tanks were built and launched here, and some crossed the Atlantic and became part of the fleet used by the Allies on D-Day. There's pasta, pizza, seafood, and more to choose from. The burgers at Wahlburgers are popular with kids. Afterward, walk over to Menchie's Frozen Yogurt for a cool treat. The kids will have fun picking the flavors and the toppings and creating their own mix. Afterward, walk it off along the manicured pathways bordering the waterfront. There is something soothing about seeing boats bobbing on the water.
Boats at Hingham Shipyard
2. Catch the Hingham Ferry from Boston to Hingham or vice versa.
If the kids love boat rides, this is one refreshing way to arrive in Hingham. A popular time to take this ride is at sunset. Families can book the Sunset Sightseeing Cruise through the MBTA.
Although it's called "Bathing Beach," it's not known for swimming. Locals just like to hide away here watching the boats from Hingham Harbor. On a beautiful sunny day, it's great to pack a picnic lunch and laze around the beach. If there's no time to make anything, grab a great lunch to-go at the Beach House located on the beach or go across the street at the family-friendly Stars on Hingham Harbor restaurant. Picnic tables are available for visitors who don't want to sit on the grass with blankets. On a blustery spring day, this is a great place to play frisbee or fly a kite.

A sandy path at Bathing Beach
After a beautiful day spent outdoors, this is a great place to go to end the day. They have menu options for the little ones and a gluten-free menu as well. This is also a great place to start the day before heading out, as they offer breakfast with all the staples such as waffles, pancakes, omelets, steak and eggs, breakfast tacos, and many more. Breakfast starts at 7am.
Every Saturday from 9am-1pm from May to November, rain or shine, families can peruse the outdoor farmer's market. The kids will have fun learning about buying local and supporting independent farmers. There are a variety of things at the farmer's market from produce, meat, seafood, desserts, coffee, and so much more.
6. Stop by Main Street and escape to Nona's for an ice cream dessert.
Tucked away amongst other boutique stores on Hingham's Main Street is Nona's. Nona's fits right in on Main Street with her old fashion storefront look. Nona's is considered a classic by locals, as it has been around for 20 years. They always have the original flavors such as chocolate, vanilla, Oreo, cookie dough, and coffee, along with daily flavors that they rotate such as Hingham Harbor Sludge, Hurricane Madilyn, and Mocha Mia. If there's time, plan to catch a movie at the historic Loring Hall on Main Street.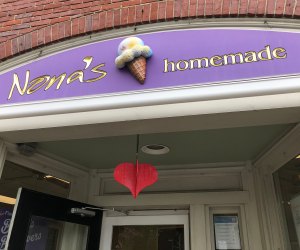 Grab a cool treat! Nona's Ice Cream
This was once a proposed site for the United Nations Headquarters. It's not surprising as it's so beautiful here. Although this place is not the end of the world as the name implies, it can feel like it if visitors are looking for an escape. Families can hike, bike, and go cross-country skiing (when there's snow of course). Located at the tip of Hingham, from this peninsula, visitors can catch a glimpse of the Boston skyline. There are 4.5 miles of tree-lined carriage paths, rocky shoreline, and saltwater marshes. Mountain bikes are allowed on dirt roads. The Preschool Coastal Explorers at Worlds End Program for ages 2 years/9 months to 5 years is a program for the little ones. Preschoolers can get a little bit muddy in search of mollusks, crabs, seaweeds, and the like.
There are about 262 campsites with 140 offering electrical service. This is also another great place to hike, bike, walk, and go horseback riding.
This 5000 square foot facility offers obstacle climbing courses, top-ropes, and more for all age groups, from beginners to experts. This is a great activity to do with the kids if the weather outside is not so glorious.

The Barrel is a great lunch spot.
11. Drop by The Barrel for a quick snack or a lunch break.
Walking into The Barrel is like walking into an old fashion general store. They have hot and cold sandwiches made fresh to order, as well as soups and other hot food items to go. In warmer months, tables are set outside for guests to linger over lunch.
12. For little green thumbs, learn about plants and bring home potted plants or seeds to grow at Weston Nurseries in Hingham.
This picturesque garden center offers food trucks on certain Saturdays. Please check their website for dates and times. This garden center is also a great place to take family photos.
With so many stores and eateries to visit, families can easily spend a day here. Casual dining options include Panera Bread, B. Good, Cava, and Chipotle. If visitors prefer something that's not counter service, there's Burton's Bar, Bertucci's, and Legal C Bar. White's Bakery and Café is popular for their mini-desserts and delicious breads to go. When families need to take a break from all the shopping, they can hang out at the Barnes & Noble here. In warmer months, grab a gelato at Gelato & Chill and enjoy it outside on one of the benches.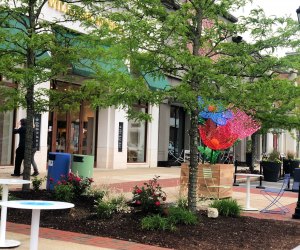 Enjoy the variety of the Derby Street Shops.
All photos by author
Click Here to Sign Up!