Best Breakfast Restaurants in Boston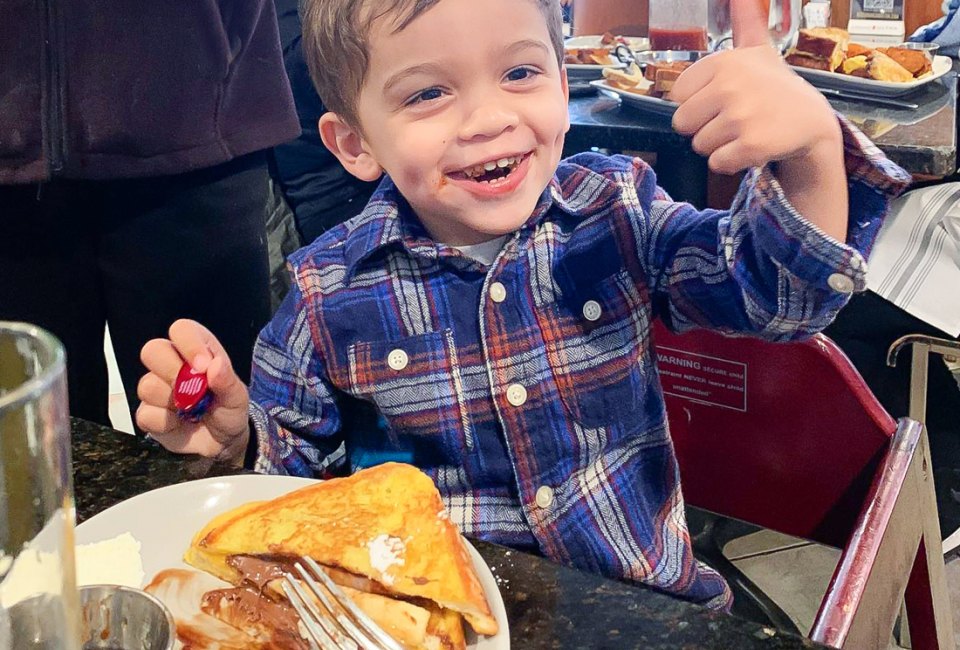 2/3/23
- By
Elyse Andrews
The best places for breakfast in Boston have family-friendly food that kids love. Eggs, French toast, waffles, and donuts—Boston's breakfast spots serve up kids' favorites in a fun atmosphere, and morning menus offer choices for the pickiest palates. Dining out with kids isn't always an easy proposition, but breakfast or brunch can be a great time to go to a restaurant with the whole family. Kids tend to be less cranky earlier in the day, and mom and dad will be too, after a cup of coffee. And grabbing a yummy breakfast in Boston is a great way to start a day exploring the city. We've included our favorites, from full-service breakfast to diners and donut shops, here are the best places for breakfast in Boston with kids.
It's always fun to find a kd-friendly restaurant with great food. We especially love these Boston area restaurants where kids can play while you eat (and relax) after that day out with the family! Be sure and check out our Boston restaurant guide for the best spots to take kids around the city.
Best Places for Breakfast in Boston with Kids - Beacon Hill

Flour Bakery's many Boston locations have terrific (and big) pastries! Photo courtesy of the Bakery
1. Flour Bakery –Back Bay and 8 Other Locations
We love Flour Bakery so much. The several Boston locations are must-visit spots for any family with a love of sweet breakfast treats. The sticky buns are legendary, but that's just the tip of the pastry case. There are also scones, sweet breads, cakes, and more. Plus, there are plenty of savory choices, like a terrific breakfast sandwich.
2. Tatte Bakery and Cafe – Beacon Hill and Other Locations
Like Flour, Tatte Bakery and Cafe has multiple locations around Boston, including the Charles Street location. Snag one of the coveted window seats. You can't go wrong at Tatte with anything from the pastry case—the croissants might be the best outside of France. And Tatte's egg dishes are super-hearty, with most big enough to share.
Best Places for Breakfast in Boston with Kids - Back Bay
3. Thinking Cup – Back Bay, Boston Common, North End
There are three Thinking Cup locations in Boston, so you're never far away from a tasty breakfast. We're partial to the oatmeal bowls that come with toppings like fresh fruit and nuts. But we also love the fresh-baked scones and muffins and the breakfast sandwiches. Parents will love that Thinking Cup has some of the best coffee in town.
4. Thornton's Restaurant & Cafe – Back Bay
Located in the shadow of the Prudential Center on Huntington Avenue, Thornton's Restaurant & Cafe is a great place to have breakfast with kids in the Back Bay. It's a no-frills spot that even has coveted outdoor seating when the weather's nice. The extensive breakfast menu has everything from crepes to huevos rancheros to waffles.
5. Trident Booksellers & Cafe – Back Bay
If your family is anything like mine, there are few things they love more than breakfast and books. So eating at Trident Booksellers & Cafe on Newbury Street is like a dream come true. The casual cafe's filling breakfasts are the perfect fuel for all the book browsing you can do after your meal.
6. The Friendly Toast – Back Bay, Chestnut Hill, Suburbs
Look no further than The Friendly Toast for all-day breakfast favorites. Located across Massachusetts, this restaurant offers a huge menu to choose from. Churro bites, breakfast quesadillas, and monster breakfast options are sure to delight the whole family.

Get your napkins tucked in when you belly up to these breakfast spots! Photo courtesy of The Paramount in South Boston
Best Places for Breakfast in Boston with Kids - South Boston
7. The Paramount – South Boston, Beacon Hill
You'll find The Paramount in South Boston as well as on Beacon Hill. While a line often forms early at this Boston brunch hotspot, it's worth the wait. The fluffy pancakes, waffles, and French toast aren't to be missed. Savory breakfast lovers will relish the delicious egg sandwiches and omelets.
8. Victoria's Diner – South Boston
The weekend hours at Victoria's Diner, located near the South Bay Center, are a godsend for tired parents. They're open 24 hours, which means you don't have to wait until mid-morning to get your fill of eggs and pancakes. Victoria's even serves grits, a delicious dish that's hard to find in New England.
Best Places for Breakfast in Boston with Kids - More Boston Spots
9. Home.Stead Bakery and Cafe – Dorchester
Home.Stead Bakery and Cafe's name couldn't be more spot-on. You'll feel like you're eating in a close friend's kitchen when you breakfast at this charming coffee shop and cafe. Home.Stead makes a mean breakfast burrito, or you could opt for the fluffy Belgian waffle (served on weekends). There's even a kids' menu with an almond butter and jam sandwich.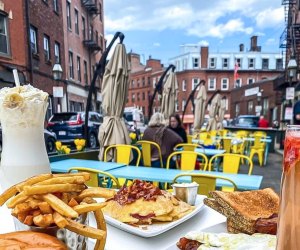 Family-friendly brunch menus in Boston offer something for everyone! Photo courtesy of the North Street Grille.
10. North Street Grille – North End
The cozy, slightly off-the-beaten-path North Street Grille has an extensive menu that's perfect for the whole family. Egg lovers can try special omelets like the Loaded Mashed Potato. Kids will get excited by the sweet pancake options like Cookie Dough, Cinnamon Roll, and Chunky Monkey.
Best Places for Breakfast Near Boston with Kids - Cambridge
11. Mass Ave Diner – Cambridge
Located between Central and Harvard Squares, the Mass Ave Diner is a can't-miss Cambridge breakfast spot. On the menu, you'll find all the breakfast classics, from hearty omelets to pancakes and French toast. Mass Ave Diner opens at 6:30am every day, so it's ready to serve you breakfast no matter how early you're up.
12. S&S Restaurant and Deli – Cambridge
At nearly 100 years old, the S&S Restaurant and Deli has a great track record of serving delicious breakfasts in Inman Square. There aren't many classic delis left, but S&S has kept the tradition going, serving blintzes, potato pancakes and matzo ball soup alongside French toast, omelets and pancakes. The best part? Breakfast is served all day long.
13. Veggie Galaxy – Cambridge
Veggie Galaxy is the place to go in Cambridge for a classic diner breakfast if anyone in your family has dietary restrictions. The Central Square restaurant goes out of its way to accommodate vegan, vegetarian and gluten-free diners, but it also has all the traditional breakfasts you crave. Don't miss Veggie Galaxy's towering cakes, which make a great take-home dessert.
14. Zoe's – Cambridge
Take a trip back in time at this quintessential 1950s diner, which can be found just outside of Harvard Square on Mass Ave. Zoe's serves all the classic breakfast dishes you love alongside Greek-inspired meals and old-school offerings like blintzes. Kids will love playing retro tunes on the jukebox while you wait for your meal.
Best Places for Breakfast Near Boston with Kids - Somerville
15. Kelly's Diner – Somerville
There aren't many opportunities left to have breakfast in a classic dining car, but the charms of yesteryear can be found at Kelly's Diner. Another stop on the Ball Square breakfast circuit, Kelly's serves traditional breakfasts that match its setting. On the menu, you'll find classics like blueberry pancakes and hearty omelets. Kelly's opens at 6am, so it's ready when you are.
16. 3 Little Figs – Somerville
This cozy cafe on Highland Avenue has early opens at 8 am, so you can head to 3 Little Figs for your morning meal before the crowds descend. The Greek yogurt with house made granola tastes decadent, but it's truly a treat you can feel good about. And don't miss the baked goods, which are the stuff dreams are made of. The 3 Little Figs owners have kids of their own, so the cafe is more than welcoming of the whole family.
17. Union Square Donuts – Somerville
This isn't a traditional breakfast spot, but no list of where to dine in the morning in Somerville would be complete without Union Square Donuts. Stop by to pick up a half-dozen or dozen in flavors like Vanilla Bean, Maple Bacon and Boston Cream to share. The shop opens at 7am every day and serves great coffee to go along with this decadently delicious breakfast.