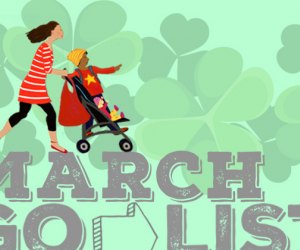 March GoList - Best Things to Do with Kids in Boston
March is a month of celebrations, so lets celebrate! From St. Patrick's Day to maple sugaring festivals, there are tons of family-friendly festivities happening all around town this month. As winter gives way to spring, lots annual favorites like the Boston Flower and Garden Show and Revels Spring Sing are also popping up on the calendar. For a full list of ways to have family fun during winter's last hurrah, check out all of our picks below.
Be sure to peruse our Winter Fun Guide and Indoor Fun Guide, sign up for our free newsletter, and follow our Facebook page for more ideas to get the most of March.
March 7-8, 2020
Join the Bay State Model Railroad Museum for its spring celebration—one of the two times each year the museum is open to the public. Visitors can see four operating model railroad layouts featuring trains in "N", "HO", "HOn3" (Narrow Gauge), & "O" Scale. Note that the show is less crowded after 2pm.
March 8, 2020
Join the BSA Space and Women in Design as they host this hands-on event inspired by International Women's Day. There will be lots of exploring, designing, and creating with professionals from design firms throughout Boston.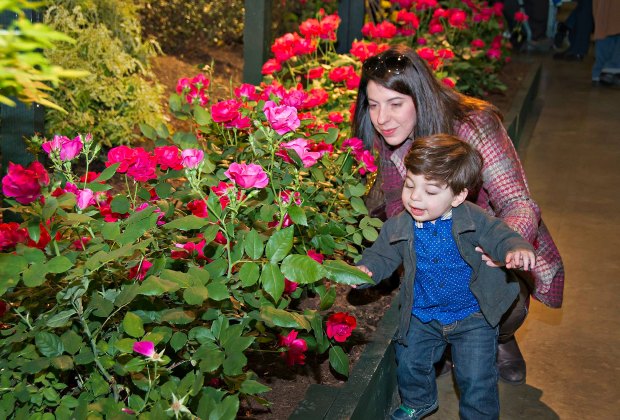 Stop and smell the roses this March! Photo courtesy of Boston Flower and Garden Show
March 11-15, 2020
Explore garden displays, visit vendors with plants and the newest gardening products, and learn from presentations and demos on everything to do with making things grow. The Little Sprouts Children's Center will be jam-packed with fun activities like storytelling, vegetable stamping, tissue flower making, and more.
March 14, 2020
With St. Patrick's Day around the corner, bring your little leprechauns to enjoy a free Irish performance at the John F. Kennedy Presidential Library and Museum. This program features poetry, storytelling, and music about the immigrant experience from Ireland to Boston.
March 14-15, 2020
Some of Nick Jr's biggest stars will be on stage together for the first time, dancing and singing to the latest pop hits.
March 15, 2020
The annual parade takes place in South Boston, where it has been a tradition for more than a century. It includes various marching bands, police and army contingents, costume spectacles, novelty vehicles, and a general "green" atmosphere thanks to participants and spectators. This year's route: The St. Patrick's Day Parade starts on West Broadway (easterly); left onto East Broadway; Right onto P Street; Right onto East 4th Street; left onto K Street; right onto East 5th Street; Left onto G Street; Right onto the Southerly Arm of Thomas Park; Left onto Telegraph Street; Left onto Dorchester Street; and ending at Dorchester Avenue.
Revels Spring Sing - Belmont-Watertown UMC, Watertown - CANCELED
March 21, 2020
Revels hosts a celebration of the arrival of spring amidst forsythia blossoms and sprigs of green at a joyful family event featuring community singing, refreshments, and entertainment.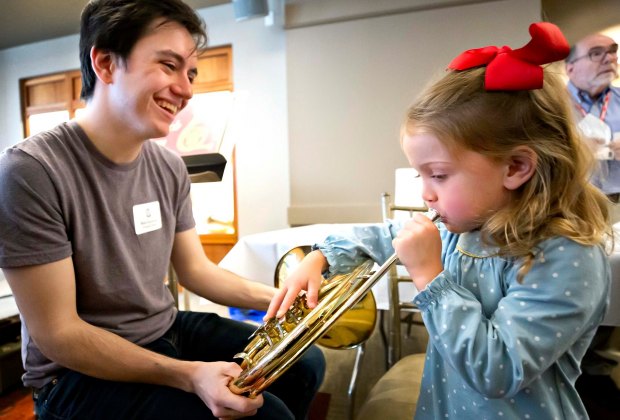 Kids can experience different instruments at BYSO On Parade. Photo by Winslow Townson
March 22, 2020
At this family-friendly musical event, Symphony Hall will be filled with 500 young musicians performing beautiful music.
March 22, 2020
Catch this popular entertainer and other talented musicians at this fundraiser concert for families. The concert is also celebrating Moock's latest album, Be a Pain.
March 28, 2020
People and businesses around the world extinguish all non-essential lighting during this one hour. Boston is among over 5,000 cities and towns world-wide that have pledged to shut off lights for Earth Hour.
March 28-29, 2020
Celebrate the season of sugaring at this sweet festival. There will be sugar house tours, a bonfire, artisans, and food, plus free admission to the Trailside Museum (included with ticket price).