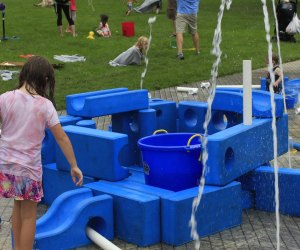 Great News: GreenPLAY on the Greenway Continues Through Winter
With the weather getting colder, it is getting harder to find outdoor activities in downtown Boston for kids. Luckily, the Rose Kennedy Greenway is continuing its "GreenPLAY" programs into the winter months, giving kids and their families some great excuses to get outside even when it's chilly.
On Veterans Day, GreenPLAY is hosting a Building and Engineering event where kids can experiment building with different materials and sets. CBT Architects lead an activity about designing for the future of housing in Boston. The New England Aquarium and Boston Children's Museum are also leading special activities.
On December 2, 9, and 16, you can ring in the holiday season with song, play, and cozy treats during Caroling at the Carousel. Each date features a different caroling group and themed activities.
Plus, there's great news for parents and kids who usually get cabin fever in the winter. There's no reason to be stuck inside when school is closed for snow days this winter! When BPS calls a snow day and the storm has died down, the GreenPLAY crew will be out on the Greenway ready to party in the snow. There will be building materials, snowy play equipment, and games. Since they will be happening last minute, the details for these events will be posted on the Greenway's Facebook page.
Keep checking our Family Event Calendar for more fun events on the Greenway and throughout the Boston area.
---
Photo courtesy of the Rose Kennedy Greenway.