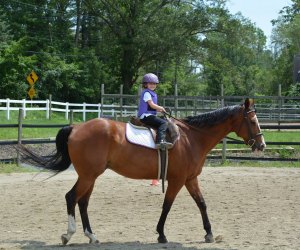 Got a Horse Lover? Here are 6 Spots for Riding Lessons Around Boston
For many kids, learning to ride a horse is a distant dream. The good news? That dream could become a reality with several stables and farms offering lessons within easy driving distance of Boston. Some cater to beginners, and others only to committed equestrians, but they all offer lessons to kids dreaming of riding into the sunset. Find more interesting, out-of-box athletic programs in our class guide.
Established in 1953, Canton Equestrian Center is 20 minutes south of Boston, with an indoor ring, two outdoor rings, and miles of trails with access to Ponkapoag Pond in The Blue Hills Reservation. Canton Equestrian Center caters to all types of equestrians, from serious competitors to easy riders. The Center accepts riders over age six for lessons in basic riding skills, as well as grooming and tacking-up skills. Rates start at $40 for a 30-minute group lesson.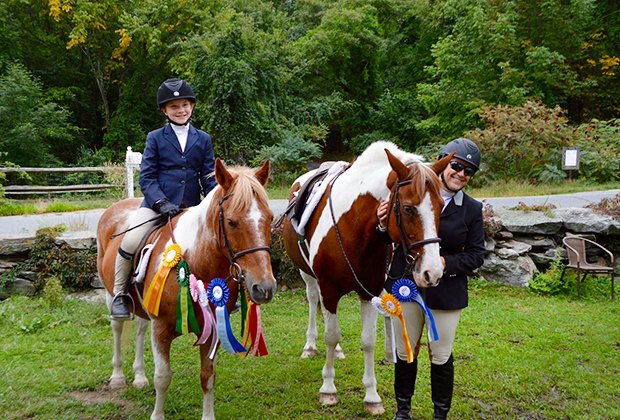 Century Mill Stables creates a training plan for aspiring riders.
About 45 minutes from Boston, Bolton's Century Mill Stables offers lessons for aspiring riders after a one-hour evaluation. The Century Mill instructors not only evaluate a rider's skills, but also help riders to create a plan to achieve their riding goals. The evaluation is $75, with lessons starting at $45 for a group lesson.
Hidden Hollow Farm in Pembroke is about 30 minutes from Boston, welcoming beginner through advanced riders. With beginner lessons, dressage, and country riding, Hidden Hollow Farm also offers two miles of trails. Hour-long group lessons start at $65, and Hidden Hollow also runs an 8-week Learn to Ride program for $425.
Also on the South Shore, Creek Crossing Farm in Hingham has nine acres of land for riders to explore. Creek Crossing Farm specializes in hunter/jumper riding and dressage in their indoor and outdoor riding arenas. Lessons start at $40 for a half-hour private session.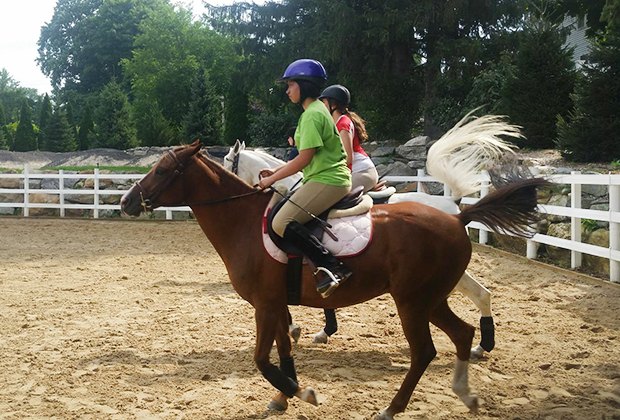 Jelich Farms offers year-round lessons.

Jelich Farms in Lexington is a year-round private riding academy with a six-month to two-year wait list and a desire for serious equestrians. Part of the lessons at Jelich Farms is learning to groom and tack their horses. Lessons for students outside Jelich Farms start at $80 for half-hour private instruction, or $65 for a half-hour lesson for Jelich Farms students.
Starting with a "mini riders" program for kids ages 1 to 5, Sherborn's Sweet Meadow Farm believes in teaching aspiring riders how to bond and care for horses early on. Their four-season equestrian center offers private lessons for beginners through competitive riders starting at $70 per session, and there are also more affordable afterschool group programs like the "saddle club" for 6 to 12 year olds on Monday and Tuesday afternoons. With a menagerie of other farm critters and related care programs, Sweet Meadow is a great place for animal lovers, generally.
Top photo: A five-year-old learns to ride a horse named Superman. Photo courtesy of Sweet Meadow Farm